As everyone is away, the M16 suffered from maintenance and reliability problems early in its deployment to Vietnam. While working to resolve these issues, the US government wanted to find a replacement weapon that would be more suitable to guerrilla type use to supply to insurgent forces. A contract for to this end was awarded to the TRW corporation in 1971, and the result was the TRW Low Maintenance Rifle.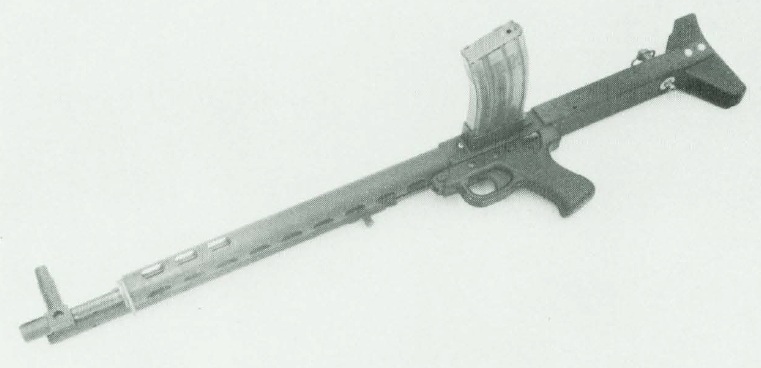 Rather than judge the design by first glance, it's worth looking at it more closely – there are a lot of different things at play in this rifle. The information I can find doesn't discuss whether this was intended to be manufactured by foreign groups with limited resources, but that seems to have been TRW's thought through development (or alternatively, they wanted to be serious about minimizing manufacturing costs). The rifle does use the standard M16 magazine and M193 5.56mm cartridge (although at least one of them was used experimentally with the XM216 flechette round).
The rifle is operated by a long-stroke gas piston, a system know for reliability (the piston and gas tube are on the right side of the weapon). The bolt uses a roller locking system similar to the German MG42, with the rollers located on the top and bottom of the bolt so as to not interfere with the magazine feeding in from the left. Roller locking systems like this are well suited to cheap and easy production, with reduced machining and heat treating requirements. The rifle fires only in full-auto from an open bolt, which is again a very simple system. The trigger simply holds down the sear allowing the weapon to cycle continuously until the trigger is released and the sear catches the bolt. This cuts the number of trigger mechanism parts at least in half compared to a typical select-fire closed bolt system. In this case, TRW actually just used the grip and trigger assembly off the M60 machine gun. The receiver and buttstock assembly appear to be pretty simple pieces, and are connected together by a simple pin instead of using interrupted threads or lugs or other cleaner-looking but more expensive interface.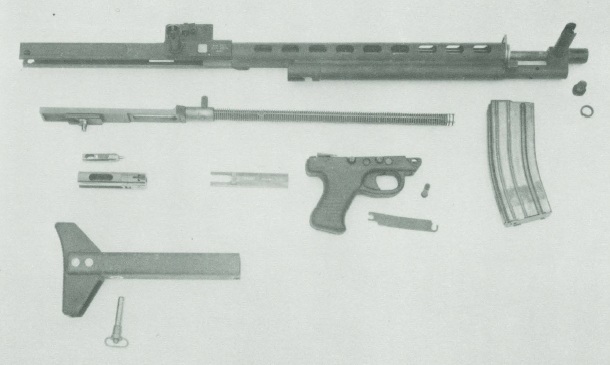 The open bolt and automatic-only operation may not have contributed to exceptional accuracy in practical use, but the objective here was reliability in harsh environments (hence "low maintenance rifle"). The bore was chrome lined, and the internals were coated with what is described as a semi-permanent dry film lubricant, to avoid attracting dirt and dust (the manual recommended inspecting and touching up this lubricant every 2000 rounds). In an unusually prescient move, the gun was also designed to automatically pull a dust cover closed over the ejection port when the bolt was all the way back (remember that since this rifle fired form an open bolt, locking the bolt open would have been the "ready" condition). The cover would be opened up automatically as the bolt went forward to fire.
We have not found any testing reports on the LMR's performance, but we suspect it would have been very effective. Unfortunately for TRW, by 1973 American troops were leaving Vietnam and the project was no longer considered important. It was cancelled before any rifles were actually put into service (in fact, one could think of this weapon as an analog to some of the German Volksturm designs). We do have a copy of a 1973 technical manual on the rifle available for free download, which does a very good job of describing how the rifle operated (and has a nice exploded parts diagram). You can find it on the TRW Low Maintenance Rifle page in the Vault, or right here: