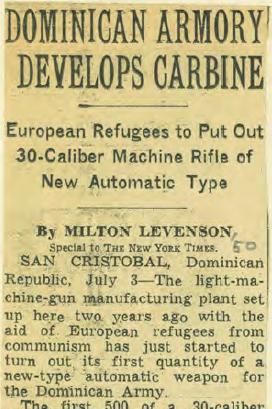 The San Cristobal armory was a surprisingly large-scale arms manufacturer set up in the Dominican Republic in the late 40s. They produced several different weapons, but the most common was the Model 2 Cristobal carbine. Designed by Pál Király, it was a lever-delayed blowback mechanism chambered for the US .30 carbine cartridge (7.62x33mm).
When the bolt begins to move rearward, the lower short arm of the inertia-lever leans against the stationary shoulder of the breech-encasing. The rearward movement of the bolt causes thus rearward rotation of the inertia-lever, the upper long arm of which pushes violently rearward the heavy striker. the inertia of this latter makes itself in a degree , increased according to the lever age of the two arms of the inertia-lever. By this arrangement , the bolt offers a s great a resistance to the recoiling cartridge case, as if the inertia and its weight would be three to five times greater than it is in reality. The inertia- lever very efficiently delays the opening of the bolt and reduces to a convenient degree its recoil velocity. The bolt offers very efficient support to the bottom of the cartridge case, permitting the adaptation of the weapon for a comparatively high- power cartridge.
Several hundred thousand were produced, and they were a popular weapon in central and south America. Unlike the US M1 Carbine, the Cristobal used a magazine mounted at slightly less than 90 degrees to the barrel. Most of the carbines produced were select-fire, with a front trigger for semiauto fire and a rear trigger for fullauto. A semiauto only variant with a single trigger was also produced. A good history of the carbine and the Dominican arms production industry is available at Manowar's page on Hungarian weapons.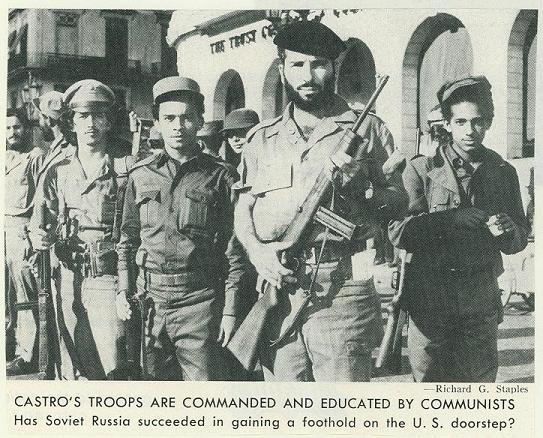 We have a bunch of photos of the bolt mechanism, as well as a few historical photos and clippings. These include a photo of Fidel Castro (pre-revolutionary Cuba was a large purchaser of Cristobal carbines) with several armed soldiers – we're not used to seeing historically significant people with the weapons we usually focus on.
You can find all of our photos and an official description of the carbine on the San Cristobal carbine page in the Vault.
New York Times column on the opening of the San Cristobal factory (July 3, 1950)