For those of you who don't regularly visit GunLab, Chuck posted an update there yesterday that's worth checking out. He has spilled the beans about deciding to manufacture a small run of reproduction Gerat 06 rifles. This was an intermediate design between the Gerat 03 (basically a roller-locked G43) and the StG-45 (the first roller-delayed blowback gun, which eventually evolved into the HK91).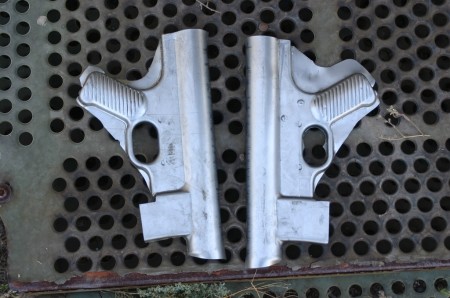 The Gerat 06 is a stamped-receiver, gas-operated, roller locked rifle in 8x33K, using standard StG-44 magazines. They are a little bit heavy (no more so than the StG-44, though) and very, very comfortable to shoot. Only 4 were originally made during WWII. I have no idea what the price will end up being, when they will be finished, or how many will be available, but I will be happy to put your name on a list if you'd like to be contacted directly when they are.
For more information on the design, you can check out the video I did a while back: Last Ditch Innovation.