So this past weekend was a Regional auction at the Rock Island Auction house, which I neglected to post about beforehand. The Regional auctions are the ones with typically lots of less valuable guns packaged up into lots of 4, 5, 6, or more. I put in bids on a bunch of lots, but unfortunately my hereditary Scottish stinginess won out over my hoplokleptomania and I didn't end up winning any of them**. So instead of posting today to gloat about my new toys, I figured I'd point out some of the neat stuff that was up for sale that someone else bought.
First off, and one I'm particularly disappointed to have lost out on, is another of the Chinese Mystery Pistols in .32 ACP. These show up from time to time, usually in either .32 or 7.62×25 caliber, and with design elements from C96 Mausers, 1900 Brownings, and anything else that the blacksmith-cum-gunsmith may have seen before he started building. The markings are also generally a jovial mix-n-match of whatever logos and Latin-alphabet words looked interesting (this one has "Herstal", "Nationale", and a Mauser banner).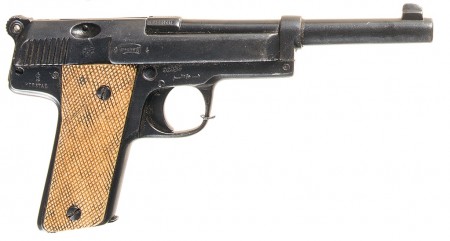 Now, this particular pistol was in a lot with a Steyr 1907 (not cheap) and a very rare Isard 1911 knockoff made during the Spanish Civil War. The lot price went through the roof, and I suspect it was because of an SCW collector who just had to have the Isard. If that person happens to be reading this and would be interested in offloading this Chinese contraption, please let me know – I want one of them!
Anyway, another rarely seem item that came up was a .22 caliber trainer for the Egyptian Hakim rifle, called the Tahrir. I've done a video with the air rifle Hakim trainer, but never handled one designed for rimfire cartridges (and a semiauto, it appears). Would have been great to get that one, but alas it also slipped through my fingers.


Lastly, I'll mention one that I kinda knew I wouldn't be able to win, because it was just too pricey, and bundled with some other pretty valuable pieces: a Lee Enfield Carbine Mk I, issued to the Royal Irish Constabulary. An Enfield truly worthy of drooling over! This one was dated 1895, so it was a legal antique on top of everything else. Alas, it was coupled with a vz52/57 and a handful of other guns, and I just couldn't afford the whole package.


Fortunately, there's always next time!
** So, I wrote this after completely striking out on bids over the phone Saturday afternoon – but then Sunday one of my sealed internet bids won, on a lot of Swiss straight-pulls (because I still need a K11 carbine). But those aren't particularly exotic, so I'm leaving the post as-is.