A little while back, I got my hands on a number of copies of Tactical and Technical Trends booklets – this was a bulletin published by the US Military Intelligence Service during WWII to keep soldiers apprised of new developments in equipment and tactics among the different combatants. A quick Google search will reveal that these documents are not difficult to find in electronic form, but I am going to post them anyway. Why? First off, because I suspect a lot of people are not aware of them. More importantly, because I think it is worth looking at them one at a time to actually take a close look at the information they contain. Takes as a whole batch, one tends to just skim over and miss a lot. And lastly, because my color scans are much nicer looking than the other copies available. 🙂
The first one I have is #49, from August 1944 (they were initially published biweekly, and later went to monthly).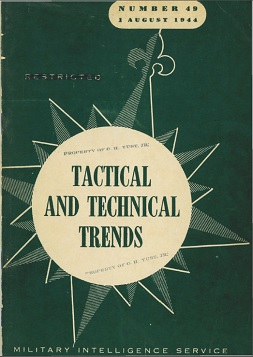 Much of the information in these booklets covers armored vehicle, artillery, mines, and other war material not typically in line with this site (although certainly of interest to many people who would read this site). When we look at small arms content in this edition, we find a couple interesting articles:
US Army testing on Japanese cartridges found on Bougainville with wooden bullets, and with normal projectiles loaded backwards into cartridges (the wooden bullets were found impractical for antipersonnel use, and concluded to be grenade launching rounds, while the backwards bullets were thought to be attempts to increase lethality).
US Army testing of the protection afforded by Japanese armored shields for machine gun and pillbox use (they are proof against M2 ball, but could be perforated by AP out to 200 yards).