First off, in the past few days we have had a number of people ask for a trailer for the first episode of InRange that actually provides a thorough idea of what is in the show. The initial trailer was cut to look exciting and hip, and I'll admit that it really didn't say much about the show content. So, we put together a second extended trailer, which is a full 15 minutes long – meaning it is a full quarter of the show. It does, I think, a much better job of conveying the show content:
Like what you see? Check out the full episode, and tell your friends!
Blatant self-promoting ad out of the way now, I do also have some old-gun material to post. My friend Hrachya sent over some documents in light of the recent Madsen SMG video, including a neat catalog of pretty much all the guns offered by the Madsen company after WWII. It's a fun piece to flip through, and it made me realize that there is now information here on almost every one of them…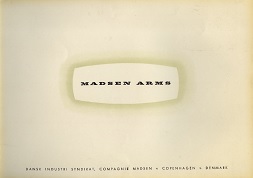 One of the items in the catalog that jumped out at me in particular is the "Madsen-Ljungman Semi-Automatic Rifle":

It is clearly a Ljungman rifle, but not quite the same as what the Swedes produced. Little details like the magazine profile and handguard vents are different. It would appear that the Madsen company got themselves a license ot produce Ljungman rifles, but was unable to garner any contracts for them – I'm not aware of any of these rifles ever being manufactured (and note that in the catalog, they are listed as being available in your choice of caliber, between 6.5mm and 8mm).
The 50mm mortar is also an interesting piece, which I have not gotten to see in person, not found other information about.
Anyway, for more info on Madsen company check out these previous posts:
M47 Lightweight Military Rifle (bolt action)
INA 953 (Brazilian copy of the Madsen SMG)
Madsen M50 (SMG)
Madsen-Rasmussen 1888 and 1896 (semiauto rifles)
Madsen LMG (including belt-fed tank model)
Madsen-Saetter (belt-fed)
Update
Ruy points out that the Danish State Defense History Museum has photos of two of the Madsen-Ljungman rifles. One is in 7.65mm (presumably in an effort to secure South American contracts) and one in 7.62mm (it's dated 1950, which would make that .30-06 caliber). Thanks, Ruy!