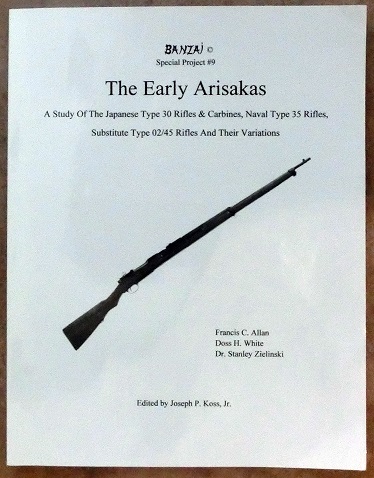 Are you interested in Japanese weapons and militaria? There is a group you should be aware of – Banzai. Formed in 1982, Banzai has been publishing a newsletter full of Japanese-weaponry-related articles for more than 30 years now, and bringing together like-minded collectors for as long. For decades Japanese military arms like the Arisakas and Nambus have been a specialty interest enjoyed by a fairly small group, and this made high-quality technical and historical information on them pretty tough to find (especially before the internet). Banzai did a great job filling that gap, and formed a nucleus of very dedicated collectors.
In addition to their monthly newsletter, Banzai and its members have published a number of "Special Project" books with a wealth of information on specific Japanese small arms subjects. Today, I'm looking at #9, The Early Arisakas. Written by Francis Allan, Doss White, and Dr. Stanley Zielinski and edited by Joseph Koss Jr, it is a 106-page volume covering the variants of the Arisaka that preceded the Type 38 and Type 99. These early rifles are still floating around the gun market here in the US, although in much smaller numbers than their later replacements. Because of the small numbers available, most folks don't know much about these rifles, if they are even aware of their existence. So let's take a look at the specific models covered by The Early Arisakas:
Type 30
The Type 30 rifle was developed primarily by a committee of three men, including then-Lt. Col. Nariakira Arisaka, whose name because so firmly associated with the whole family of rifles. Arisaka was well traveled and an expert in arms design, and his committee put together an excellent set of features for the new rifle. It was to be Japan's first smallbore rifle, replacing the Type 22 Murata. The 6.5x50SR cartridge was developed, and coupled with a Mauser-style 5-round flush internal magazine, a bolt and bolt stop taken from the Gewehr 88, a barrel seat to minimize pressure from the stock on the barrel, and a prominent hook-shaped safety and cocking piece. This safety was easy to operate with gloved hands, it blocked the line of sight when engaged, and also allowed a shooter to recock the action and re-strike a primer that had not detonated (instead of opening the bolt on a hangfire and potentially having is detonate out of battery). Trials rifle first went into production in 1896, and the design was adopted as the Type 30 the following year (1897).
A cavalry carbine was also produced, which was similar but not identical in design. Interestingly some very early examples did not have a bayonet lug – cavalry troopers at the time were armed with a full cavalry saber instead.
Manchu Arisakas and North China Type 19 / Type 30
With Japan's significant interaction with China through the first half of the 20th century, it is inevitable that a number of arms deals would take place. Prior to the Japanese occupation of China, at least one contract was made to sell Arisaka rifles to the Chinese. Known as Manchu Arisakas, these were contract-built guns (like the Mexican or Thai Arisakas), and were stamped with the coiled dragon insignia of the Chinese Emperor as well as the stacked cannonball icon of the Tokyo Arsenal.
After the invasion, of course, the Japanese were not selling arms to China. They were producing or contracting out production in China, though, to arm soldiers loyal to their puppet governments. These rifles are the North Chine Type 19 (in 6.5mm Japanese) and North China Type 30 (in 8mm Mauser). These were carbine-length copies of the Type 30 rifle, and are also quite rare in the US, but have fairly distinctive pot-bellied stocks.
Naval Type 35
The Japanese Navy operated independently of the Army, and realized that is also needed to replace the outdated Muratas in use by its Special Naval Landing Forces (Marines). Some flaws in the Type 30 had already come to light, like its propensity to get dirt and grime into the action and its overly complicated bolt design (which was nothing like the simplicity ultimately achieved in the Type 38). So the Navy commissioned the Tokyo Arsenal to build them an improved version of the Type 30. The two most significant improvements were the addition of a gas shield on the bolt to help protect the shooter in case of a ruptured case, and the addition of a sliding dust cover to keep the action clean. This dust cover was basically identical in design to the one that would be used on the rifles sold to Siam. It was quiet and secure, but did not move with the bolt, and thus had to be manually opened to reload or clear a malfunction. In addition, the Type 35 departed from the standard Japanese ladder rear sight and used a tangent sight much like that of a Dutch Mannlicher.
Substitute Type 02/45
Not to be confused with the last-ditch Substitute Standard Type 99 or the Naval Special Rifle (with its cast iron receiver), the Type 02/45 was a series of rifle manufactured from existing Type 35 actions. The designation is not an official Japanese one, but instead one given by American collectors, representing the 1902 adoption dated of the Type 35 and the presumed 1945 assembly date of these particular rifles. Type 35 rifles were declared obsolete long before WWII, and they had been put into storage for emergency use. Some of these were damaged, worn out, or other wise unfit for use, and as the end of the war loomed it was decided to salvage them for as many usable weapons as possible. Barrels were taken sometimes from Type 35 rifles and sometimes manufactured new, or from rifled barrels intended for training weapons. Parts from blank-firing trainers were used for some small parts like barrel bands and nosecaps, and rear sights appear to be the same as used on the Naval Special rifles.
Additional Cool Material
In addition to chapters on each of these weapons (which cover the different variations, markings, history, and more about each type), The Early Arisakas also includes a few other chapters of interest. The first is an opening section describing all three types of Japanese characters – as several different styles of writing are encountered with these early rifles. This section also looks at inspection stamps and some school property markings (many Type 30 rifles were made into trainers). A brief but fascinating chapter at the end details the combat use of the Types 30 and 35, which found their way into a tremendous number of countries including England (Rifle, magazine, .256 inch Pattern 1900), Russia, China, Estonia, Czechoslovakia, Finland, Poland, Spain, Arabia, and more (did you realize that the weapons supplied to T.E. Lawrence included Arisakas?). Finally, there are two appendices, covering disassembly of the Type 30 and Type 35 bolts and the Finnish Civil Guard district numbers reported on Types 30 and 35 rifles.
How to Order
It is rather ironic that Banzai, once the main source of information on Japanese arms, is now a bit tricky to find. Their internet presence is limited to a page associated with GunBoards.com, and they do not have any automated ordering system for their books. The price for The Early Arisakas is $18.00 shipped in the US, and can be paid for by check or money order, sent to:
Doss White
PO Box 6
Eva, AL 35621
You can see some of the other books available at Castle-Thunder.com (although the ordering system there is the same), and any book ordered will come with a sheet listing all the available publications. The Early Arisakas clearly represents a tremendous amount of time spent researching by a dedicated group of authors, and is definitely worth the price. The text is clear and descriptive, and the photos – while all black and white – are well taken and chosen to effectively show the relevant details of the guns. I don't expect anyone else will be duplicating this work, and once Banzai stops printing it you will be pretty much out of luck.