Allow me to put on my Tikkakoski Company Sales Rep hat for a moment, and explain to you why as a modern military force (in 1933) the obvious choice in support machine guns is the Tikkakoski Model 1932 Maxim. I'll try to put this in terms that will resonate with today's tactical advertising…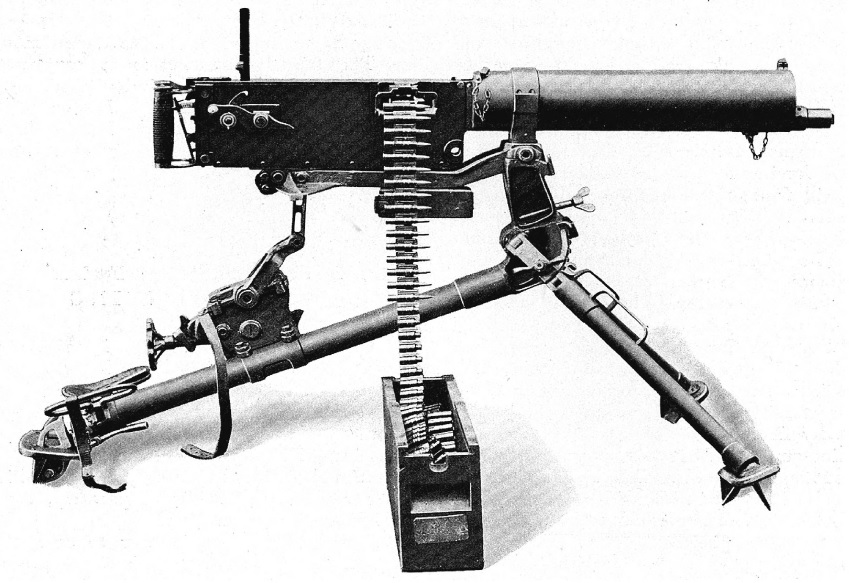 It's the most current and modern iteration of the Maxim machine gun, the choice of dozens of armies worldwide and the favorite of today's most skilled operators!

It has independently-articulated tripod legs, allowing rapid and precise setup on any terrain!

Standard low-profile flip-up iron sights, with an optics mounting rail installed standard on every gun (optical sight sold separately)!

New all-metal continuous belt feed prevents 90% of feed-related problems! No more worries about those old cloth belts getting wet or frayed or stretched when you need them most!

Quick-change modular tactical tripod system can be converted into anti-aircraft mode in mere moments – and still retains horizontal ground-targeting capability!

Finnish Tikkakoski 1932 Maxim on AA mount

Factory testing shows the Model 1932 capable of 15,000 rounds endurance without cleaning or malfunctions! Guns are capable of more than 750,000 rounds fired with no parts breakages!

Multi-caliber capable! Standard model is chambered for 7.62x54R, with other calibers available on request – barrel change operation requires 30 seconds or less!

New patented firing rate selector allows operators to choose between 500rpm and 1000rpm rates of fire, ideal for all situations!
I hope that wasn't too over the top…our friend Hrachya sent us a copy of a 1933 brochure on the Finnish Tikkakoski company's 1932 model Maxim gun, and every claim in there comes straight from the document (although FWIW, Dolf Goldsmith suggests
that the "fast" rate of fire was more like 800rpm, not 1000). The brochure was printed in English in 1933, and makes for some interesting reading – it is definitely an advertising pitch rather than technical manual and the different perspective is interesting to see. You can download the whole thing yourself here: