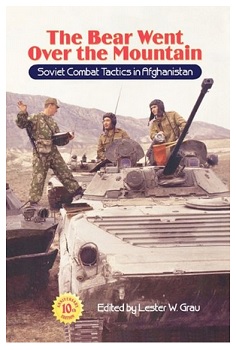 I've been aware of Lester Grau's The Bear Went Over the Mountain: Soviet Combat Tactics in Afghanistan
for a long time – I borrowed a copy many years ago – but only recently purchased a copy for myself. Not surprisingly, it was reprinted in 2010 and again in 2013, making it much more readily available than when I first heard of it. That's great news!
Bear Went Over the Mountain is really not a single book; it is a compilation of forty-odd short vignettes of Soviet combat actions from their invasion and occupation of Afghanistan. The accounts were taken and translated from a volume printed by the Frunze Combined Arms Academy in Moscow. They were originally compiled for the use of Soviet military students and not for general publication – and so they make light of both the successes and mistakes of the commanders involved, to which the author (an infantry officer, Vietnam vet, and Soviet analyst for the Foreign Military Studies Office) has added his own commentary. Ironically, the book was nearly not published in 1996, when the National Defense University pulled its funding just prior to publication on the grounds that the US would never again be fighting a counter-insurgency.
Reviews for Bear are mixed, because of different expectations people have of the content. This is not at all an analysis of general Soviet strategy or the big-picture way they waged war in Afghanistan. In many ways, it's not even an organized analysis of small-unit doctrine or tactics. Instead, it is a series of after-action reports on skirmishes with combatants numbering form the dozens to a few hundred in total. Each one includes a map of the action drawn by the commander on the ground, and 1-3 pages of description, followed by brief commentaries by the Frunze Academy editors and Grau. These accounts address how individual Soviet unit commanders planned and organized actions, and how they then acted in combat. Grau has divided the vignettes into six sections:
Blocking and Destroying Guerrilla Forces
Offensive in Populated Areas and Mountains
Application of Tactical Air Assaults
Defense and Outpost Security
March and Convoy Escort
Conducting Ambushes
Here is a typical example:
[nggallery id=221]
These vignettes, I think, are a fascinating look into the Soviet war in Afghanistan – and I expect they would hold useful insights for soldiers deployed there today (I would be very interested to hear thoughts from anyone who has read the book and served in-country). I find that it is best to pick a single action or two and study the description and map until I have a thorough understanding of what happened, rather than try to read the volume cover to cover.
I should point out that Grau's translation of the text from Russian is outstanding – he includes plenty of footnotes explaining Soviet doctrinal concepts when necessary (like the bronegruppa, a group of armored vehicles deployed independently of infantry as a mobile reserve or concentration of direct firepower), and the text reads like it was written originally in English.
I think Grau's work was an indispensable part of a library on guerrilla warfare back in the 90s when it was originally published. It is all the more significant today in light of the US' many years of combat in Afghanistan if for no other reason than to contrast the US and Soviet methods and results, and to contrast today's fighters to the mujahideen on the 1980s. Thanks to the multiple reprintings, you can get it today in either paperback or for the Kindle, and used copies can be had for just a few bucks:
Updated to add: As Kevin points out in the comments, the DOD has released the book online, and you can find PDF copies on the net without any trouble. For folks who are happy with electronic rather than print, here is a copy you can download.