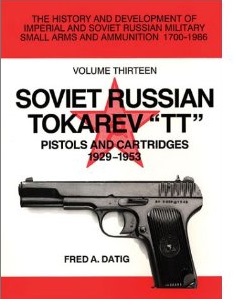 The full title of this work is far too long to use as the title of this post, as it is (deep breath) "The History and Development of Imperial and Soviet Russian Military Small Arms and Ammunition 1700-1986, Volume Thirteen: Soviet Russian Tokarev "TT" Pistols and Cartridges 1929-1953″. Written by Fred Datig (sadly passed away in 2011), this is really one of only two serious books on the Tokarev pistol, the other being John Remling's (which we have previously reviewed).
To start with a bit of background, I should mention that Datig originally planned to write a comprehensive 22-volume set on all Russian military arms from 1700 to the present, broken up by subject. To the best of my knowledge, the only two actually published were Volumes 16 (Postwar Military Pistols and Cartridges, 1945-1986) and Volume 13, on the Tokarev
. More's the pity, as I would have been very interested in his works on the Mosin-Nagant and Soviet semi-auto rifle development. Anyway, we are looking specifically at the Tokarev book today.
Unlike Remling's work, Datig focuses specifically on Russian Tokarev development and production, without any mention of the other countries that used the pistol (Romania, Poland, China, etc). His information on its development is as comprehensive as you will find anywhere, although it relies heavily on Soviet Small Arms and Ammunition
by Bolotin (another book which is frustratingly difficult to find a copy of). There are not that many different variants of the Tokarev, and Datig does a good job covering them all. He begins with some background on Fedor Vasilevich Tokarev, who was quite the accomplished arms designer (and a neat bit of trivia – did you know that his 1927 machine carbine was chambered for the 7.62x38mm Nagant revolver cartridge?). This is followed by discussion of the preliminary TT-30 (Tula-Tokarev 1930) design, which bore only a few differences from the main production version. In design, the Tokarev was basically a (significantly) improved Browning 1911 with the grip angle of the Browning 1903. Next up is a chapter on the TT-33, which would up being produced for Russian military use until 1953. These chapters both include good quality (although black-and-white) photographs of sample pistols showing the specific elements being discussed, as well as comparison photos between several variants.
In the late 1930s, another major pistol design trial was initiated, in which Tokarev competed against three other designers (Rakov, Korovin, and Voyevodin). Information on these experimental designs is slim, but Datig does include a line drawing of each one. Tokarev's new design actually lost out to his competitors, but the breakout of WWII prevented a new pistol from going into production (although all three other designers would have a hand in the later Makarov development). For a particularly excellent discussion of the Tokarev design and evolution, I would direct you to Weaponsman's post of just a couple days ago – he does a good job showing the various features and giving the design it's rightful due.
The next chapter covers .22 caliber Tokarev variants, which use a floating chamber design much like David "Carbine" William's. Following this are a pair of chapters on Tokarev holsters and the many types of ammunition developed for the pistol over the course of its use (including blanks, ball, AP, incendiary, tracer, and flamethrower ignition cartridges). Total length is 168 pages.
As is so often the case, the very focused and extensively researched books like this one tend to run for only one or two printings before becoming unprofitable for publishers, and are thus only found at inflated prices. The Amazon link above currently starts at $80, although I did find two other sources that have at least one or two copies in stock at more reasonable prices: Collector's Firearms ($30) and BuyMilsurp ($40).