In recognition of Halloween, we have a pistol that would be genuinely frightening to shoot, straight from the jungle shops of the Vietnam War. Made out of desperation and a lack of factory-produced arms, a few of these guns came back to the US as war souvenirs. This pistol was modeled after a US 1911 captured by the Viet Cong, and clearly made with a minimum of tooling.
The pictures come from Andrew, who runs Wartime Collectibles. He was buying a veteran's uniform and insignia, and got the pistol as well: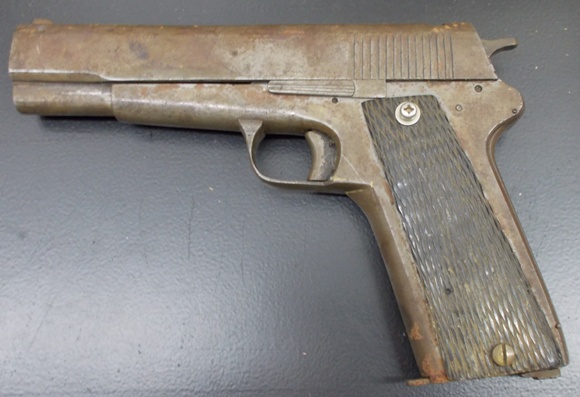 While the broad outline is a pretty decent duplication of the 1911, there are a bunch of simplifications that have been made. Most obviously, the safety has been omitted, along with the plunger tube for its locking detent. The plunger tube, actually, has been left off all the different examples of this sort of pistol that we have seen. Compared to the other working parts of the gun, the plunger tube is fairly unimportant and fairly tricky to mount properly, so it isn't particularly surprising to not see it here. In addition, the slide stop lever here appears to be non-functional, as there is not cutout in the slide for it to rotate up into. It's just acting as a barrel pin.
The extractor is visible here, and is of the external type instead of the 1911 internal design. Again, this is simpler to build this way.

And the magazine release has been put in the heel of the gun. Not the number of holes in the magazine – apparently the gunsmith here didn't recognize the significance of the witness holes, namely having one for each cartridge.
Unfortunately, Andrew hasn't disassembled the gun, so we don't have any photos of the internal construction. Some of these sorts of guns have no locking lugs, and act as straight blowback actions. Andrew informs us that the barrel does have some play when the slide is retracted, and between this and the barrel pin we can tell that it is not a fixed-barrel gun. Whether the locking system was copied faithfully or just left off remains a question. While we are generally eager to shoot unusual historical weapons around here, I don't think we would really want to touch off this one. It would probably function for at least a few rounds, but I like my face as-is and don't really need to risk running a pistol slide through it.
However, if you think it's a pretty cool gun and want to add it to your collection, Andrew is looking to sell it. He's asking $1200, and can be reached at wartime@wartimecollectables.com. And hey, if you do buy it and decide to test-fire it, send us video!