After his success with the AR 10/15/16/18 series of rifles, designer Eugene Stoner went on to develop the Stoner 63 weapons system with the Cadillac Gage company. The Stoner 63 was in many ways a natural evolution of the AR15 rifle, with a strong emphasis on modularity.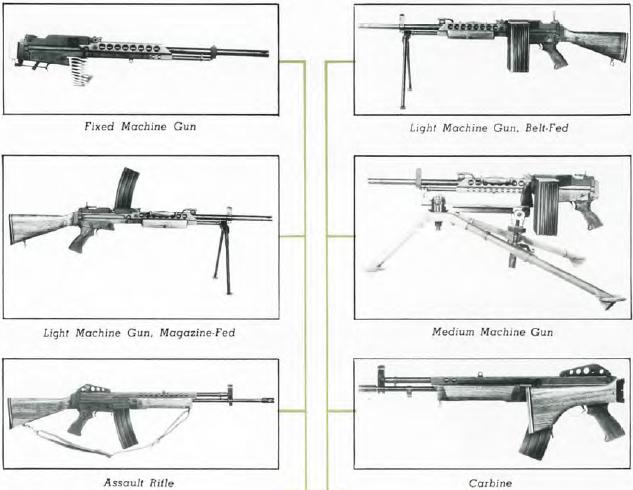 The driving idea behind the Stoner was to use a single receiver for an entire family of weapons. The stocks, barrels, sights, feed assemblies, trigger assemblies and other main components were all modular and interchangeable. Some configuration changes were relatively simply, like changing between rifle and carbine – the carbine used a shorter barrel and folding buttstock. The more impressive design achievement was the ability to flip the receiver over to change from shoulder rifle to light machine gun configuration.
The rifle and carbine designs use a gas piston on top of the barrel and magazine fed from the bottom. The accommodate a belt feed, though, the belt needs to be fed from the top of the gun, which thus requires the gas piston to be on the bottom (you can see this on virtually every gas operated LMG, like the Bren and BAR families). The Stoner allow the rifle receiver to be rotated 180 degrees and mount the LMG components in this way.
Other features included a fixed vehicle mount design fired by solenoid, and tripod adapter to allow the gun to be used with the standard US machine gun tripods of the day.
The Stoner was used experimentally by special forces in Vietnam, though it was eventually declined for regular issue due to high maintenance requirements.During the procurement process, a number of modifications were requested by the military, which resulted in the development of the Stoner 63A – most significantly a change to right-hand feeding for the belt fed models, to eliminate the problem of ejected casings bouncing back into the feed port and causing malfunctions.
We have a preliminary official manuals for the Rifle, LMG, and MMG configurations of the Stoner 63/63A, as well as a sales brochure for the weapons system, a Cadillac-Gage report on the design changes from the 63 to 63A variant, and a maintenance annex to the testing reports on the 63. These are available here, as well as on the Original Manuals page in the Vault.
Stoner 63 System sales brochure (English)
Stoner 63A rifle manual (English)
Stoner 63A LMG manual (English)
Stoner 63 MMG manual (English)
Annex to Service and Troop Tests, Stoner 63 System (English)
Cadillac-Gage Engineering Change Report for Stoner 63A (English)