Starting in the 1920s, SIG Neuhausen tried to develop a popular submachine gun, with little success. To a significant extent, I think the Swiss manufacturing philosophy was just not well adapted to the world standard of cheap and quick stamped SMGs.
An example of the Swiss SMG is the MP46 family (including the MP48 and MP310). The MP46 was a typical SMG mechanically, firing from an open bolt and being chambered for 9mm Luger. It had both semi and full-auto capability, and used a 40-round magazine. Semiauto firing was done with a short trigger pull, while a full pull would allow firing until the trigger was released. The MP46 family used a drum-type rear sight, with settings for 50, 100, 200 and 300 meters.

One less common feature was the incorporation of a folding mechanism for the magazine. Pushing a latch on the left side of the gun allowed the magazine to fold up 90 degrees parallel to the barrel for convenient transport. There was no manual safety on the gun; the magazine would be folded up to render the gun safe (although a manual safety could be included by special request). There was an automatic safety that would prevent firing if the rear receiver cap was not fully locked in place (to prevent the bolt from flying out the back of the gun on the first shot).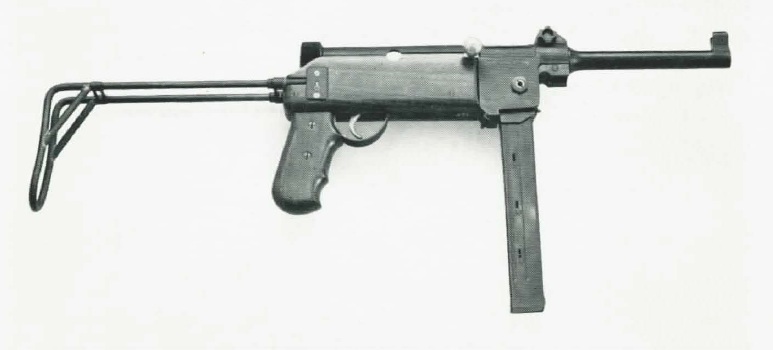 The MP46 was equipped with a full-length wooden stock and 300mm barrel, and had attractive lines for a postwar submachine gun. The followup MP48 was mechanically the identical gun, with a shorter 200mm barrel and a collapsing wire stock and pistol grip. In the late 1950s, SIG changed its numbering system and released the same gun with a polymer stock as the MP310 – which remained in production until 1972. However, the only significant sale of any of this family of SMGs was a purchase of MP48s by the Chilean government. The MP310 saw intermittent small sales to South America and some Swiss police agencies, but the guns did not find real commercial success.
We have a short SIG manual in English for the MP46 and MP48, which you can download here of from the SIG MP46/MP48/MP310 page in the Vault.