Well, we arrived back home from Las Vegas and the SHOT Show last night. SHOT ended on Friday, but we took advantage of the weekend in Vegas with several more stops.
Friday, of course, was a full day at the SHOT Show. We only had enough time Thursday to cover most of the first floor of the show, so Friday was dedicated mostly to the second floor. It's a huge event, and even after two full days there were booths that we never got to. We got to meet a bunch of great folks on Friday, like Oleg Volk (with whom I'm excited to do some collaboration in the future). We also had the opportunity to visit the great gun collection at Long Mountain Outfitters. Dan Shea, who runs the place, has a bunch of very interesting machine guns – like the original Heligun that we posted a photo of a while back.
And, as I mentioned, I took pictures of a representative sample of the zombie-related advertising that was a major theme at the show this year:
[nggallery id=119]
For most folks, Saturday was a chance to rest or head home, but we took the opportunity to visit the Antique Arms show being held in Vegas. It's about the most expensive assortment of guns for sale that I've ever seen – complete with booths from firms like Parker shotguns, Rock Island Auctions, and all manner of high end collectors' associations. I saw more original Colt revolvers, NFA-exempt short lever action Winchesters, early flintlocks, and royalty-grade engraved double rifles than I knew still existed. It was a great show to look through, even if most of the price tags would buy small houses – we saw a bunch of very cool Forgotten Weapons to photograph and add to the site over the next few weeks.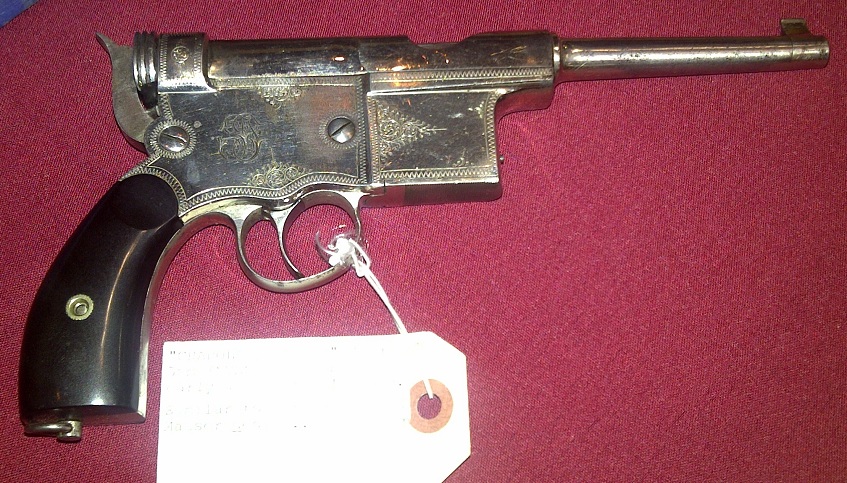 For my own part, I found what was likely the least expensive firearm there, and brought it home with me. It's a Trapdoor Springfield, a design I've been inexplicably interested in for a while now. It's in a pretty sad state of neglect right now (having been found hanging over the hearth in an abandoned log cabin in the Utah wilderness), and I'm looking forward to cleaning it up. I expect you'll be seeing more of that particular rifle in the coming months.
After having spent half a day at that show, we headed to yet another show, making a record (for me) three different gun shows in two days. This last one was a normal one held at the Sports Center, and was unfortunately disappointing in size and quality. But hey, you never know when you'll find that one great item at a little dinky show (for the record, we did not in fact find that item this time).
Not to be discouraged, we finished up the day with a trip over to Rick Reich's shop, an online affair run by a gentleman we met at a gun show many years ago. Rick deals in surplus gun parts and accessories like pouches, belts, holsters, slings and the like. He will be joining the site as a sponsor in a couple months, and we were excited to see his stock and hear the news in the surplus industry.
By the time we dragged ourselves away (who can resist stacks of odd parts guns and that great milsurp aroma of old leather and cosmoline?) we were pretty well wiped out for the day. I'm embarrased to reveal just how early we hit the sack – I think the serious Vegas people hadn't even started evening festivities.
Yesterday morning, we had one more important appointment, meeting up with Dolf Goldsmith. I'm happy to say that he is doing very well, and we are very excited to see his next book, which will be on early machine guns and manual machine guns (like the Gardner, Nordenfelt, Gatling, and so on). We chatted for a couple hours before having to excuse ourselves for the drive back home.
All in all, we had an excellent trip and made some great contacts with great people. I'm definitely looking forward to next year's SHOT show as well.