I think we've all seen the multi-gun mounts made for Browning .50 caliber machine guns, especially the quadruple mount that was used in halftracks. Well, those are the most common quad mount out there, but far from the only one. Multiple gun mounting systems were used in many anti-aircraft roles from both naval and ground positions.
We happened across a complete original manual for a quad mount designed for Colt/Marlin 1895 machine guns. It's not dated, but was issued by the Ministry of Aircraft Production, Factory Defense Section, which makes it World War II era. The Marlin in .30-06 was one of the reserve weapons available to the British Home Guard, and this mount was designed to make use of them in defending against air raids.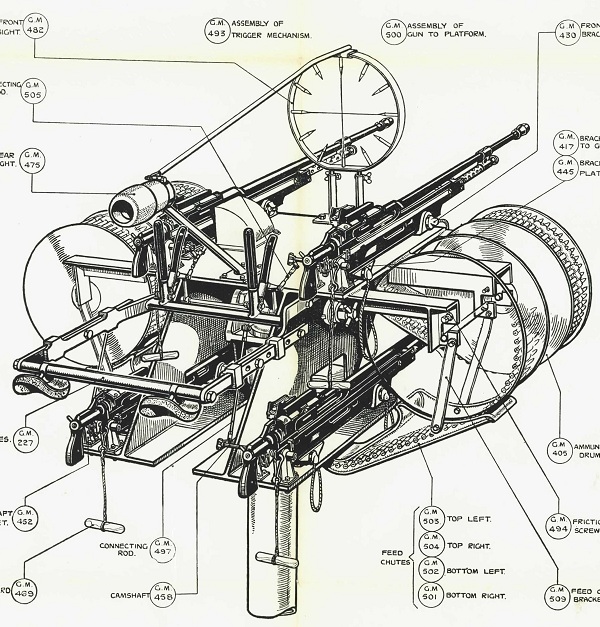 Each gun was equipped with an ammo spool holding 300 rounds, and shell deflectors were in place to prevent the gunner from being hit by any brass. The manual is very thorough, covering everything from construction of the mount to sighting in the guns to firing techniques and how best to position multiple emplacements around a factory. A section at the end covers basic maintenance of the Marlin gun itself.
You might not think about the details required to make a contraption like this work effectively…things like:
– Properly tension the ammo spools so they don't keep spinning when you stop firing
– Synchronize the trigger cams so the guns fire together in pairs
– Zero the guns so that the fire from all four converges at the optimal distance (not less than 500 yards)
If you happen to have four old Marlins just lying around, this manual has everything you need to build yourself a mount and effectively protect your home from those pesky Dorniers. And even if you don't have any Marlins, it's a neat bit or reading material. You can download it from the Colt 1895 page in the Vault, or right here: