This post started as just a quickie, because I happened to find a vintage photo of a couple French WWI soldiers using a crossbow/ballista type device to throw grenades. I realized, looking at the photo, that I'd actually seen one of them in person, as the Paris Musée de l'Armée. The plan was to post the vintage photo along with my recent photo, but I started trying to research more about the device, and ended up several hours later with a lot more information than I'd planned on.
The device was called L'Arbalete la Sauterelle Type A D'Imphy, and it quite literally was a crossbow, using the tension of two bent steel rods to provide the energy storage that sinew provided back when the Romans were building this sort of thing. A metal cup held a spherical Type 14 grenade (weight roughly 1kg/2.2lb), and a pair of hand cranks on a rack and pinion mechanism were used to cock it.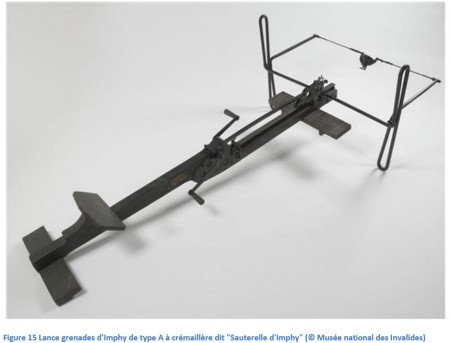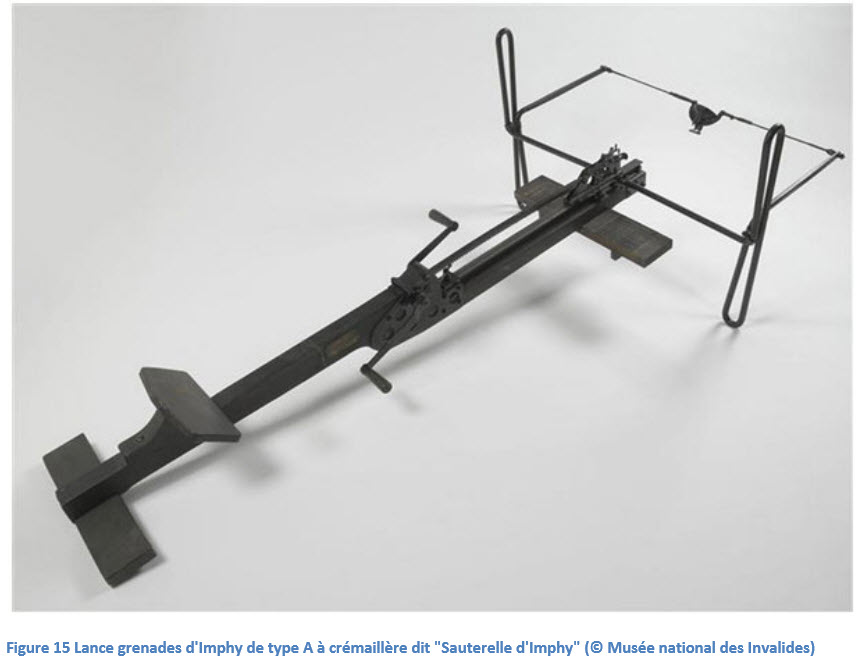 The device was designed by a French artillery officer by the name of Elie André Broca (who was also a science professor, medical doctor, and inventor in the fields of optics, dirigibles, and underwater listening devices). He took out a patent (French patent #502,158) in March of 1915. These crossbows were actually fairly sophisticated, and Broca put together a company to manufacture them. They would turn out to be fairly well-liked by troops, and did a good job of filling the technology gap until more modern light mortars could be developed and mass produced (the need for such weapons was really not anticipated when the war broke out).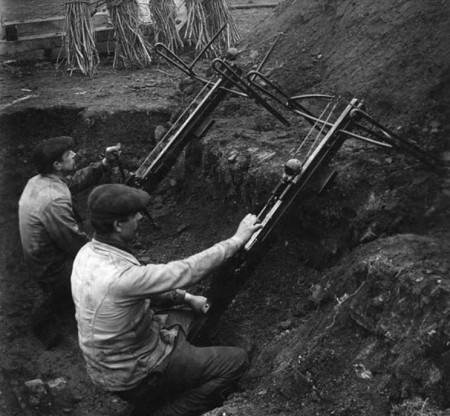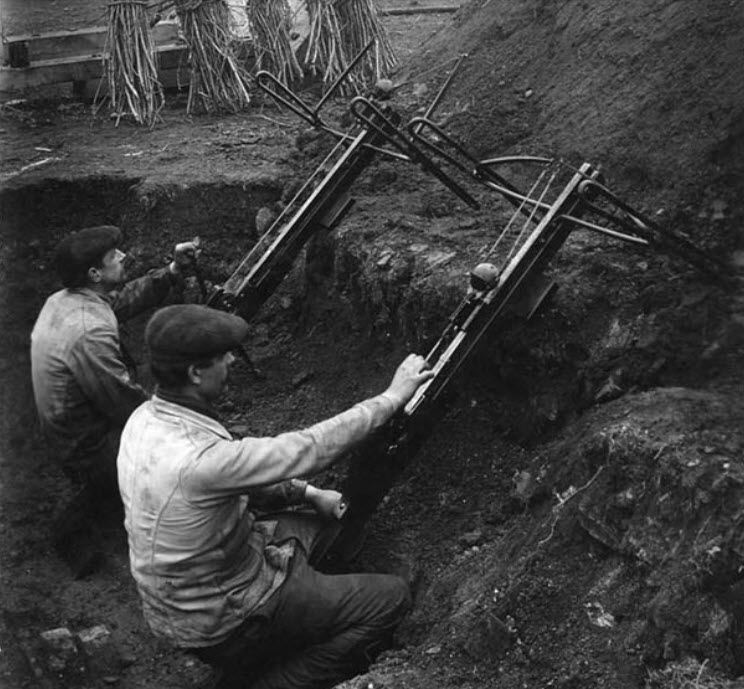 The maximum range of the Arbalete was about 125 meters. It was intended to be mounted at a 45 degree angle against a trench wall, and different ranges could be chosen by using a sliding stop on the track that the grenade and cup traveled on. That track was marked out with a scale, and the instruction plaque on the left side of the weapon specified where to place to stop for a given grenade weight and desired range. Once it was properly set, the gunner (ideally a 2-man team, but it could be operated solo) would use the hand cranks to drawn the grenade cup back to the stop. Then he would set a grenade in the cup, strike its friction igniter, and pull the release trigger on the Arbalete to let it fly. The official rate of fire was 4 rounds per minute, and the whole assembly weighed 29kg (64 lb).
I did come across a short instruction pamphlet printed for these, which you can download below. In addition, I found an excellent monograph on the subject of several types of mechanically-powered launchers like this written by Jean Michel Kalouguine. It is in French, but the illustrations are great (I swiped several in this article from him) even if you can't read it. Lastly, we have this set of photos of the Arbalete in the Paris museum (which are much better than the one photo I took myself when I was there):