Don't forget, there are still several days to enter our DVD giveaway – we're giving away two copies of our recent Machine Gun Manuals DVD (worth forty bucks each!) – and you can get one!. To have your chance at winning, just post a mention of the giveaway and a link to the DVD page (https://www.forgottenweapons.com/firearms-manual-archive-volume-i-machine-guns/) to your blog or Facebook page – then drop us an email (admin@forgottenweapons.com) and let us know that you've done it (and a link to your blog, if applicable). Pretty easy, right? I'll be picking two winners at random on Tuesday (the 9th) and sending out some free DVDs!
Back to our regularly scheduled blog…
We like finding English-language information on foreign military arms, and we ran across a particularly interesting example of just that recently. The British government printed booklets during WWII describing enemy arms for the education of its soldiers – and they give us good insight into what was being used in the field. Well, this particular one is specifically about some less-common weapons used by the Wehrmacht (click to download the whole PDF):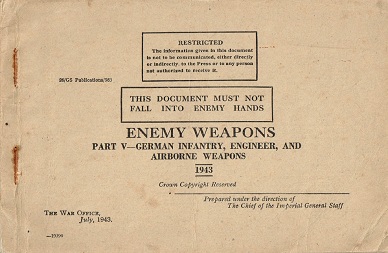 It covers the MP18/I, MP28/II, MP34 (both Bergmann and Steyr varieties), MG34S, MG34/41, MG42 (which was new at the time of printing) rifle grenade launchers, 8, 10, and 20cm mortars, and the airborne 75mm recoilless rifle: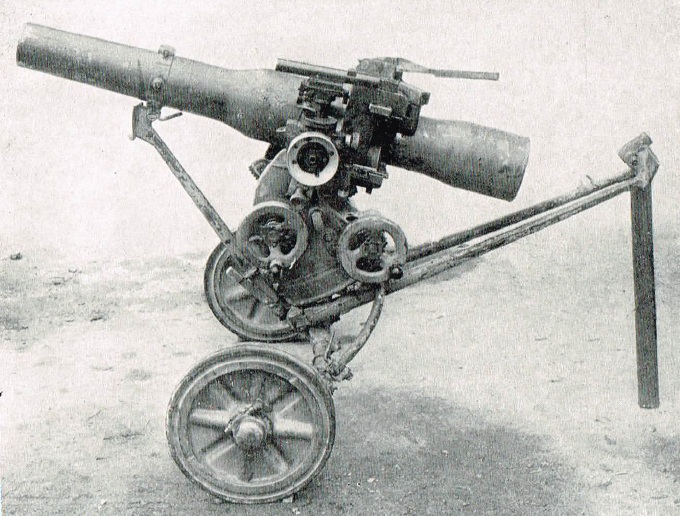 Actually, it has more information on the LG40 than anything else – lots of detailed and disassembled pictures. If you have any interest in this sort of thing, definitely download the PDF and have a look.
Also, I'm sure we've all heard at one time or another the old myth that Russia (or someone) adopted the 7,62×39 because it would let them use NATO ammo but NATO couldn't use theirs? Total bunk…but occasionally there is a case for ammo interchangeability. Appendix A of this booklet has a neat chart showing which countries' mortar ammo is compatible with which mortars: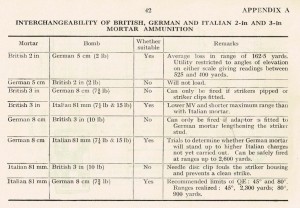 I can't say I'd ever thought about it much, but it would be good info to have out in the field.
And one last picture of a neat weapon for good measure – the German 20cm (that's just under 8 inch) spigot mortar: