We recently had the opportunity to handle a Breda PG rifle. They were made in 1935 in Italy, and the only major sale made was to the government of Cost Rica (in 7mm Mauser).
The rifles are notable for being one of the first designs to incorporate a burst feature in the trigger mechanism. In the Breda, the selector allows shooting single shots, 4-round burst, or full automatic. What isn't obvious from photos and online descriptions is the bulk of the design. While relatively short (with only an 18 inch barrel), the Breda PG is a very wide rifle, and quite heavy (11.5 pounds unloaded). This likely aids controllability when firing in automatic mode, but certainly makes the gun less appealing to carry for extended periods. Hopefully we will be able to test fire this rifle and bring you a good range video on it.
The Breda PG uses a rising bolt design with a locking lug on the top of the receiver. As the bolt and carrier move forward under pressure from the recoil spring, the bolt is forced upwards, engaging it against the locking lug. A gas piston running inside the handguard pushes the bolt carrier back upon firing, which in turn cams the bolt downward and unlocks it.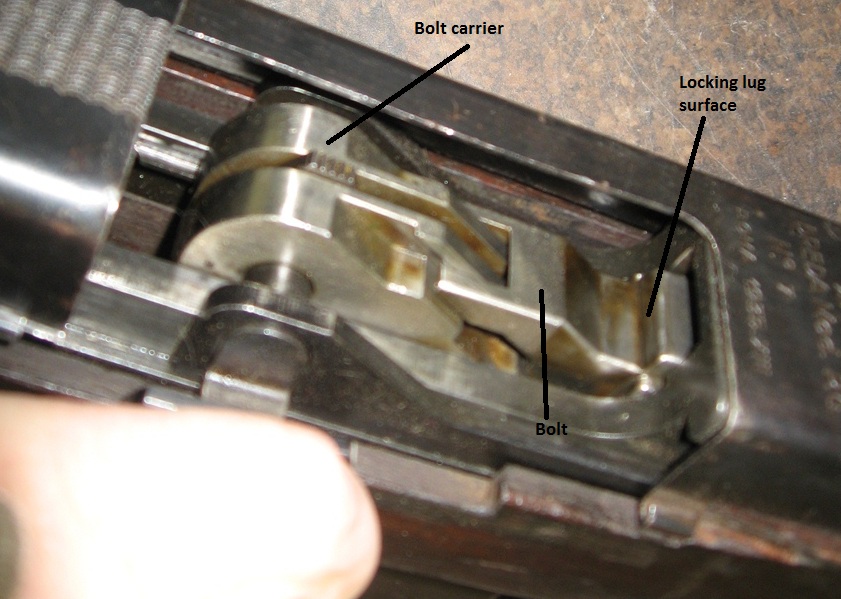 We took a number of photos of the rifle and its magazine, which you can see here. High resolution copies of both galleries can be downloaded form the Breda PG page in the Vault.
[nggallery id=130]
[nggallery id=131]