If you were interested in Bin Shih's very nice book on Chinese firearms of the second Sino-Japanese War (1937-1945) but didn't get one before they sold out, you're in luck! He's going to be running a second printing (we're not sure if it will be the English or Chinese version, or both). If you would like to get a copy, email him at firearms@cox.net. You can see some sample pages and the table of contents over at ChineseFirearms.com. Bin has become our go-to expert when we are trying to translate Chinese marking on guns, so mention that you found him here if you do get a copy of the book.
We had the opportunity to chat with David Tubb recently – in addition to being a staggeringly skilled rifleman, he's a very personable gentleman. We pulled out the camera and took a few minutes to discuss the new line of precision ammunition he will be releasing to the market shortly under the name Absolute Tubb. Not really in line with our subject matter here on Forgotten Weapons, but if you're interested you can see the video over at GunLab – David Tubb Interview.
Since we were going to be in Florida for a couple days for the IMT seminar, we made arrangements to visit a couple other collectors in the area. You'll see more from those in a the coming days (including a cool look at the work done by Hydro Print Services), and we have a bunch of documents we're working on scanning as well. One gentleman loaned us copies of a whole slew of Ordnance Sergeant and Tactical and Technical Trends magazines from WWII. A lot of the material is on vehicles and heavy weapons, but there's enough small arms data to interest us. Things like this: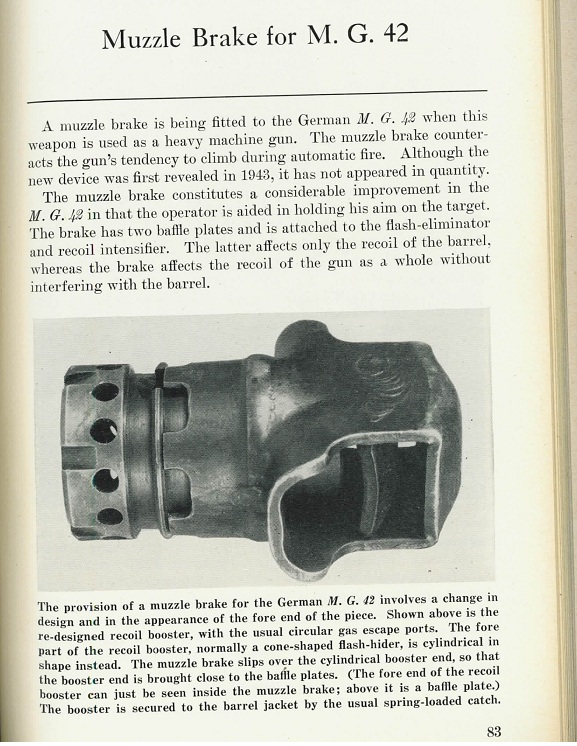 Note that this muzzle brake also incorporates a booster, so it doesn't reduce the gun's rate of fire (actually, it increases it by a few percent). We'll be putting the full contents of these magazines up on the site for download, as well as pulling out specific articles of interest for posts now and then. So if you need to know things like how to put your halftrack up on blocks or new Japanese techniques for mining beach landing zones, stay tuned! Okay, the detailed articles on M1 Garand maintenance are more useful, but it'll all be there.