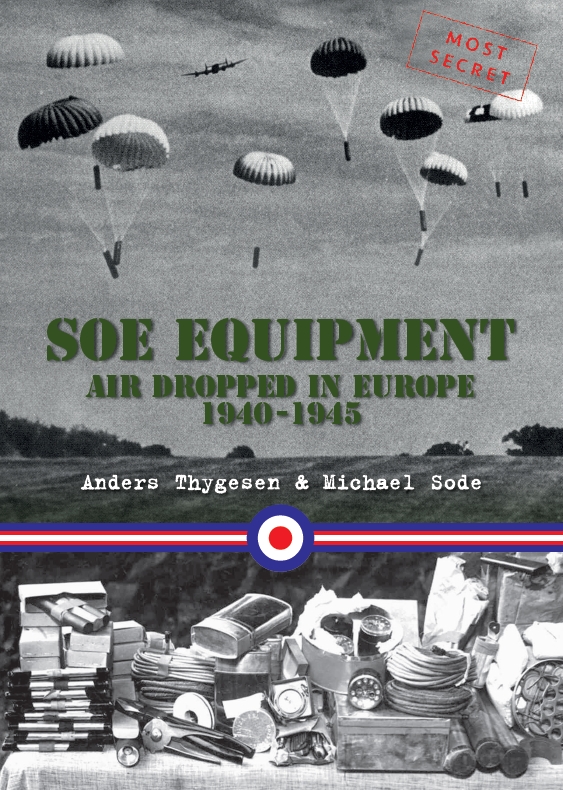 A while back I posted a review of a great little paperback account of Winston Churchill's Toyshop – the development of clandestine warfare gear for use by saboteurs and resistance movements in occupied Europe during WWII. That book did a great job of telling the story of the development of these gadgets, but didn't really get into their actual distribution and use. Well, we now have access to a wonderful companion book by Anders Thygesen and Michael Sode about the devices themselves.
Where Stuart Macrae's book is nearly all text, Thygesen and Sode have produced a volume in which virtually every page includes a nice glossy photo – some period black and white and many full color, taken in collections of this gear today.
This book is organized rather like a museum of SOE gear, with each section cataloging a number of items, with a brief description, development history, and production total for each. They are accompanied by clear and close-up photos of each item. The contents include:
– Initiating and Delay Mechanisms
– Explosives
– Incendiaries
– Weapons
– Containers & parachutes
– Communications equipment
– and more
The book is particularly strong in the areas of explosive initiators and timers, of which there were a surprising variety. Pull switches, pressure switches, time pencils, release switches, fog signals (for detonating railway bombs) and more. All manner of limpet mines and some pretty slick disguised explosives, like magnetic fake bolt heads and dead rats stuffed with explosive. When it comes to firearms, the book's strength is definitely the Welrod. The authors had excellent access to disassemble and fire at least one Welrod, and the history and explanation of this very cool covert weapon is excellent. The other firearms that were used are pretty much just listed with photographs, as they are commonly available and well documented guns. Oh, except the Colt 1903 converted to be strapped to one's waist and fired by remote activator, an example of which was captured by the Danish police and is well documented here.
There is much more in this book than I can describe in a short review like this, but hopefully this will give you the gist of the content. It runs to 255 pages, including about 50 pages of reproduced English-language original sabotage instruction manual. The printing quality is excellent, unlike some home-printed niche subject books – this is very definitely a professional hard-cover book and not just a pamphlet.
This is another of those works written to fulfill a personal passion, which will never be widely printed. The English run is just 300 copies, although if those sell out apparently a second volume will be done in a few years. So if you are interested in the subject, act now before they are gone. The price is a rather high, at 65 Euros shipped to the US (that's about $73 at the time of this writing) or Europe (air dropped, you might say). But that's the price we pay for well-printed books on very niche subjects. It is not available on Amazon or elsewhere, just direct from the authors via PayPal. Sorry, but the book is now sold out.