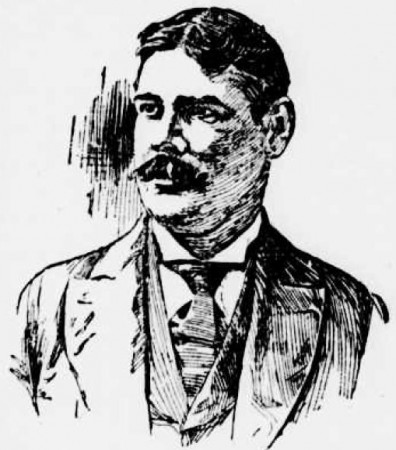 The Savage Arms Company is known today for its bolt-action rifles (which offer a particularly good value for the money; I am very fond of my own Model 10), but the company got its start and because a major firm with the success of two other guns. These were the Model 99 lever action rifle and the Model 1907 (and subsequent variations) automatic pistol. Interestingly, only one of those guns was designed by the company's founder – he had sold his interest in the company by the time the pistol was being produced. Arthur W. Savage was not one to linger in a place or with a task – he was always being drawn to new challenges and opportunities.
Savage's much-traveled life began in Kingston (Jamaica), where he was born on May 13th, 1857 to John and Jane Savage. His father was a devoutly religious schoolteacher there in Jamaica, although Arthur would spend nearly 15 years during his childhood without seeing him. In 1865 Jane Savage took Arthur and his siblings to visit England, and growing unrest in the then-British-colony on Jamaica prevented them from returning. His mother eventually relocated to Baltimore, but Arthur stayed in England for schooling and missionary training – not something he found particularly enjoyable. Judging from what he would go on to do, it is easy to guess that young Arthur would have found this period of time stultifying and intolerable. He was eventually able to obtain his father's permission to rejoin his mother in 1871.
Shortly after Arthur joined her, Jane moved again, this time to Glasgow where the Savages had family. Jane died in 1873 from complications of a minor surgery, and Arthur (then 16 years of age) moved in with an uncle in London. A brief span in art school ended when he heard Charles Darwin lecture about the splendor of the natural world, and Arthur convinced his uncle to buy him passage to Australia to seek adventure.
Savage's time in Australia began with three companions in search of gold and opals, a plan which quickly proved a failure. Savage joined up with a band of Aborigines, whom he would live with for two years, moving across the Outback. In 1876 he returned to white society, working for periods as a sheep shearer, doctor's assistant, hotel bouncer, and cattle rancher. In the midst of this he met Annie Bryant, and the two were married in 1879 (and they would remain together until her death in 1919). Savage would stay in Australia until 1884, fathering the first four of his eventual eight children with Annie, before returning to Jamaica (by way a year's stay in England) to manage a banana plantation. Typically for Savage, this employment kept him interested only until 1886, when he moved his family yet again to New York.
In New York, Savage took a job with Munn & Company, a publisher of patents and scientific papers. This environment seems to have unlocked a talent in Savage for inventing, because a wave of patents was to follow. The first (in 1886) was for a machine to clean hemp and other fibers, and this was followed by his first foray into firearms (possibly something that had been rattling around in his head since his days of shooting kangaroos for bounty in Australia). The British government was looking to replace the Martini-Henry with a repeating rifle, and Savage designed a .45-70 rifle with a pivoting Martini-like breechblock and tube magazine in the buttstock, which he submitted to the British trials. It failed (the bolt action Lee was chosen instead), and Savage spend several years improving the design before selling it to a company by the name of Hartley & Graham (who reportedly paid $10,000 for the patent rights, but never managed to manufacture the rifle).
As you might expect, Savage had moved yet again by this time, to the town of Utica, New York. There he took on yet another new career, this time as manager of the Belt Line Railroad. He was impressively successful at rebuilding the run-down railroad, and repeated the feat on another failing streetcar line in Saratoga Springs. Through this period he continued to tinker with inventions during his free time, making a number of improvements to early naval torpedoes and designing a new military rifle. This new design was a lever action design, and Savage invented a type of rotary magazine for it to prevent the problems inherent in using smallbore cartridges in a tube magazine (namely, a bullet detonating a primer in the magazine). Two prototypes was made (apparently by Colt) and submitted to US Army trials in 1892, where Savage was again rejected. This time the main causes were slow loading and awkwardness operating the lever action in a prone position. The Krag-Jorgensen was eventually adopted as the winning design.
Savage patented several aspects of this rifle design in 1893, and in 1894 formed the Savage Repeating Arms Company. He contracted production to Marlin, and sold his rifle to the commercial sporting market as the Model 1895. It was a handsome-looking gun, and its 5-round magazine of spitzer cartridges was an elegant improvement over single-stack magazine designs like the Winchester 1895 or tube magazine designs – and its enclosed action made it much less susceptible to dirt than other competing guns. About 5000 of these rifles were sold over the next 4 years, and Savage decided to open his own factory, and began producing the updated Model 1899 (aka Model 99). This would prove an extraordinarily long-lived rifle, with versions being manufactured into the 1980s.


Arthur Savage, however, could not be tied down to the company. In 1905 he sold his interest in the firm and moved to California and took up the orange-growing business. This, predictably, lasted on a few years, and in 1911 his interested turned instead to automobiles and he moved to San Diego and patented the radial tire. In this pursuit he formed the Savage Tire Company, which he ran until selling it in 1919. Savage continued to tinker with guns during this time, and in 1917 formed a new gun company in partnership with his son Arthur J, although the company was unsuccessful. Savage would go on to involve himself in oil drilling, gold mining, pipe, brick, and tile manufacture, ceramics, and to manage the San Gabriel Water Company for a time. His string of new adventures would come to an end in 1938, when he found himself diagnosed with a painful and terminal form of cancer. Arthur Savage was not a man to he held down, and the prospect of a slow and lingering death must have been utterly abhorrent to him. As was his nature, he took dramatic action and ended his own life on September 22, 1938 with a single shot from a pistol. He was 83 years of age.
After his departure in 1905, the Savage Arms Company would go on to produce a massively successful .32ACP pistol, to be a principle supplier of military arms during both World Wars, and to produce a well-respected line of firearms to this very day. To think that this legacy comes from just one of so many of Arthur Savage's passing endeavors certainly leaves one in admiration of the man's talents.
Bibliography
Brower, Bailey Jr. Savage Pistols
. Stackpole Books, Mechanicsburg PA, 2008.