TRW was a large engineering corporation which had decided to diversify into the arms business in the 1950s. Its first major contract was production of the M14, and its success in that endeavor led the company to really dive into armament R&D. They hired on a team of quite notable arms designers, and got into many different areas of the field.
One example is a response TRW provided to an Army RFQ (Request For Quotation) in 1967, in which they propose a new general-purpose machine gun using caseless ammunition. If you have any interest in caseless ammo, you will really enjoy reading through this proposal. It identifies several types of proposed caseless cartridge and then describes in some detail the machine gun that TRW has in mind, including several solutions to the problem of obtaining a gas seal without a cartridge case. The design team included Steven Dardick, Eugene Stoner, John Foote, and Robert Sears.
The basic idea was to use a hollow cylinder as a chamber, and have it slide forward around the cartridge. It would be supported on the back by a fixed breechblock and in the front by the end of the barrel. This sliding chamber would remove the need for a complex feeding system, as the cartridge could be kept parallel to the bore and just lifted vertically into position. It would also solve the problem of how to extract an unfired caseless round, since sliding the chamber rearward would leave the round unsupported and easy to knock out of the gun with a simple swinging ejector.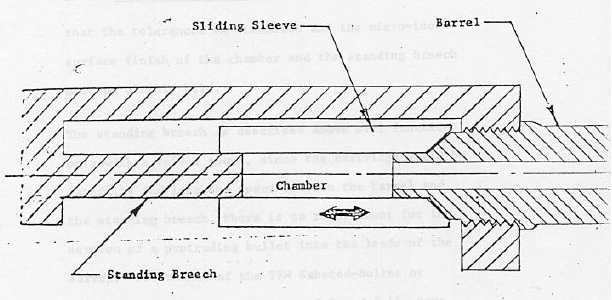 One design option laid out that jumped out at me in particular was a primer-actuated system. This same idea was kicked around by John Garand in his early prototypes, but eventually abandoned because it would require non-standard ammunition. And lo, here is is again decades later, looking like a pretty good solution: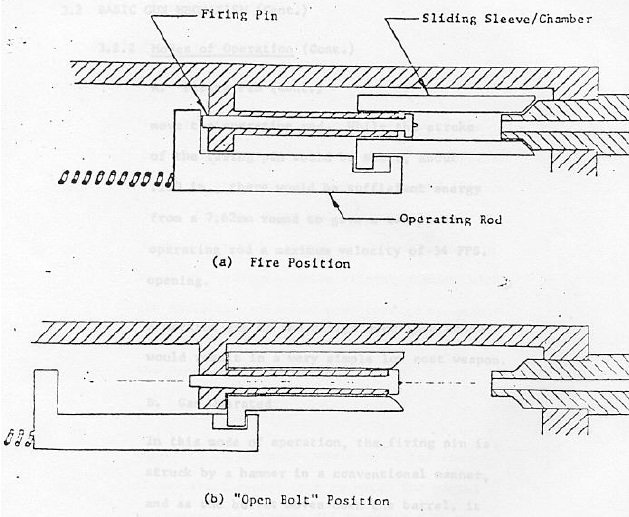 I would encourage you to download and read the whole proposal – it's actually quite well written despite being a technical proposal: