I have a number of items of interest that have come in just recently, and figured I'd put them all out today in place of a typical article. So…
1) I joined the Gun Nation podcast again last night, with Grant Cunningham, Doc Wesson, and Average Joe. This was the first of what will be a regular feature on the show, looking at unusual but still affordable and available military surplus guns. I kicked it off with a chat about the Steyr M95M, a way to have a straight-pull Mannlicher rifle and be able to feed it 8×57 Mauser ammo instead of the exorbitantly expensive 8x56R. You can download the episode here: Gun Nation Episode 102: Armed but not Polite.
2) Jaques Littlefield's staggeringly immense armored vehicle collection will be auctioned off next month. Littlefield was one of (if not the) preeminent collector of tanks and related vehicles in the US until his death in 2009. A total of 114 vehicles and guns will be sold off, including both WWII and more modern designs – everything from Shermans to a Scud missile launcher. You can see photos and descriptions of everything at Auctions America.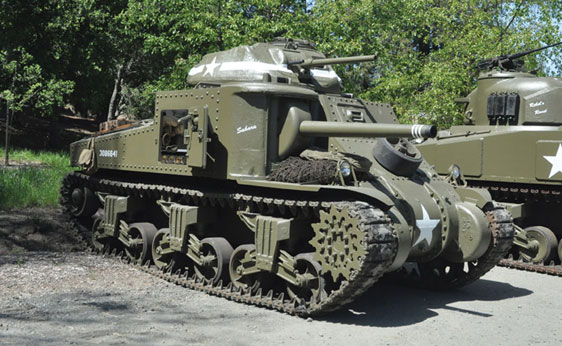 3) Joe Trevithick found three TRW Low Maintenance Rifles at the Washington Navy Yard, and wrote a brief article on the gun alone with a couple photos. The photos are excellent, and well worth checking out.
4) Not one but two WWII airborne vets who jumped into Normandy 70 years ago in 1944 are planning to do so again for the anniversary of the Allied invasion. One is American Jim Martin, 93, formerly of the 506th Parachute Infantry Regiment, 101st Airborne and the other is Scot John "Jock" Hutton, 89, formerly of the 13th Battalion Parachute Regiment, 6th Airborne Division. Both men will be making tandem jumps for safety's sake, much to Martin's annoyance.
Update: Turns out the photo I initially used of Martin in WWII gear is actually a reenactor (and the Hearst Corporation threatened to sue over my posting of it). So I've replaced it with a picture from army.mil's story about PFC Martin: