Chain mail appeared in a couple different forms during World War I – the most well-known is probably the mail facemasks developed for tank crews. These were intended to protect crew members from steel shards that would fragment off the interior of the tank's armor plate when taking machine gun fire. There were also metal-lined jackets made (and advertised as being bulletproof), although these were really closer to scale mail than chain mail. But I digress…
A while back, I bought a whole bunch of magazines as a lot from Rock Island Auctions. Included in the lot was a rather odd leather and chain mail…thing. It seems to be quite well made, but has no markings at all that I can find. I had no idea what it was, and it didn't fit any military pattern I was aware of. I decided it was some sort of homemade SCA-type thing – the strap and buckle were the right length to fit around the waist, so I guessed that it was a groin protector.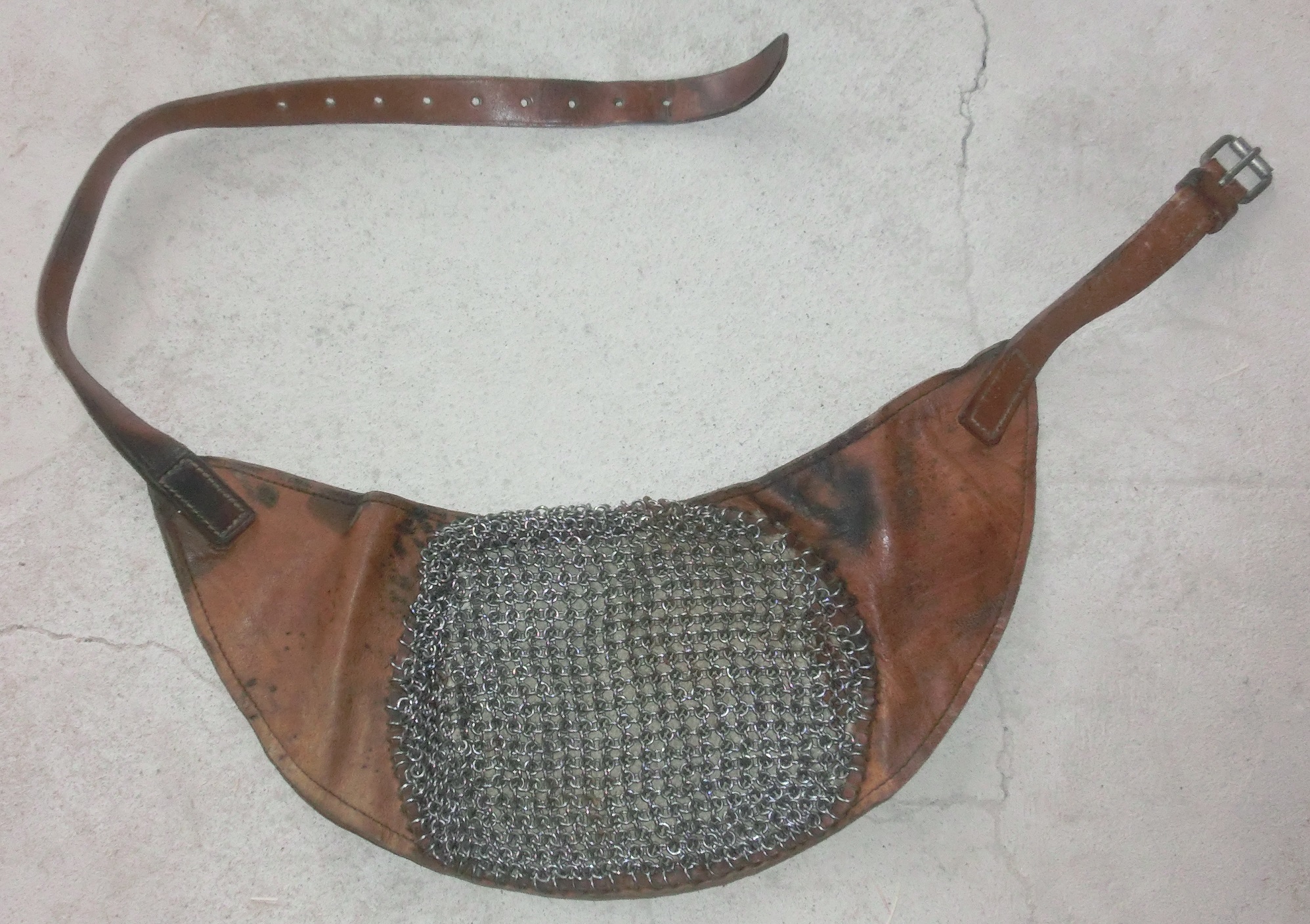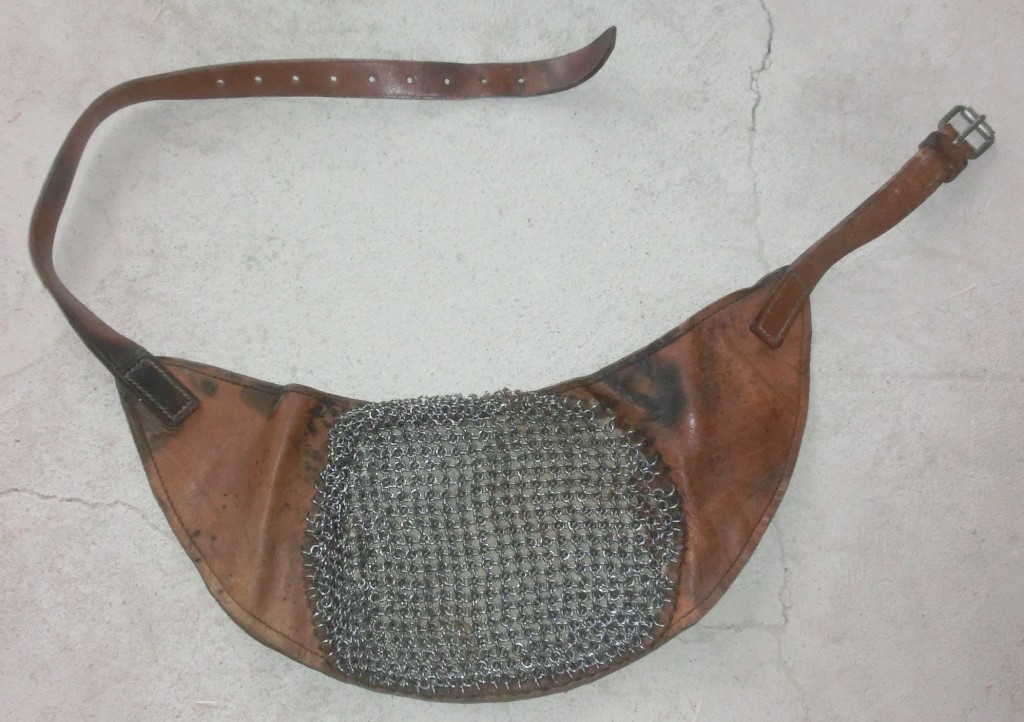 And I was completely wrong.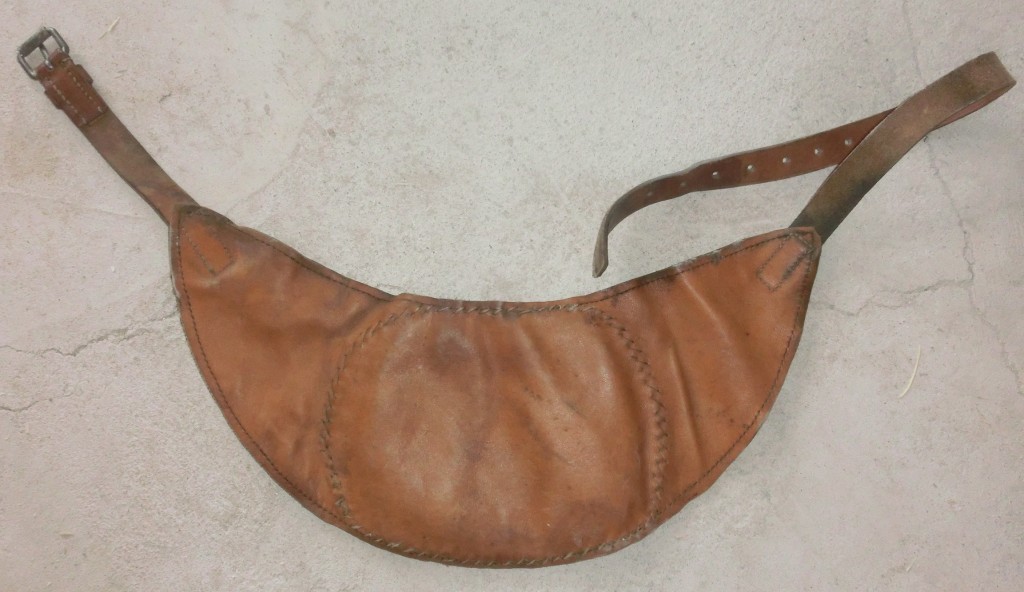 It recently came to my attention that chain mail accessories were apparently made for US troops using Hotchkiss machine guns. I see them referenced for both the 1914 heavy Hotchkiss and the lighter Portative, and have not been able to find any primary source references specifying which gun they were intended for. The items were mittens for changing hot barrels, and shoulder pads for carrying hot guns. What I had purchased is in fact a shoulder pad – it sits atop the shoulder, and the strap goes across the chest and under the opposite arm, buckling on the back. This will allow one to rest the hot barrel of a gun on the shoulder without burning oneself.
The construction, on closer inspection, is two layers of leather, then an asbestos pad, and then the chain mail on top. While I haven't tried it out myself with a hot gun, it does fit well and appears to be both very sturdy and very effective at protecting a person from the heat of a gun barrel. From looking at a few photos online, the mittens appear to have used the same multi-layered design. One can't help but think that the US Army was still using this concept in the 1960s with the asbestos glove issued for changing M60 barrels…
For what it's worth, I was unable to find reference to these accessories in any of the 13 different Hotchkiss manuals I have copies of – if anyone knows more about these (who they were issued to, which type of Hotchkiss, what time period, etc) I would be very interested in learning more…