From the Soviet Gun Archives blog, some photos of an experimental DPM-36 light machine gun (an improvement of the DP-28). Unfortunately, SGA does not list any source documents and my copy of Bolotin's book doesn't make any mention of these models, so I don't have any additional information available beyond what can be deduced from the pictures.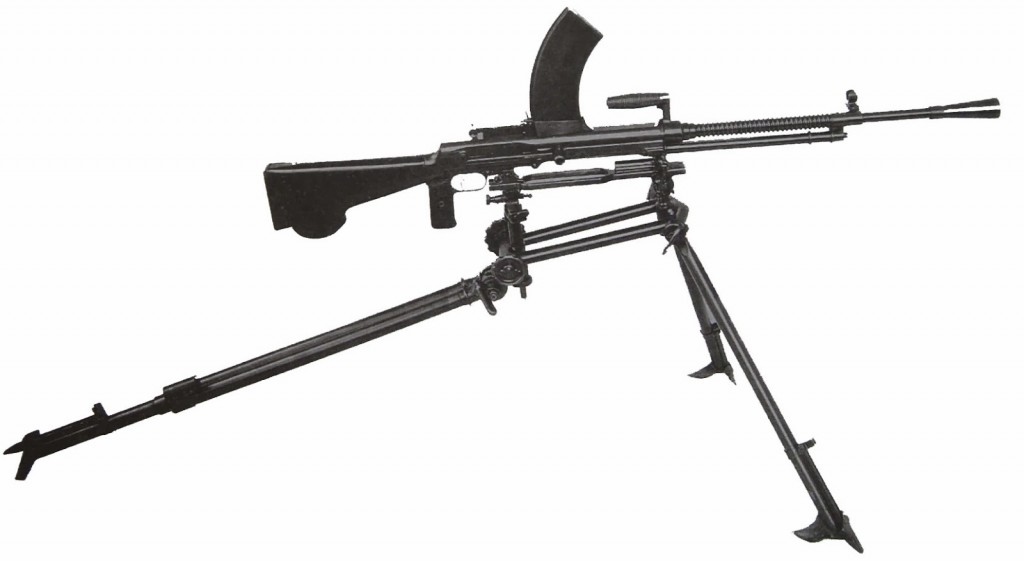 This would be the standard version of the gun, with the obvious improvement of using box magazines instead of the more cumbersome to carry DP-28 pan mags. It also has a carry handle and finned barrel for improved cooling – and that barrel might well be detachable. Also, a pistol grip has been added (as was done on the formally adopted DPM). All things are tradeoffs, though, and while the box magazines are more convenient to carry they do also present a much larger target to the enemy, extending well above the gunner and gun (I have read accounts of Japanese LMGs in the Pacific being spotted by their magazines sticking up above the foliage).


This picture does not appear to be quite the same gun, although that doesn't mean it wasn't also a 1935 experimental idea. It seems to be very similar to the later RP-46 conversion, except probably made as a complete gun rather than a conversion that could lock in place of a pan magazine (there is no hook visible to operate off the bolt handle like the RP-46, suggesting that it runs internally). The belts in use here are also Maxim belts instead of the WWII-era metallic SG-43 belts. Other than that, the gun appears to be very similar to the standard DP-28.


Lastly, a purported paratroop version. It does have a shorter barrel and a bayonet lug, as well as a handgrip of some type affixed to the gas tube. The pistol grip of the first version above has reverted back to the more traditional stock design, albeit without the distinctive DP round hump on the bottom.
If anyone has more detail on these experimental variants, please let me know in the comments!