The SHOT Show has been running for a couple days already, but we only arrived late Thursday morning. We spent Thursday mostly in the lower level, so we only saw about half the show (we'll be checking out the other half today). SHOT is not really geared towards our sort of gun stuff (older experimental and prototype weapons), but we had a good time and found some cool things nonetheless.
First, we had the chance to film an interview with Charles St. George, inventor/designer of the Leader T2 rifle. We had a great time speaking with him both on and off camera – he's another example of the great folks in the gun world – very knowledgeable about firearm design and manufacturing, and also a very genuine and friendly gentleman to speak with. He is here at SHOT with Micor Industries, showing his new Leader 50 semiauto bullpup rifle (which looks really slick). I'm hoping to have the interview compiled and posted by the end of next week.
It seems like every third booth at SHOT is showing a different manufacturer of AR rifle – one has to wonder how many more of these the market can really support. But amongst the passe black rifles, we found a pretty cool new product announcement – new production Radom pistols. The factory in Poland is still looking for an importer, but it sounds like they will be very reasonably priced. I would definitely get one!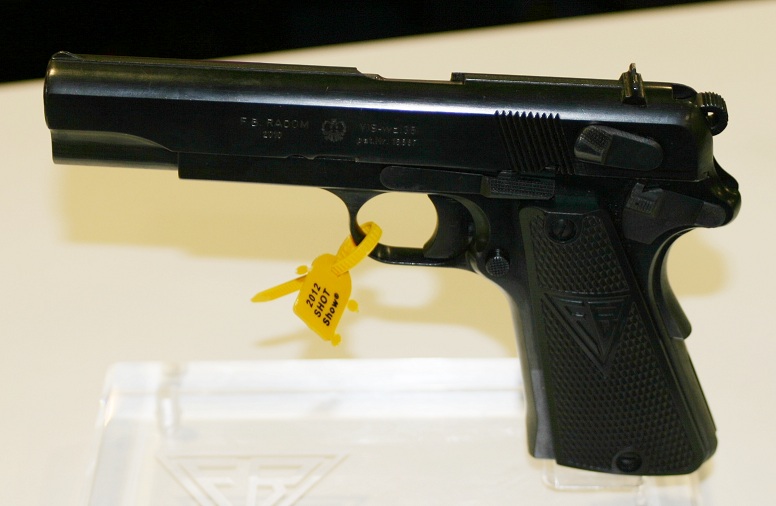 We also had the chance to chat with Nathaniel, Rufus, and Alex – students of gun design who are visiting the show from Colorado and Germany. Thanks for stopping by, guys – it was fun talking!
If ARs were the main theme of the show today, zombies were a definite second place. Zombies are the big marketing thing right no – we saw all manner of zombie gear, including zombie ammo, zombie targets, and even a dedicated zombie shotgun. I'm going to take photos of every such ad I can find today for a fun little gallery of marketing goofiness. 🙂
There are some plans for more good stuff tomorrow, so stay tuned!