Yep, it's time for another Rock Island Regional Auction this coming weekend! These are typically less valuable guns than the Premier auctions, and most of the lots include multiple guns instead of just one. Sometimes a lot will have a bunch of guns you want, and sometimes just one or two…but it's always fun to browse through the catalog to see what is there. I found a handful of lots in this one that I thought would be interesting to point out (and no, I don't share the ones I am bidding on – I want to maintain some sort of chance at winning them!)…
First up, a pair of Sauer Bär pistols (Lot 2176). These are interesting four-shot, two-barreled pistols made between the turn of the century and the start of World War I. I ran a guest article on them a while back, and found it a neat surprise to find not one but two in the auction this month. Don't need two? Find a buddy who is also interested, and split the lot!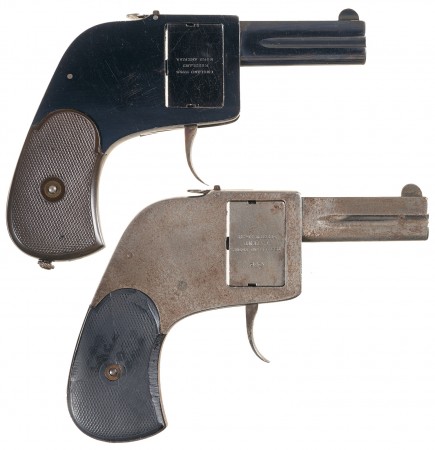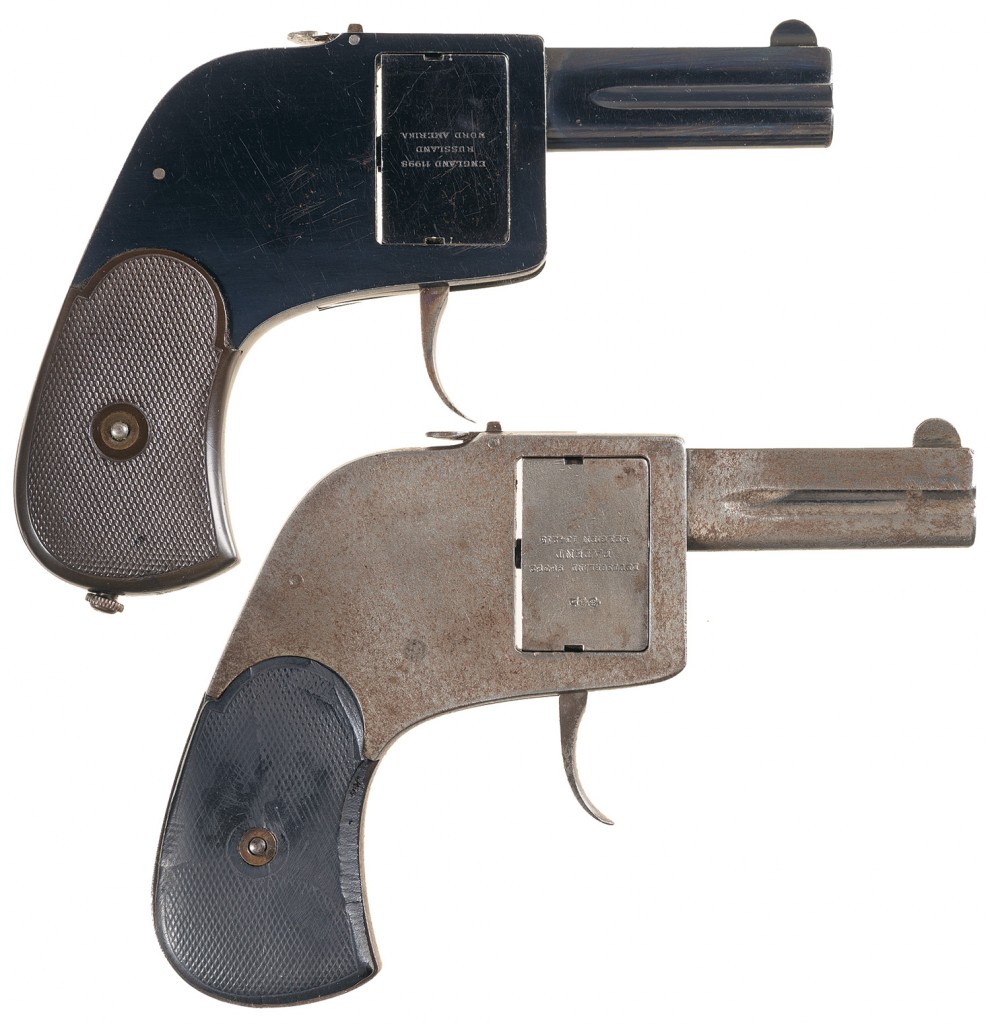 For the shooter who wants slightly more modern sort of Germany handgun, how about this lot of HK pieces (Lot 4866)? It includes a pair of less-common P7 pistols – an M10 in .40 S&W and a K3 in .32ACP – and an HK4 with the complete set of caliber conversions, so you can shoot .22LR, .25ACP, .32ACP, and .380 Auto. The P7 design is a pretty cool one, which I am looking forward to doing more coverage of, and the idea of one in .32ACP (and it can be converted to .38 as well) really appeals to me for some reason. The HK4 or a more conventional gun, but its factory set of caliber conversions is pretty neat.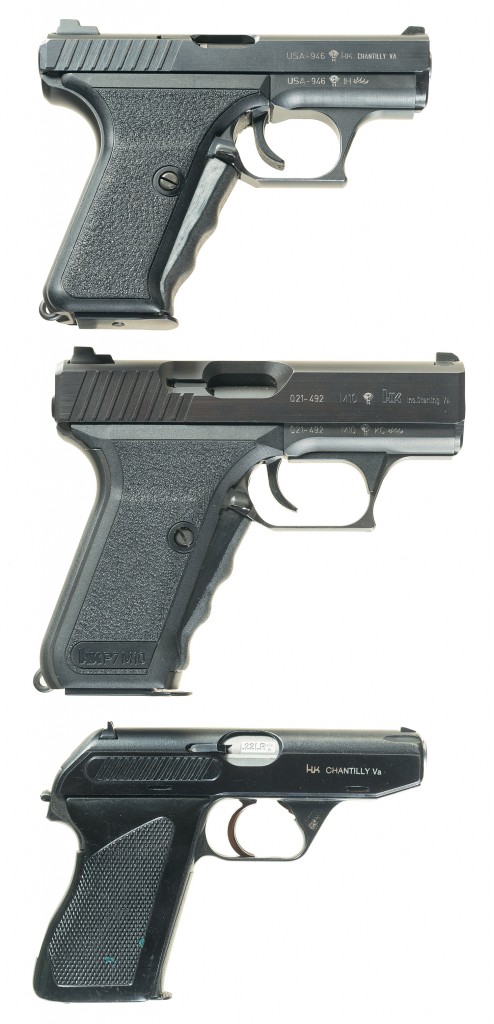 Okay, so you do like pistols, but you want something classy and old-world-elegant instead of modern black polymer? Well, I have a deal for you – Lot 2886! Some of the classiest American pistols ever made, whether you are a upstanding gentleman or a desperate outlaw. A set of a Colt 1903, and Remington 51 (the original fantastic one, not the failed modern reproduction), and a Baby Browning (made in Belgium). I think the Remington would be my choice to carry, just because it is more esoteric. I do adore the 1903 as well, though. In fact, the 1903 in this lot is in somewhat rough shape, but is from the very first year of production – that gun definitely deserves a loving home. I never really caught the Baby Browning bug myself, but they certainly have an important place as a classic vest-pocket carry pistol.
Moving away from handguns, there is a shotgun lot that I think is worth mentioning – Lot 2329. I'm normally not hugely interested in shotguns, but the two in this lot are special – they are two examples of the first pump-action shotgun design, invented by Christopher Spencer (of Spencer repeating rifle fame). Spencer wasn't able to make them into much of a commercial success, and sold the parts, patents, and production line to Francis Bannerman in the late 1880s. Bannerman continued to make the guns into the early 1900s, with only a few changes. Well, the two guns in this lot both have some issues, but are pretty cool. The top one is an example made by Bannerman. It has the original huge 32 inch barrel, but the slide handle has been replaced (the original Bannerman ones were ribbed wood, and a bit fragile). The bottom gun appears to actually be a Spencer-manufactured example, which would be rather rare – although it has had its barrel cut down at some point (a very practical modification, really). I may kick myself later for not trying to get this Spencer one, but I do already have a Bannerman example in my collection. So here's your chance to snag a cool piece of history for yourself…


Speaking of Christopher Spencer, how about getting a couple carbines for the .56 caliber Spencer cartridge (Lot 2110)? This lot has a Spencer saddle-ring carbine and a Triplett & Scott carbine. The Spencer is reasonably well known – the first repeating arm formally used by the US military. It has a tube magazine in the stock and was influential, although obsolete by the end of the Civil War. The Triplett & Scott is a much less common design, with only about 5000 made, and not delivered until after the end of the Civil War. It was also chambered for the Spencer cartridge, and also had a tube magazine in the end of the stock. Unlike the lever-action Spencer, though, it had a pivoting hinge between the barrel and receiver. It was loaded by rotating the barrel assembly 180 degrees around the axis of the barrel. At about 90 degrees rotation an automatic ejector would remove the fired case, and at full rotating the barrel would line up with the magazine and feed a new cartridge into the chamber. The barrel could then be rotated back up, locked in place, and fired.
Both of these carbines are in kinda rough condition – they have clearly seen a lot of use. Frankly, that's how I like my guns – but your opinion may vary. The Spencer has an obviously repair to the right side of the butt, and the Triplett & Scott has the typical large crack along the magazine tube on the left side (the wood there was very thin to allow room for the magazine, and this is a common problem).


Not the carbines you're looking for? How about a Rolling Block and an Evans (Lot 2137)? The Remington Rolling Block is a classic staple of the single-shot military rifle era – I believe this one is an Argentine military contract gun (it's a bit tricky to tell without seeing the markings on the top). The Evans, on the other hand, was the highest-capacity repeater available at the time – its helical magazine would hold no fewer than 26 rounds of .44 Evans Long. I've commented on Evans carbines from previous RIA auctions, and they remain as cool as ever.


Lastly, I have a lot for the collector of Thai arms: Lot 2506. In addition to a decent Type 38 Arisaka (the catalog had it mislabeled as a Type 99), a Mk II Martini-Henry, and a rough Mexican Mauser, it includes a Type 46 Siamese Mauser, made under contract by Koishikawa Arsenal in Japan. What makes this one special is that it is still in its original 8x50R cartridge, as you can tell by looking at the unmodified rear sight. Most of these rifles were rechambered to the 8x52R spitzer cartridge by the Thai government in the 1920s. Not that 8×50 is any easier to find than 8×52 (it's not the same as the French 8×50 Lebel), but the original configuration is a scarce find.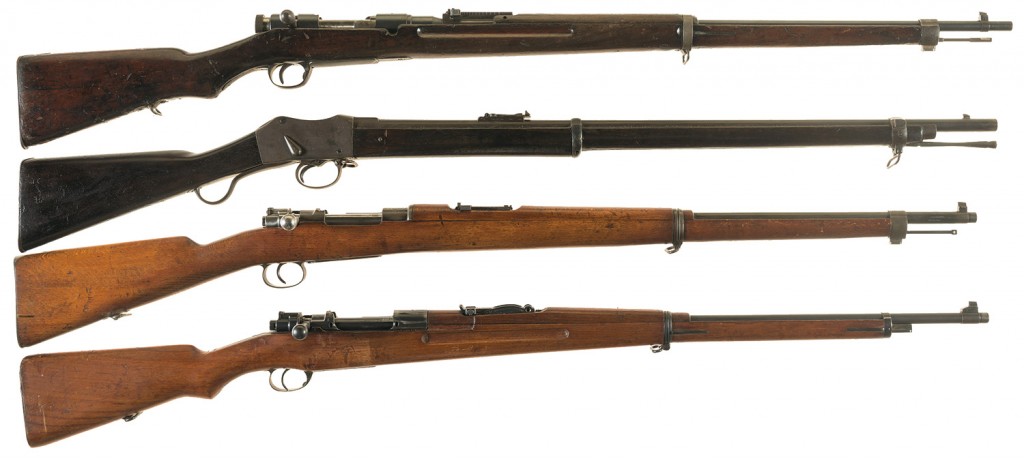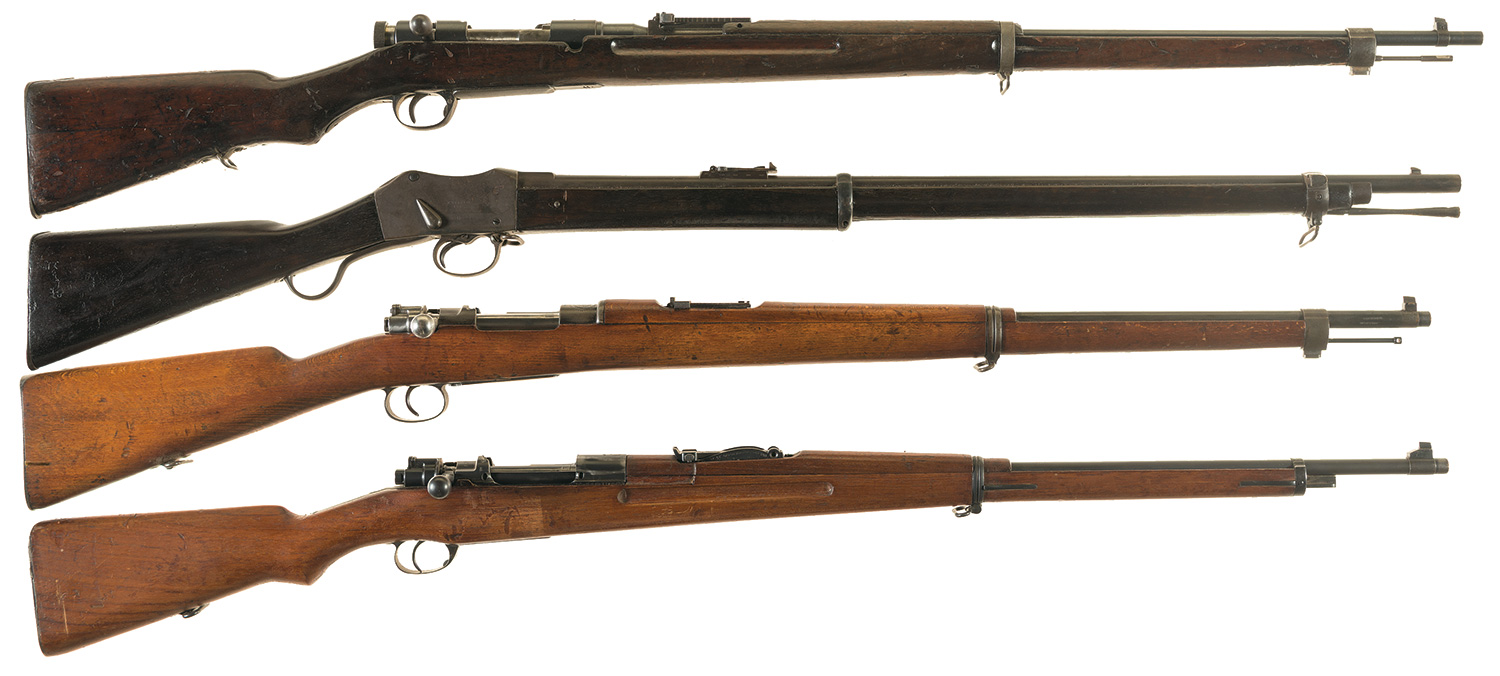 Of course, there are thousands of other lots available in the auction, and plenty of them are also very cool – but I'll leave it to you to browse through the catalog and find them yourself! If I give away all the hidden treasures, how will I manage to get a good deal myself?