As I'm sure you saw from my preview post an video, I was really excited to participate in this year's Pecos Run and Gun in the Sun match…and it turned into a huge disappointment. Cancelled at quite literally the last minute.
I left Arizona Friday morning (along with a companion who would be filming the whole thing), and after an 8-hour drive we got into Pecos TX that evening, grabbed dinner, and retired to a hotel for the evening. The ranch where the match is held is about 25 miles out from Pecos proper, and the organizers have a guide for the convoy of shooters, which leaves Pecos at 6:30 am, sharp. I got up at 4 (2am, Arizona time), grabbed breakfast, packed out of the hotel, and got to the assembly point with plenty of time to spare. The convoy leader was there with his very cool 1967 right-hand-drive Land Rover. I was in my 4×4 Toyota pickup, as the whole southwest has become rather muddy with the remnants of a couple tropical storms coming up north from Mexico.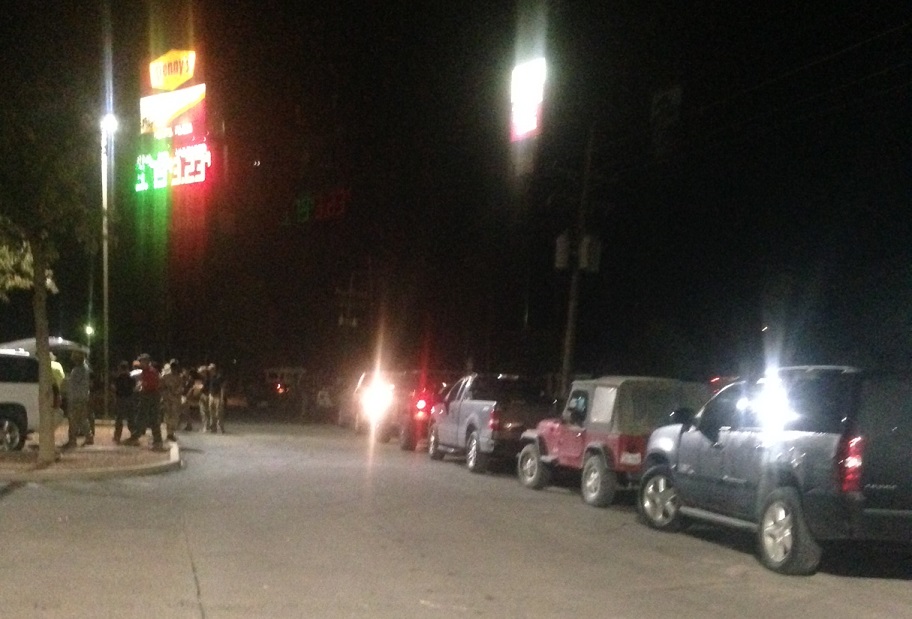 At 6:30 we were lined up, engines idling, and ready to go, and our convoy leader got on the phone for one last conversation with the match organizer – and then walked down the line of vehicles to tell us all that the whole thing had been cancelled. The road to the site had been overrun by a running wash of whitewater intensity. The landowner had decided it was too dangerous to have people crossing, and the whole event was dead. I stuck around for a little while in case anyone had some alternative plan, but eventually had to accept it and proceeded to make the 550-mile drive back home to Arizona. Seriously disappointing.
Was the weather the fault of the match organizers? No, of course not – and crossing flooded washes is how you get your vehicle destroyed, and occasionally lose your life. I recognize that – it's a fact of life in the desert, and I'm not at all saying that I would have driven through if I'd had the opportunity to. What I find unfortunate it that the organizers, having known about the rain for at least a week in advance (they posted several warnings about mud ahead of time), decided to both wait until the last minute to make a decision and not make any sort of alternate plan. That gave them the best possibility of having the match take place if the road was passable by the morning of the match (and nobody would been the wiser), rather than cancel a day or two ahead and maybe have the weather clear at the last minute. That course of action, though, put all the risk on the competitors, many of whom had driven as far or farther than me to get there. If you're going to do that, at least have some sort of alternative plan. I can understand a last-minute freak disaster cancelling an event, but this rain was a known factor for a week or more. Even a half-baked alternative of some sort would have been preferable to simply turning around and driving home. That just plain sucked.
There has not been a replacement date posted as of this writing, and given the logistical issues involved in many of the competitors making the trip, I doubt many would be able to attend a rescheduled event anyway. The implication when we were told of the cancellation was that there would be no alternate date; the event was simply not happening this year.
Hopefully the planning next year will be better, and will include some sort of backup plan. Regardless, I suspect I will choose to do something else instead.
Updated to Add 9/22:
One of the match ROs send me a handful of photos of the course and the road in (taken either Friday or Saturday – I presume Saturday). It is some truly impressive flooding (click to enlarge)!
Further Updated 9/22:
The match organizer, Smokey, sent out an email this evening explaining the timeline of events, in light of which the last-moment decision does look much more reasonable:
My thoughts on the matter began with: Competitors have already made their plans, taken off work, reserved hotels, etc…. A chance of rain does not warrant a cancellation a week in advance.

We have handled very heavy rain before, without a problem.
What we are not prepared for, and can't prepare for, is a 50-year flood, which this is.

We drove out to the range Thursday night to double check. We were good to go. This was the last moment to cancel the event before people started driving if they were coming any real distance. The local forecast was for a 50 percent chance of rain. The forecasters was not advising the building of arcs.  I'm not going to cancel an event on a 50 percent chance of rain.

Friday morning it rained and then stopped, and we had no problems when we brought the RO convoy out to the range.

As of 1:30 pm we were on schedule, running the ROs through the course, and the sun was shining. Several unwary folks (one of my daughters included) managed a sun burn. It was muddy, but we were making it work. The draw had a couple of inches of water in it at the deepest point, except for the ditch at the bottom, which you can jump across, or almost.
So, at 1:30 there was no reason to cancel.

Then it started to rain again about 4pm.
At 6pm the rain stopped. Would the water in the draw rise significantly? We didn't know, but if you were driving any distance, you were already in Pecos.  Why cancel then if there is a hope that the draw won't rise too much, or if it does, it will be back down by morning, and we'll be in business in the morning? Competitors already made the drive if it was significant. We waited. The water had come up and dropped some by 6am, but not enough, and I called it — one for safety reasons, and 2) because the same draw that cuts our course cuts the road back into town. If it was running heavy where we were, then fording the county road would be hazardous.
Final Update
When I eventually got a refund of my entry fee, it was accompanied by these letters from the owner of the ranch where the competition is held: