Development of the P210 began in 1937, when Sig purchased the rights to French designer Charles Petter's Modele 1935A pistol (anyone who has handled both will notice the similarity). This had been adopted by the French army in the 7.65 Long caliber, and Sig began by changing it to 9mm Luger. They also moved the safety down onto the frame of the pistol, and replaced Petter's barrel linkage with a milled cutout integral to the barrel.
Sig had prototypes ready for testing by 1944, with both single stack and double stack magazine variants. The Swiss military decided that the double stack pistols were less comfortable to hold and thus less accurate in practice, and decided on the single stack model. However, World War II ended before they formally accepted a design and the acquisition program was ended. Mechanically, the pistol is basically of the Browning system, with a short recoil, tilting barrel. The unusual aspects are the slide riding inside the frame, the use of a modular and easily removed fire control group, and the exceptional fitting and tolerances.
The pistol was revived in 1947 through the interest of Swiss target shooters and the Danish Army, and production began that year under the designation SP (Sig-Petter) 47/8. The Swiss government took another look at the design, and finally adopted it in 1949, at which time the P210 name was also formalized. The SP 47/8 and P210 differ in a few details, namely the P210 not having a loaded chamber indicator.
While the military contracts were all in 9mm Luger, commercial sales also included guns chambered for .30 Luger (7.65x21mm). Over the years, a number of variants of the P210 were released:
P210-1: Standard pistol with fixed sights, blued finish and wood grips (used by Swiss police)
P210-2: Same as the -1, but with plastic grips and a parkerized finish. Later Swiss issue pistols were of this type.
P210-3: Same as the -1 or -2 but with the early loaded chamber indicator fitted (not a common variant).
P210-4: Same as the -1 or -2, but without a lanyard loop on the grip. This model was sold to the German border guard, and will have a serial number beginning with a "D".
P210-5: A target version, with a longer 6″ (150mm) barrel and barrel-mounted front sight. Also uses a heavier frame and adjustable rear sight.
P210-6: Widespread standard-length (120mm/4.75″) target pistol with fixed sights.
P210-7: Standalone .22LR version (the .22 adapter could also be purchased as just a slide assembly for use with an existing frame)
P210-8: Recent re-released version produced beginning in 2003. These use a push-button magazine release instead of the original heel release, as well as the heavy target frame and do not have a magazine safety.
Manuals & Brochures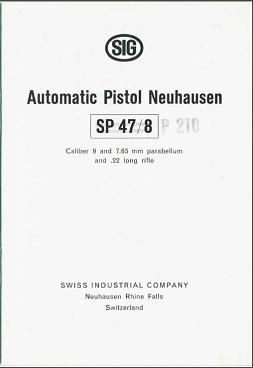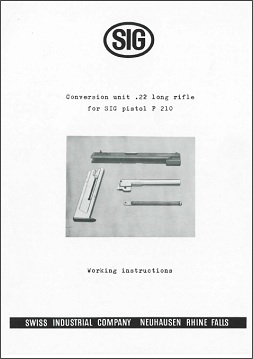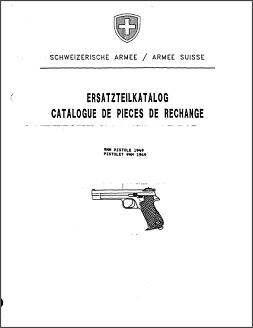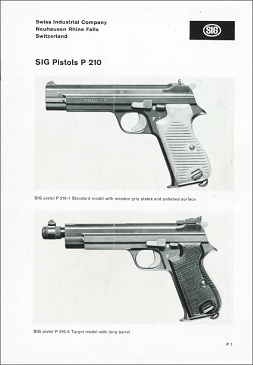 Resources