I have a number of things from the last week or so to share with folks who are interested…
First up, while I was at SHOT in Vegas, Karl and I had the chance to join Tim from the Military Arms Channel to do a bit of machine gun shooting at Battlefield Vegas. We didn't have time to really delve into the mechanics of the guns, but it was still a fun time. I got my first chance to shoot a PM-63! Click below to see the full video: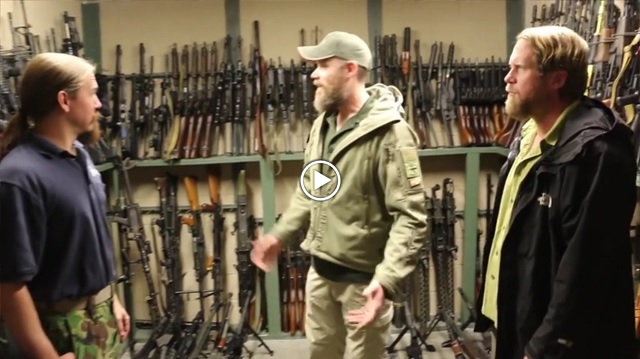 I also was invited to be a guest on the We Like Shooting podcast, along with Karl. It was interesting, as they have a panel of no less than five regular hosts – but we had a fun time talking about a wide variety of gun stuff. You can check the episode out in both audio and video format  (not much video of me though; I was having some bandwidth issues on my connection): We Like Shooting Episode 77 – Gone But Not Forgotten.
We also posted a review of the relatively new Masterpiece Arms MPAR-556 Gen II rifle. What makes it interesting to me is that it is mechanically a copy of the Leader T2 rifle, designed by Charles St. George. That rifle, in turn, is a takeoff from the Armalite AR-18, which was a design that never did all that well itself, but was the basis for more than a few designs adopted by major military forces (including the H&K G36 and the British L85/SA-80). The Leader itself was a really attractive (in my opinion, at least) approach to making a simple an inexpensive rifle that didn't sacrifice the really important elements of a rifle. It had a reliable operating system, good aperture sights, and handled very nicely. Unfortunately, the MPAR-556 didn't really live up to its progenitor in our testing. If you are interested, here is a whole slew of material on various elements of the story:
InRange TV formal review of the MPAR-556 (20 minutes long, with plenty of shooting, comparison with the Leader, analysis, and conclusions)
Just the split-screen match footage of Karl and I shooting the MPAR-556 against each other
Footage from when I ran a Leader T2 through the 2-Gun match back in 2013
Disassembly and explanation of the Leader T2
My interview with the Leader's designer, Charles St. George
I should add that after the video review published, we were approached by Phil Cashin, President of Masterpiece Arms. We had a productive conversation, and he is going to resolve the problems we had with the rifle and send us a new version to try out (including a lightened handguard, I was happy to hear).
What I was not expecting to hear was that apparently it was my own video on the T2 (linked above) that was the initial inspiration for Masterpiece Arms to add the MPAR-556 to their product line! That's pretty cool. 🙂
Lastly, I wanted to mention that starting tomorrow, I will be posting a series of videos on some of the guns at Rock Island's next auction (February 19th-22nd). This is the first time I've done video there in association with a Regional auction, and it is worth pointing out that those work a bit differently that the Premier auctions. Most of the lots in the Regionals include multiple guns, and if you want any one of them you have to bid on the whole batch. That can be good or bad depending on the situation, but it's something some folks might not realize at first. I should also point out that the videos will be available at Full30.com for subscribers there two days before they appear on the blog.
I should also note that a bunch of you have suggested that I look into the James D. Julia auctions, and I have. They have an auction coming up about a month after RIA's, and I will be heading there to check out some of the guns they have. While the companies don't always get along well with each other (they are competitors, after all), I am very happy to be working with both now, because it lets me bring you guys the treasure troves of fantastic guns that both auction houses wind up with.