The Hotchkiss Revolving Cannon was designed by an American, Benjamin Hotchkiss, in response to the Franco-Prussian War. Hotchkiss chose to use large caliber shells in the gun instead of rifle cartridges (like the American Gatling or French Mitrailleuse) for greater anti-personnel effectiveness. The Congress of St Petersburg prohibited exploding ordnance with projectile weights under 14oz (because exploding bullets were deemed inhumane), so Hotchkiss based his design on a 16oz (37mm) cartridge.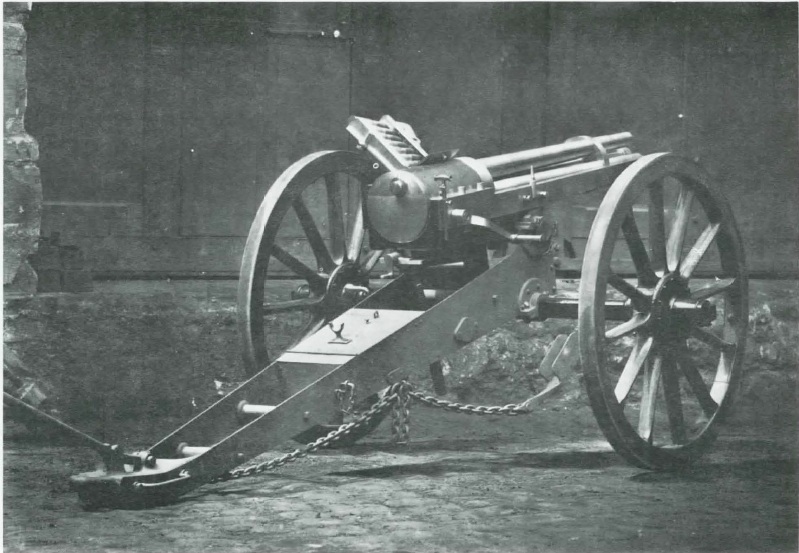 The mechanical design is fairly simple – the gun uses a single breechblock and firing mechanism, to which the barrel rotate one at a time. Each complete turn of the crank handle completes a firing cycle, with one round loaded, one fired, and one extracted. Ammunition was fed via 10-round clips loaded by an assistant gunner.
Primary use of the Hotchkiss revolving cannon was as navel armament, to defend large ships against smaller and much more agile torpedo boats. In this role, the Hotchkiss competed with other mechanical machine guns like the Nordenfelt and Gardner, but it was of a heavier caliber than the others. In addition to its original 37mm chambering, Hotchkiss cannons were also made in 47mm and 53mm in response to military demand. They were adopted by a number of nations including Brazil, France, China, the US, Holland, Greece, Chile, Argentina, Russia and Denmark.
We have a pair of manuals on the Hotchkiss Revolving Cannon, an early 1874 handbook and an 1880 Ordnance Memorandum (very complete manual). Both have a couple missing pages, which I will be correcting in a couple weeks, when I have access to them again to repair the scans (sorry). The Description includes a number of good photos, and the Ordnance Memo has some excellent plates showing the gun's workings. They can be downloaded from the Hotchkiss Revolving Cannon page in the Vault, or by clicking here: