The Holek brothers began what would ultimately become a very successful light machine gun design in 1923 with the production of a prototype gun. It was refined over the next several years and adopted by the Czech military as the ZB model 26. Compared to similar existing guns like the Lewis, BAR, and others, the ZB was a very light and compact design. It was air cooled, with a tilting bolt and long gas piston (the gas port being right at the muzzle). Magazines were mounted in the top of the receiver, and the barrel used a convenient quick-change, with a carry handle mounted on each barrel.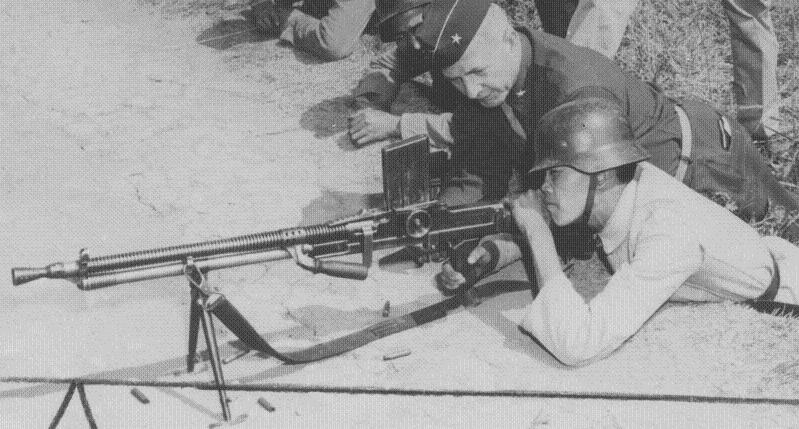 The ZB26 was produced in both 7mm and 8mm Mauser calibers, and was also sold to Yugoslavia, Lithuania, Brazil, Ecuador, Chile, China, Japan, and Iran (about 45,000 guns total). When the German army occupied Czechoslovakia, production was continued and the Wehrmacht adopted the gun under the designation MG26(t).
An interesting development of the ZB26 involved the Chinese contract guns. They were originally produced and used in 8mm Mauser, but China reverse engineered them and continued production on their own, both building and converting the guns to 7.62×39 caliber. These conversions used standard AK magazines, to allow simplified logistics with troops using AK rifles. A number of these parts kits were brought into the US years ago, and you will occasionally see them floating around. Apparently the gun used as a model for the Chinese production had a rather worn gas tube, and the Chinese-manufactured ones are somewhat out of tolerance to begin with (making the guns unreliable in 7.62×39 without some work).
The ZB26 would go through several design revisions and eventually become the famous Bren LMG, but we will cover those revisions separately. We do have a couple ZB-26 documents, including an English-language manual and a German parts list for the MG26(t).
ZB 26 manual (English)
(1940) MG26(t) parts list (German)