In the early days of the Thompson Submachine Gun, the Auto-Ordnance Company was looking for customers globally. General John Thompson had personally run a demonstration of the gun in England in June of 1921, which was well received militarily, if not politically. Unfortunately for Thompson, just a few weeks before the trial a plot to smuggle 500 Thompson guns to the IRA on the freighter East Side had been uncovered in New Jersey. This had the not-surprising effect of dampening British interest in working with Thompson and Auto-Ordnance.
However, the company returned to England in 1925 with an interest in licensing production to Birmingham Small Arms. The Belgian military had tested the Thompson in 1923 with favorable results, and had requested a version in 9x19mm with more rifle-like handling. In addition, other European nations looked like good potential customers. The result was the Model 1926 Thompson made by BSA, which used the standard Thompson mechanism (including the Blish lock) but with a redesigned lower and trigger assembly and traditional rifle style stock. It also featured a somewhat smaller forearm and a rear sight unprotected by any wings. Some of the 1926 guns were made with plain muzzles, but the one pictured below has a compensator – this may have been added later or may be original.


It doesn't appear to be known exactly how many of the Model 1926 guns were made, but it was a very small number. In January 1927, one of them was tested by the French military and performed fairly well. It fired 3500 rounds (including 2500 in fully automatic) and reportedly had only a few minor problems – despite the bolt being found to be broken in half when the gun was disassembled after the test. The rate of fire was a rather fast 1200 rounds/minute, and the French conclusion was that they were not really interested in pistol-caliber submachine guns.
Following this test (and perhaps others), some changes were made to the design, resulting in the Model 1929, also made by BSA. Where the 1926 guns had used barrels with smooth exteriors, the 1929 guns used ribbed barrels and all had Cutts-style compensators as well as protective wings to each side of the (Lyman-made) rear sights. The 1929 model was made in several different calibers, clearly intended to raise interest in different countries. The calibers include 9x23mm Bergmann, 9×19 Parabellum, .45 ACP, and 7.63mm Mauser (in addition, one gun in 7.63mm Mauser was marked .30 Mauser for the British market). It is estimated that only 10-15 of these were made in total, and about half of those remain known today. Specifically, they are:
#2, .45 ACP
#4, 9mm Bergmann
#7, 7.63mm Mauser
#8, .30 Mauser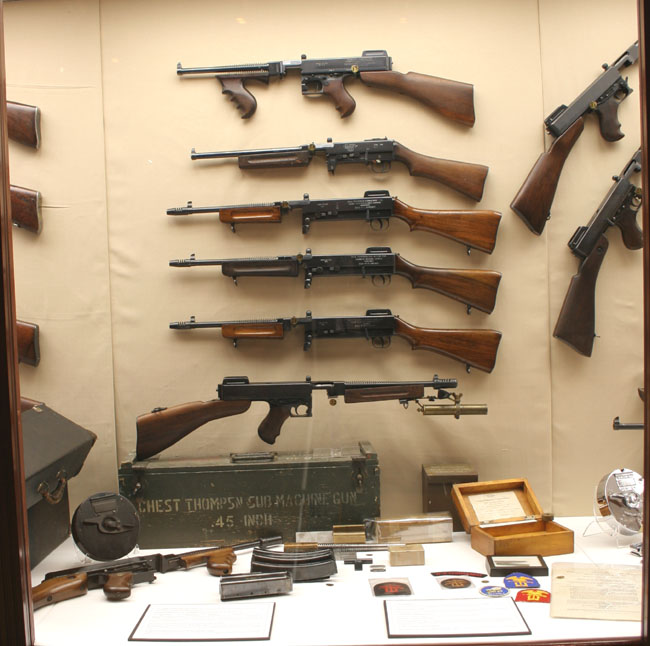 The example in .45 ACP shows a couple variances from the others – a much heftier magazine catch and an awkward-looking reverse angle pistol grip spliced into its stock. The magazine catch makes sense given the much heavier weight of .45 ACP ammunition compared to the smaller offerings, and the gun's ability to use drums as well as box magazines. The grip was apparently added to facilitate firing from the hip, and is actually not as uncomfortable as it appears.
Ultimately the Model 1929 fared no better than the 1926, and resulted in no contracts. I had an opportunity to examine Model 1929 #2, and took the photographs below. Unfortunately, I was not able to disassemble it for internal photos.