About a year ago, I wrote a post about some Browning 1919 feeding devices that were patented but never went into production. Well, reader Alex found photos of one of them in the Springfield Armory archives. Thanks, Alex!
It's a belt box designed to be clipped onto the top cover of a slightly modified Browning 1919 to provide a compact and un-cluttered ammunition feed. The photos are dated February 15th, 1927 – and it was tested with the intention of using on aircraft guns.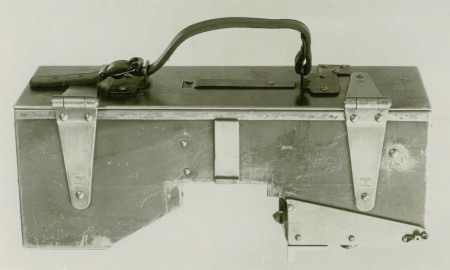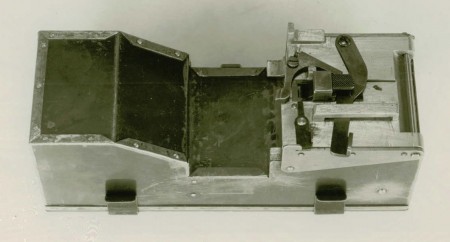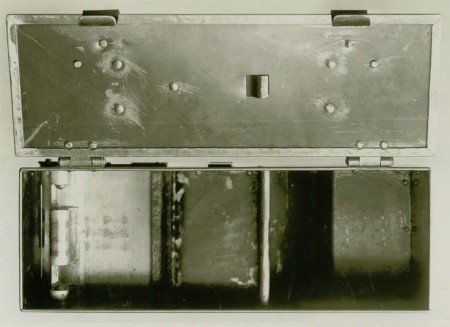 I initially called this a saddle magazine, but it appears to actually be a belt box (like the MG42 50-round assault drum). It serves simply to hold the belted ammo in place and feed it smoothly to the gun, where a true saddle magazine (like the German double drum for the MG15 and MG34) includes a complete feed mechanism and is loaded with loose cartridges.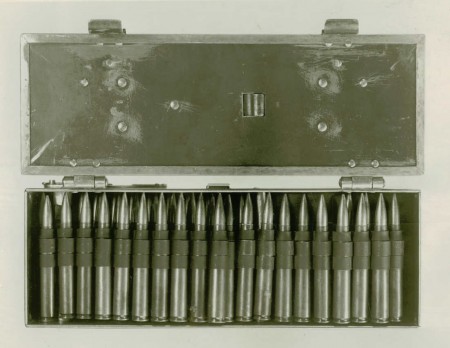 Note that the patent for this was applied for in January of 1926, but not granted until April 1931 – 4 years after these photos were taken. You can find the patent in full here:
US Patent 1,800,595 (J. M. Browning, "Magazine Feed Mechanism for Machine Guns", April 14, 1931)
This belt box was tested on a Browning T2 machine gun – an experimental variant of the M1919 which also included provisions for being able to feed from either the right or left – a feature much desired for aircraft use (and a feature not necessarily important if belt boxes like this one were used). The Springfield Arsenal Museum also has three photos of the T2 used with the experimental box – two with it in place and one without: