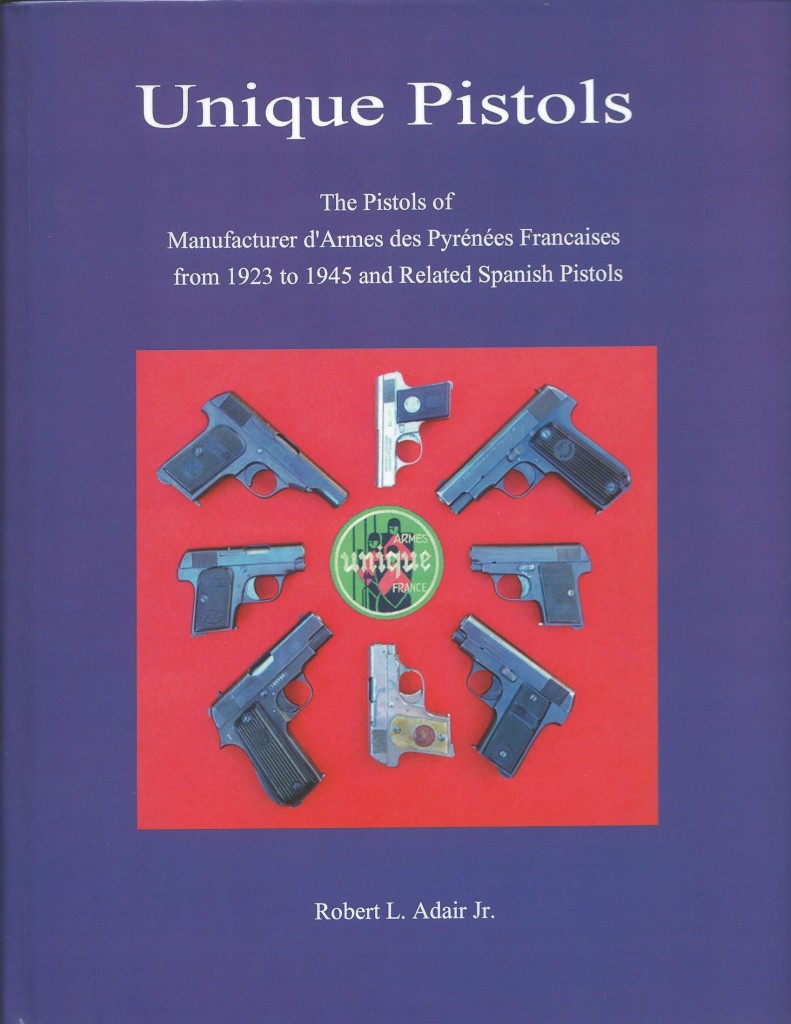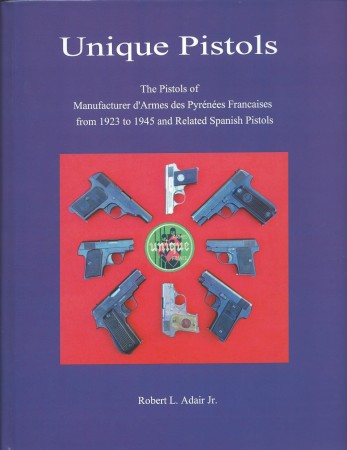 I recently became aware of a new book published by Robert L. Adair Jr. on the subject of the "Unique" brand pistols, made by Manufacturer d'Armes des Pyrénées Françaises.
Today, the most commonly recognized Unique is the Model 17, which was underwent an interesting evolution through its production lifetime. The Model 17 was initially a commercial pistol much like the typical Eibar/Ruby handguns made in Spain. It failed to win French military trials, but when war became imminent in 1939 a contract for them was issued by the French Army. When the Germans occupied France production continued for German use, and the Unique factory in Hendaye became an important inspection center for the German inspectorate to process pistols from Astra and Star as well as those made by Unique. By 1943, the Germans had an improved design for the Model 17 – the Kriegsmodell. It had a deeper backstrap to improve the grip, and an exposed hammer. These pistols were made for the German Army until France was liberated, at which point they stayed in production for French use. After the war, the Kriegsmodell (now renamed the Model Rr) was used by both French police and military units, and a major shipment went to the Kingdom of Morocco as well.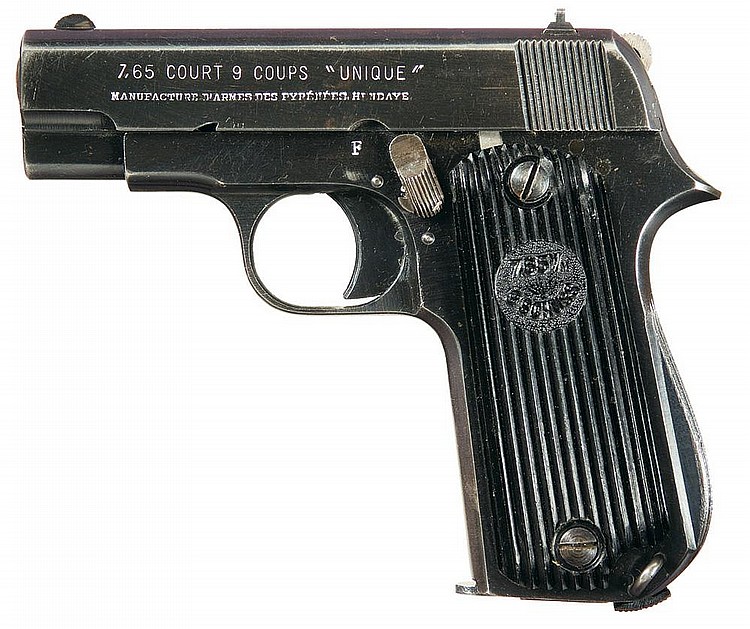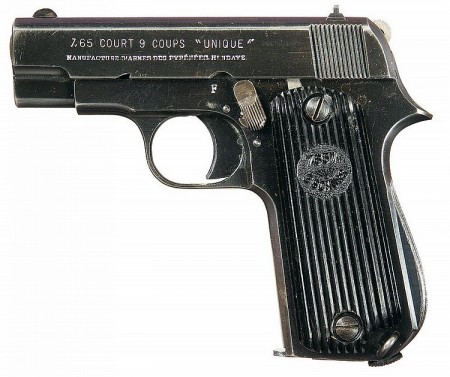 At any rate, Adar's book covers this extended evolution in detail, with serial number ranges, production dates, and design details along with photos of each iteration of the pistol – and he does this for a slew of other designs made by MAPF (Manufacturer d'Armes des Pyrénées Françaises) as well. The firm began as the Spanish shop of Barrenechea, Gallastegui, y Arenas – with the Arenas brothers later moving to France where they would found MAPF. Adair covers the models of pistol made by this initial Spanish company before moving on to the Models 10 through 21 made in France as well as the Mikros brand also made by MAPF. He also includes reference photos of two dozen addition trade name brands to show their subtle differences.
The book has several valuable additional resources, including more than 20 pages of tables detailing hundreds of individual pistols by serial number and specific features. There is also a photographic reference of magazines, holsters, grip panel styles, and more. One quibble I do have on the technical side is that some of the reproduced images from manuals and original sales documents seem to have been printed badly, and appear in very pale yellow. This only affected a few images, though, and does not strike me as a significant issue (it is a byproduct of the self-publishing that is the only way for books like this to make it to market).
This book is certainly not for everyone – only a few people are particularly interested in such a specific and unappreciated niche of firearms collecting. If you are interested in Eibar pistols, French military pistols, German occupation pistol production, or Spanish pistols this is definitely a book you should own. If you are building a reference library, it will be a valuable addition covering a subject with almost nothing else published. And if you are one of these people who will find the book interesting, you should order it now rather than putting it off. This is one of those books that was a labor of love for the author, and not a viable commercial endeavor. If Adair is lucky, he will break even on this work – it is virtually guaranteed that the first printing of 500 copies will be the only printing. Once they all sell, they will be gone. So do what I did – dig out the $62 and order a copy: