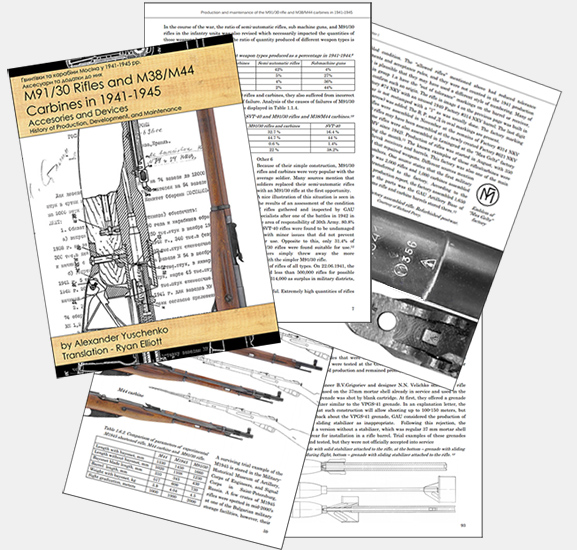 The full title is actually (deep breath) M91/30 Rifles and M38/M44 Carbines in 1941-1945: Accessories and Devices – History of Production, Development, and Maintenance, by Alexander Yuschenko and translated into English by Ryan Elliot. I saw this book mentioned a few weeks ago on a firearms discussion board, and figured I ought to get a copy, simply because there isn't all that much English-language published information on the Mosin Nagant in any real depth. I didn't really know what to expect, and what I got really blew me away.
Collecting Mosins in the US has long been rather like having a group of people exploring in the dark – where original production records on guns like the 1903 Springfield or M1 Garand are readily available to us, such data on the Mosin has been completely lacking thanks to minor political issues like the Cold War. We can only make inferences based on what we can see imported into this country, and those inferences are easily skewed by all sorts of factors. What Alexander Yuschenko has done is actually take original wartime archival documentation and distill it down into a compact and strikingly information-dense account of Mosin-Nagant development and production.
This is not just a series of tables, it is information put into context. For example, Yuschenko explains the process of Mosin production being replaced by semiauto rifle production (the AVS-36, SVT-38, and SVT-40), and then the about-face required when the SVT-40 failed to meet expectations. Not just that, but great juicy details on why the SVT-40 failed, and how troops felt about it and the Mosin comparatively. What were the causes behind inoperative rifles of both types? What were the costs of each to the Soviet government, compared to each other and the other weapons being produced? What was the distribution of the different weapons within typical Red Army units?
The main section book is organized chronologically, looking at events one year at a time. This really shows the reader how the Soviet Union's situation changed over time, from its optimistic leap to self-loading rifles in 1940 to its desperate relocation of factory infrastructure in 1941 and 42 to its turn toward submachine guns in 1944 and 45. The development of the folding bayonet for the M44 carbine is discussed, including experimental models of M1945 Carbine. The short-lived use of socket blade bayonets is covered. Suppressors and rifle grenades launchers are covered. The entire second chapter is about accessories, like slings, ammunition pouches, and cleaning gear – this allows us to actually see such items in their full context instead of trying to guess at the provenance of random examples that happen to have been imported at one time or another.
Here are just a couple facts that I had not known:
In 1941 alone, the Soviet Union lose a staggering 5.5 million rifles and carbines destroyed, captured and otherwise unusable. That is 59% of all they had in inventory as of June of 1941.
The standard PU scope mount can actually also be used to mount a PE/PEM optic.
A mine detector was developed and used which mounted to the muzzle of a 91/30 rifle, using it as the handle.
What all those many little arsenal refurbishment marks actually indicate!
I really cannot recommend this book highly enough for anyone interested in WWII. Whether you are actual a Mosin collector yourself or just want to see a fuller picture of Soviet military history in the Great Patriotic War, Yuschenko's work is a gold mine of information previously unknown in the English-speaking world.
Unfortunately, it appears that only one printing will be done, and at the time I am writing this the author's web site indicates that the book is already 75% sold out. It is not available on Amazon, and must be ordered directly through the author's website, Mosin.info. If you want a copy, I urge you to order one ASAP as I can guarantee they will not last much longer. The price is $30 plus $12 shipping for one copy of $19 shipping for two copies – and expect them to take 3 weeks or so to arrive, as they ship from Ukraine.
Update: the book is sold out – sorry!
I hope that the author will run a second printing when this inevitably sells out, and that he will consider writing more on the subject of Soviet WWII armaments. I would love to see a similar work for any of the other weapons of the USSR!