The Luger pistol is one of the most iconic firearms ever built, and has been a favorite of collectors for many decades. Not surprisingly, there is a lot of literature out there on the Luger for the historian or collector to choose from – but if you want to sweep away all the chaff and get everything there is to know about the Luger there is one clear book to get: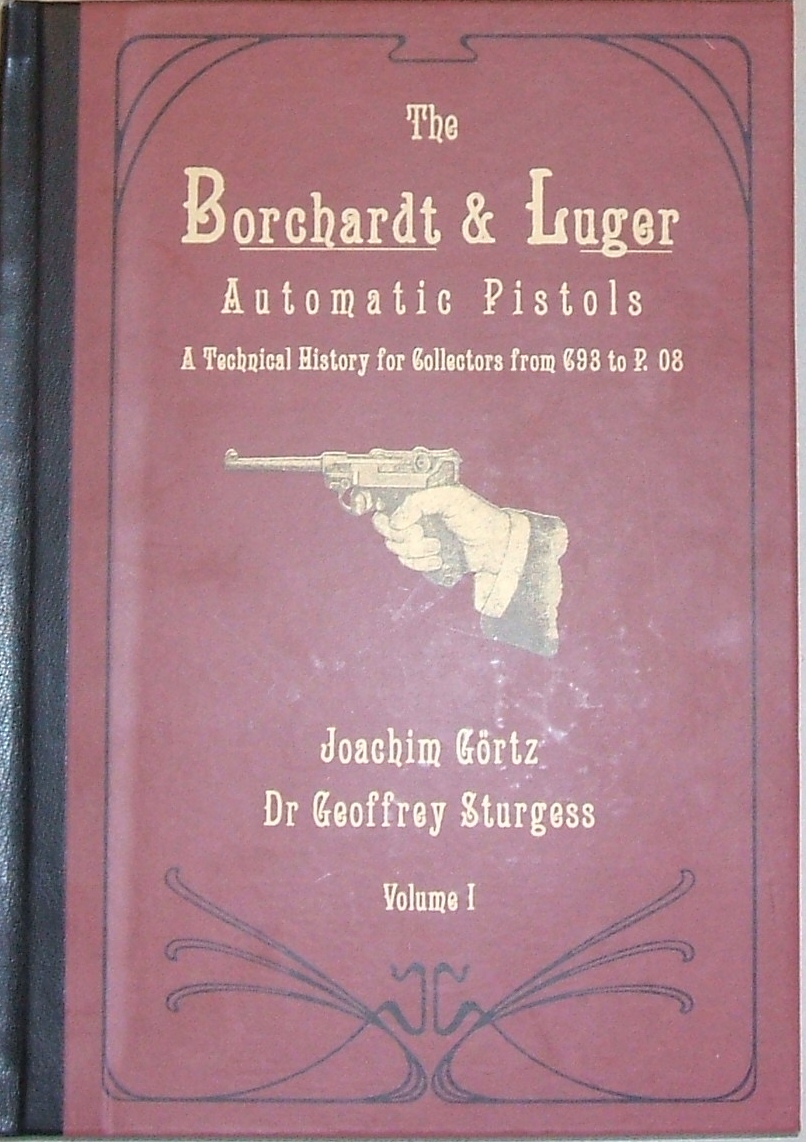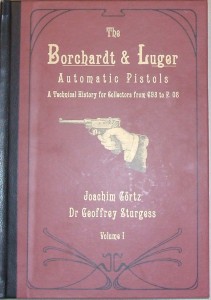 The book is entitled The Borchardt & Luger Automatic Pistols: A Technical History for Collectors from C93 to P.08, and it is written by Joachim Görtz and Dr Geoffrey Sturgess. Herr Görtz was a German collector (sadly passed away a few years ago) who had written a landmark book on the Luger in German, and Dr. Sturgess is an Englishman (now residing in Switzerland, where he can maintain his collection) who has to our knowledge the most comprehensive collection of Lugers and contemporary early automatic pistols in the world. Between these two figures, you can reasonably expect an impressively comprehensive book…and they have not disappointed.
The book is actually a 3-volume set with nearly 2000 pages, all glossy and loaded with excellent color photos. It begins with the development of the C93 Borchardt (the first commercially successful autoloading pistol) and tracing its development and military testing. When Hugo Borchardt refused to accept that his pistol had any shortcomings, it was handed off to Georg Luger to refine, and Volume I follows this refinement through its many stages, formal trials, and various early production runs. The incremental changes made to the design are chronicled in exquisite detail, and liberally illustrated with pictures of the exact serial numbered guns in question. For example, Sturgess describes how and why the Lugers provided for British trials in 1900 were in fact guns made for Swiss trials, returned to the factory afterwards, and then reused to send to England.
The first volume continues with detailed discussion of the Luger carbines, proofing and inspection marks, and instructional manuals written for the pistol. Volume II looks at serial numbers in depth, plus each of the production lines set up to manufacture Lugers, Naval and Artillery Lugers, technical changes throughout production, manufacturing and accounting details, and German unit markings found on Lugers. Finally, Volume III covers accessories like holsters, cleaning gear, ammunition, shoulder stocks and magazines plus miscellaneous developmental offshoots (like the Luger and Borchardt rifle designs, the .45ACP US trials Lugers, etc). Volume III also includes detailed information on the Luger and Borchardt patents, as well as complete sets of original technical drawings for five different versions (the 1900, 1904, 1906, P08, and lP08).
This brief cataloging of the contents doesn't even do justice to the chapter headings, much less the amount of detail within each one of them. The most minute technical changes are addressed, down to things like the variances in Swiss crest stampings on the hand-marked early examples. In addition to showing these details on each transitional model of the pistol, a number of faked pistols are specifically described, so that a reader can learn what to look for in identifying fraudulent examples – information worth many times' the book's price when you are looking at the prices commanded by very rare Luger pistols.
I am really having trouble trying to get across the sheer amount of information in this three-volume set. I've been reading through it for a week now, and I feel like I've hardly scratched the surface. It is obvious to me that this set will be my standard reference every time I need to investigate a question about Luger development relative to other designs, or research a particular pistol I am looking at buying or selling. It's one (well, three) of those books that will become stained and dog-eared, not dusty.
For anyone contemplating buying a Luger that is more than just a shooter, it's just the insurance policy needed to make sure a price is fair and a seller's description of the gun's history is accurate. I would no sooner put money into a historical Luger without cross-checking this work than I would drive without insurance, and for pretty much the same reasons.
I have just realized that I got this far through writing the review without even mentioning one of the best parts of the package – the companion DVDs. The set comes with two discs, one video and one data. The data disc contains a complete copy of the work in PDF form (slightly over two gigabytes). This means the entire text is searchable at the touch of a button, which is hugely helpful for looking up specific facts or questions. Even better, it means that all the photographs in the book can be viewed at larger resolution than was possible to print them in the physical book. Particularly in the case of the technical drawings, the ability to zoom in on the details of a particular picture is a great bonus. If that weren't enough, the video disc included is a 75 minute documentary put together as a companion piece for the books describing the original and evolution of the Luger. Of particular interest to me were the many pieces of footage of Dr. Sturgess shooting some of the contemporary competitors of the Luger, including some very rare guns that one does not typically see fired. We really enjoy that sort of thing around here, in case you hadn't noticed. 🙂
I feel like I have barely started to describe what is contained here, but I do need to wrap things up and I hope I have gotten the impression across. The set is available for preorder right now (with free shipping), and the first batch of copies will arrive and be mailed out to purchasers around the first week of November (or so I understand). The free shipping deal ends when they arrive in stock, so if you're interested in a set it would behoove you to order now. They are being sold directly by the publisher, Simpson Ltd, and you can get your copy here.