We've spent some time scouring through the Forgotten Weapons Archives, and found all the interesting machine gun manuals we have to put together on a single huge DVD. I'm very happy to announce that we have a company to print it (along with nice DVD case artwork and a printed label on the disc), and it is now available for purchase! It has 217 different manuals, for a total of 2.3 gigabytes of great machine gun information – from the AA-52 to the ZB-30 and all sorts of guns in between.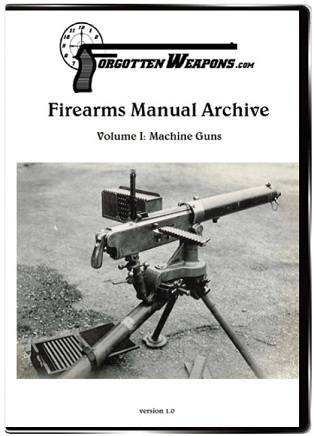 Order a copy now, for just $39.95 plus shipping – available in the US and 57 countries internationally
Our mission here at Forgotten Weapons always has been – and will continue to be – making information about firearms history and technology widely and freely available, so you might wonder why we are offering data for sale. Well, a couple reasons:
While most of the manuals on this disc will eventually be available for free download individually on the site here, it will take a long time before they are, simply because we want to pay attention to each item as we post it, instead of making a big data dump. So this DVD is a way for you to get all of our machine gun manuals now, to browse through at your leisure.
Even once all of this material is on the web site, it will not be a trivial task to download several hundred separate files, and 2.3GB is a pretty healthy amount of data for someone without a good fast 'net connection. This DVD gives you everything in a quick and easy package that will make an excellent addition to your own reference shelves.
While we love what we do here, the time we spend traveling to find great guns and manuals isn't free. We have loaded this DVD chock full of great information (see the complete contents here) in the hopes of providing you a great value for your dollar (less than 20 cents per document) while allowing us to continue to do what we do best.
The disc covers light and medium machine guns, including a couple heavies. Air cooled, water cooled, bipod mounted, tripod mounted, dual and quadruple gun mounts, and more. The majority are in English, but there are many other languages represented, including Russian, German, French, and others.Even when we can't read the text of a manual, we find the pictures, diagrams, and tabulated data to be useful and interesting (and it's always a motivation to learn another language!). Whether you're a serious scholar of firearms or a curious novice, this DVD archive is a must-have for anyone interested in machine gun history, development, and technology.
You can see the sort of material that is included on the disc by browsing through the machine gun sections of the Vault, but here are a few samples of the kind of things you will get in Volume I of our Firearms Manual Archive:
[nggallery id=167]