Continuing through the trove of ammunition documents we recently got from Robert, we have three more manuals for you today. These are getting a bit more specific in their topics as we move through the collection, so I'm posting three instead of just two.
First up, a 1943 German manual on 75mm ammunition for captured French antiaircraft guns (the "(f)" in the German designation indicated French origin). Not a particularly exciting piece to read through, but hopefully someone will find it useful at some point.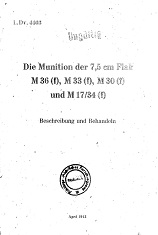 Second, another German manual – this one on small arms and machine gun ammunition. This was printed in 1938, before the war began in earnest, and is notable for including pictures of a large number of standard ammunition packaging labels. Should be more generally useful that the previous document.
Lastly, a 1917 British manual on ammunition for the 13lb and 18lb quick-firing guns. The 13 pounder (76.2mm) was a standard field gun for the Royal Artillery going into WWI, but it proved too light to be effective as the trench warfare took hold, and was replaced with the 18 pounder (83.8mm), which became a main staple of Royal Artillery through the end of the war (and even saw limited service in WWII). This manual details the different types of shells available for both guns, their construction, and packaging.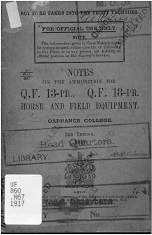 Lastly,