William Tranter was a British gunmaker of some repute, although generally not remembered today. He was apprenticed to a gunsmith in 1830, at the age of 14, and by 1839 had left and opened his own shop. He quickly became a well known and well respected member of the London gun trade, and his first really significant work was the production of thousands of Adams revolvers under license.
Around 1853 Tranter began designing, patenting, and producing his own firearms, primarily revolvers (he was eventually in active production of more than 20 different models) but also rifles, including Sniders on contract for the British Army. He was a founding member of BSA (Birmingham Small Arms), played a role in development of the Mk.I Enfield service revolver, and much more.
I learned this with a bit of quick research – I really don't know much at all about the man or his gun designs. However, I had a reader named Kevin send me a bunch of photos of a Tranter revolver he has inherited, a six-shot model in a rather awe-inspiring .577 caliber: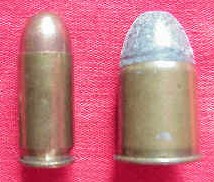 From what I can tell, at least three different firms had licenses to build these ludicrously huge revolvers – Webley, Braendelin, and Tipping & Lawden, in addition to Tranter himself. Does anyone know enough about them to provide any additional information on where this one might have been made, or its value? There was a book written in 2007 on Tranter weapons (Tranter Cartridge Firearms
), but it is out of print now and I don't have access to a copy. I think the upturned point on the top of the grip points to this one being made by Webley, but I can't confirm that. Any input from folks with knowledge on the subject would be much appreciated – thanks!