Editor's Note: We are posting this article by guest writer David Reeder as some useful background information for current events.
The Crimea Catalyst
Looking at events in Crimea in 2014 to inform current Russian operations.
David Reeder
The following timeline is a condensed version of events leading to the Russian seizure of Crimea.
It uses that overview as an example of the reasoning/rationale behind Russia's actions in Ukraine and the surrounding region.
Georgia → Crimea → Donbas (Donetsk/Luhansk) →  Ukraine → ? 
Note: This isn't intended to be an opinion piece. It's not meant to take sides or persuade you.
Become informed. Corroborate what you doubt. Form your own opinion. Accept that realpolitik exists – and will continue to do so with or without anyone's approval.
"Every man has the right to an opinion but no man has a right to be wrong in his facts." Bernard Baruch, Associate Press, 1946
---
The Invasion of Ukraine
In 2022 military forces of (or allied to) the Russian Federation invaded Ukraine. It is the first conventional combined-arms military "land grab" in Europe since WWII.
Some commentators have referred to the build-up of Russian forces on Ukraine's border and destabilization operations in separatist regions as déjà vu. They compare it to events leading to the Russian seizure of Crimea in 2014, then debate possible reasons for both actions.
The rationale for the invasion and Russian recognition of the Donetsk and Luhansk immediately prior is simple to explain – but to paraphrase Clausewitz, simple things are difficult.
We'll use an encapsulated rundown of the Crimean peninsula to explain these difficult simple things.
The catalyst for the seizure of Crimea can be distilled to geostrategic necessity.
In 2014 Crimea belonged to Ukraine.
Ukraine shares a long border with Russia. Russia has been at odds with NATO since the alliance's inception in 1949.
In the months prior to Russia's "intervention" Ukraine was on the cusp of joining the European Union (EU).
Membership in the EU is seen by Moscow (correctly) as being a precursor to joining NATO.
Russian action to assure control of Crimea was all but a foregone conclusion.
From an (admittedly ruthless) pragmatic perspective, Moscow had no choice but to act. Additional factors (such as its obligation to protect ethnic Russians by law, q.v.) provided sufficient justification to skew the international narrative and get away with it.
A pro-Russian Kyiv is vital to Moscow because:
The presence of a pro-Western EU/NATO member state on the Northern European Plain (a corridor straight into Russia) is too great a threat to allow, and
Control of Crimea is, in Russia's eyes, an existential matter.
The Crimean port city of Sevastopol (formerly leased by Moscow from Kyiv) is home to Russia's most significant warm water, deepwater port on the Black Sea. Complete control of it is a geographic and military imperative. It provides access to the Sea of Marmara and from there to the Mediterranean, is in a position to control access to the Sea of Azov, and is superbly positioned to project power west (Moldova/Transnistria, Romania, Bulgaria), south (Turkey), and east (Georgia/Abkhazia).
As an example of use, it was from Sevastopol that RFS Nikolay Filchenkov and other vessels delivered the 810th Independent Naval Infantry Brigade to Latakia Syria in mid-2015 when they first began openly intervening there.
It's also important to note long-term Russian naval strategy. The Black Sea Fleet has more than tripled in size since 2015. Projection of naval power in – and out from – the Black Sea is the primary focus of the Russian Maritime Policy signed by President Putin in 2015.
Russia could no more afford to lose Sevastopol than it could allow NATO bases directly on its border or the Black Sea littoral. Right, wrong, or indifferent, geopolitics forbade it.
So What is Crimea?
Crimea is a peninsula in Europe. It's approximately the size of the state of Maryland and is almost surrounded by the Black Sea and the Sea of Azov. It's connected to the continent by the Isthmus of Prekop to the north and separated from Russia by the very narrow Kerch Strait to the east.
Crimea was Russian (~ish) for 300 years or so. It was then Ukrainian (~ish) for about 60, including most of the Cold War. Before the Russians, it belonged to the Tatars, and before that the Taurians, Scythians, and other groups. In the interest of time, we'll fast forward straight to the Mongols.
That's where it becomes easier to relate historic and modern conflict.
This timeline is a basic overview of Crimea and surrounding polities from the 13th century to 2014 with a focus on events that help illuminate its seizure by the Russian Federation under President Vladimir Putin and the subsequent invasion of Ukraine in 2022
Crimean Timeline to Inform Current Events
c. 1250-1440
Mongols of the Golden Horde take control of the Crimean peninsula in the early 13th century. Its capital is the city now known as Staryi Krym.
From c.1300 to 1783 Crimea is considered Tatar territory.
c. 1440-1450
Crimean Tatars establish an independent Crimean Khanate. It is principally held by nomadic Tatar (and Nogay) tribes and ruled by a Khan who is said to be a direct descendent of Genghis Khan.
An Ottoman Sultan later captures a Crimean Khan, releasing him in return for him accepting Ottoman rule. The Crimean Khanate becomes a tributary principality of the Ottoman Empire.
1571
Forces of the Crimean Khanate and Ottoman Empire, longtime enemies of the Tsar of Russia, burn Moscow. Estimates of the city's death toll range from tens of thousands to more than 200,000.
1654
January. Beginning of the Treaty of Pereyaslav. A council held in then-Russian Pereyaslav, now-Ukrainian Pereiaslav. The treaty is finished in April establishing the allegiance of an (autonomous) Cossack "Hetmanate" in return for the protection of the Russian Tsar. This is intended to cleave much of what is now Ukraine from the Commonwealth of Poland and leads to the Russo-Polish "Thirteen Years" War.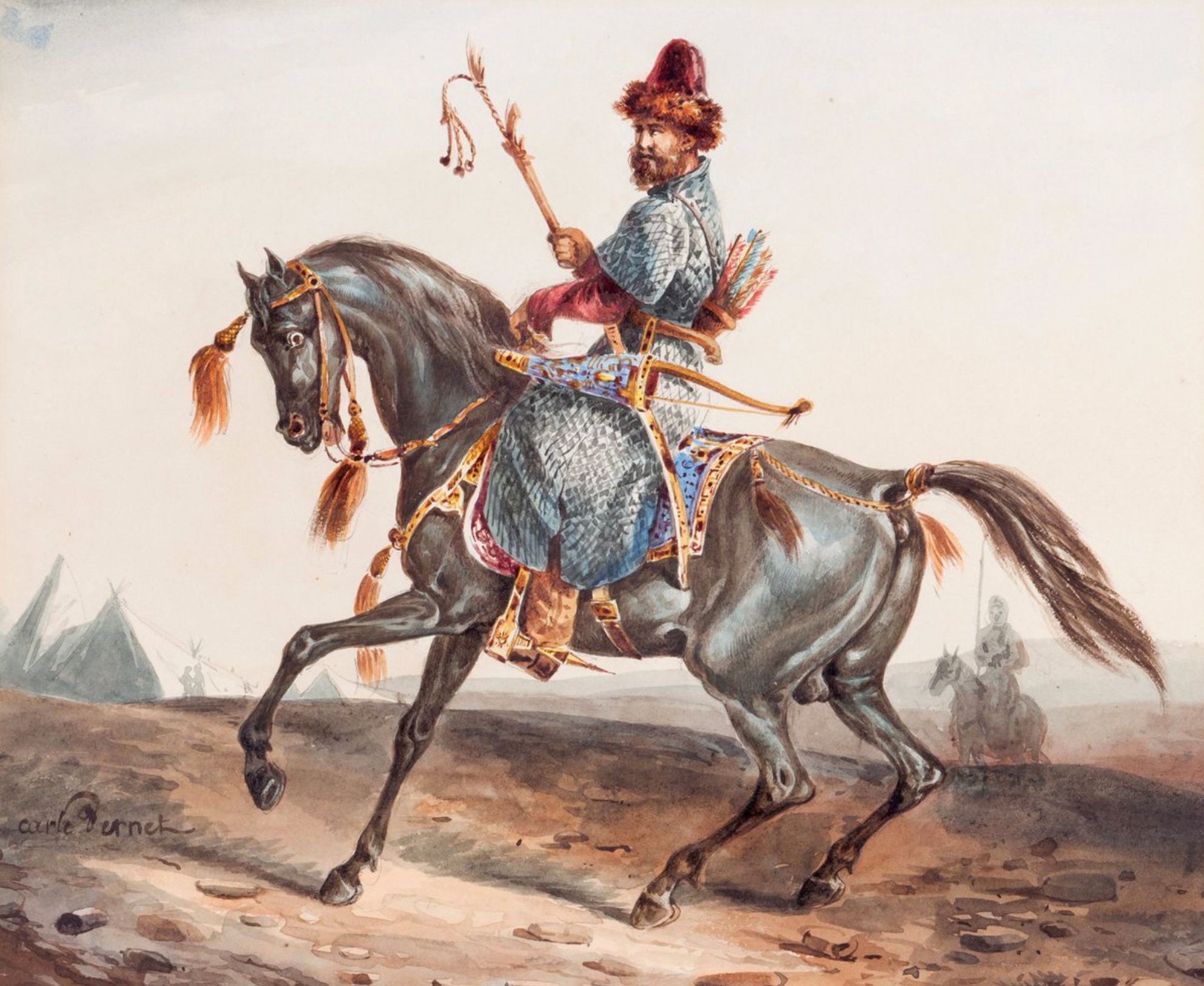 1654-1667
Thirteen Years War (also First Northern War or Russo-Polish War) fought over territory that is today Ukraine and Belarus. Today's city of Kiev/Kyiv is, at the time, called Kijów – because it's Polish.
The war is triggered by the Khmelnytsky Rebellion of Cossacks and interference by the Tsar of Russia on (some of) the Cossacks' behalf. Several campaigns and sieges ensue, including some wherein troops of the Crimean Khanate fight as Polish allies against Russia. Cossacks of the Hetmanate, itself in a civil war, fight on both sides of the conflict.
1667
Truce of Andrusovo. The region historically referred to as "Left-bank Ukraine" (east of the Dnieper River), including what are today the oblasts of Chernihiv, Poltava, and Sumy, is ceded to Russia by Poland. The Commonwealth does retain some of western Ukraine. Historians consider this to be the start of Russia's rise as a "Great Power" in Eastern Europe. Subsequent Russian and later
Soviet official history regards this as a "reunification" of Ukraine and Russia.
1674
After six years of war, the Russian Empire and Ottoman Empire agree on the Treaty of Kuchuk-Kainarji, recognizing the independence of the Crimean Khanate. In it, both powers agree not to interfere in Crimean affairs.
1686
Eternal Peace Treaty of 1686. This agreement re-affirms Russia's sovereignty over "Left Bank Ukraine".
1783
Internal Crimean conflict exacerbated by Russian influence. Empress Catherine the Great intervenes and effectively annexes the region as the Taurida Governorate. The last ruling Khan flees and is eventually executed by the Ottomans.
It is the first predominantly Muslim area to be lost by the Turks, Crimean Tatars being the largest group of that faith in the region. The Nogay is another Muslim ethnic group in the region. A number of substantial non-Tatars minorities (and religions, including Orthodox, Catholic, and Jews) live in Crimean cities.
During the course of this decade, Nogay land is confiscated and tens of thousands of them are killed or forcibly removed from Crimea and settled elsewhere.
From 1783 to 1954 Crimea is considered to be Russian territory 
(As is Ukraine, by the Russians, after the Treaty of 1667.)
c. 1853 – 1856
Crimean War. Three years of war between the Russian Empire and an unlikely alliance of western and Mediterranean powers (including England, France, and the Ottoman Empire) devastate the region. A significant portion of the Tatar population (possibly as much as 23% of Crimea's total population) flee. This exodus begins to drastically alter the demographics of Crimea.
c. 1917-1923
Russian Civil War. Crimea is largely anti-Bolshevik. It changes hands several times during the war, going through a series of at least a dozen different "governments". None last more than a few months.
c. 1921
The Crimean Autonomous Soviet Socialist Republic becomes part of the Soviet Union. Late that year the "Red Terror" campaign is conducted by Cheka (Bolshevik Secret Police) across Soviet Russia. In Crimea specifically, an estimated 50,000 people (former Imperial/White military as well as civilians) are murdered.
Regional drought and famine. All surplus agricultural produce of Ukraine seized from rural population for use elsewhere in the Russian Socialist Federative Republic, most significantly to feed the Red Army (called prodrazvyorstka, "forced grain requisition" but included virtually every kind of agricultural products). Resulting economic factors greatly into the introduction of New Economic Policy (NEP, viewed as an expedient, interim system of state capitalism to alleviate economic trouble) by Lenin.
1922
Novorossiya, an area comprising most of southern and eastern Ukraine, is ceded to the nascent Ukrainian Soviet Socialist Republic. This territory does not include Crimea – but does include Kharkiv, Luhansk, Donetsk, Odesa, and other oblasts.
Referring to this transfer more than nine decades later, President Putin said, "Why? Let God judge them…Russia lost these territories for various reasons, but the people remained."
Reference to "the people" is significant on several levels.
1923
Large numbers of Ukrainian and Belarusian Jews are forcibly resettled in Crimea.
1925
Beginning of Stalinism. Stalin changes the name of the party from Russian Communist Party (Bolsheviks) to the All-Union Communist Party (Bolsheviks), indicating that polities outside Russia (e.g. satellite nations) were no longer a part of an all-encompassing Russian state.
1928
Industrial and agricultural collectivization instituted across the USSR.
c. 1930
Soviets engineer an influx of Slavic settlers. This greatly increases the already significant shift in Crimean demographics.
1932-1933
The Holomodor. A man-caused famine suffered by Ukraine and parts of what is now Transnistria. Historian consensus is the Holomodor was an intentional genocide inflicted upon Ukraine by the Stalin government as part of an ethnopolitical strategy to Russify Ukraine – though some scholars dispute the intentional part.
Estimates of the death toll range from 3.5 million to twice that, predominantly suffered by ethnic Ukrainians. All of Ukraine is affected, with reports of deaths by mas starvation originating in Kyiv, Odesa, Kharkiv, Donetsk, and other oblasts.
A birth deficit of another estimated 6 million during this time period is attributed to the Holomodor. This is reflected by a disparity in population growth (Ukraine's increasing by less than a third and less than half of Russia and Belarus, respectively).
Many areas depopulated by death, forced resettlement, and migration are occupied by ethnic Russians.
1942
Reichskommissaria Ukraine. Crimea occupied by Germany. Nazis conduct ethnic cleansing of Crimean Jews. Estimates place the number of Jews murdered in the Crimean region over the next two years at 30,000 or more. Several thousand more Jewish Krymchaks were killed as well (or about 75% of their pre-war population).
1944
Control regained by Soviets. April-May, successful evacuation of over 100,000 Axis troops by Romanian and German naval elements. Soviets initiate ethnic cleansing of Crimean Tatars, the Sürgünlik. Tatars comprise roughly 25% of the population when it begins.
May 1944
Crimea reduced from an autonomous republic to Oblast. It is now the Crimean Oblast of the Russian Soviet Federative Socialist Republic (colloquially Soviet Russia). Sevastopol treated as a closed/autonomous city due to its geopolitical and military importance.
1954
Crimea as a polity (the Crimean Oblast) administratively moved by Stalin's successor, Georgy Malenkov out of Soviet Russia into Ukraine. Some sources say this occurred at the behest of Nikita Khruschev, not Malenkov.
The population of Crimea at the time is estimated to have been a little more than 1 million, that number being divided approximately 75%/25% ethnic Russians and ethnic Ukrainians. Only a very small minority is Tatar.
From 1954 until March 2014 Crimea considered Ukrainian territory.
1989
Perestroika. General Secretary of the Communist Party of the Soviet Union Mikhail Gorgachev authorizes the repatriation of Tatars to Crimea.
1991
February. Crimea declares its own sovereignty. Note: this occurs during combat operations of Operations Desert Storm in Iraq. Events three and in surrounding countries completely dominate the news cycle.
May 5th, Crimea declares its independence as the Republic of Crimea.
May 13th, Ukraine's parliament (Verhkovna Rada) rejects and overturns the declaration. It compromises on an "autonomous republic" within Ukraine.
1994
US President Bill Clinton and Russian President Boris Yelton sign the Kremlin Accords. Among its provisions are the dismantling of the nuclear arsenal in Ukraine.
1996
The Constitution of Ukraine is signed into law.
1999
August. Vladimir Putin becomes Prime Minister of Russia
December. Prime Minister Putin becomes acting President of Russia after Boris Yeltsin resigns.
2004
The "Orange Revolution" begins in Ukraine following a disputed presidential election between Viktor Yanukovych and Viktor Yushchenko. A revote puts Yuschenko in office.
There are sufficient Tatars now returned to Crimea to comprise approximately 10% of the region's population.
2006
Russia cuts off supply of natural gas to Ukraine ("pipeline diplomacy") to exert economic and political pressure.
2007
More pipeline diplomacy. Russia cuts oil supplies to Poland, Germany, and Ukraine.
2008
Georgian military moves into pro-Russian breakaway state of South Ossetia. Russia invades Georgia.
Feb 2009
Pravda runs an article critical of Russia gifting Crimea to Ukraine and calling for a referendum on the matter, reading in part,
"Khrushchev informed his comrades of the decision to deliver Crimea to Ukraine incidentally, on the way to lunch. 'Yes, comrades, there is an opinion to deliver Crimea to Ukraine,' he said casually. No one dared to express any protests, because a word of the first face of the Communist Party was law.
"The agenda of the session of the Presidium of the Central Committee of the Communist Party of the Soviet Union, which took place January 25, 1954, contained a question about the delivery of the Crimean region to the structure of the Ukrainian SSR [Soviet Socialist Republic]. The discussion of the question took only 15 minutes. The participants of the meeting approved the decree, and the region was given away to Ukraine for free."
April 2010
Ukraine and Russia sign the Kharkov Accords, a treaty extending Russia's lease on naval facilities at Sevastopol and elsewhere in Crimea until 2042 with an additional five-year renewal option for a long-term contract providing Ukraine with Russian natural gas at discounted rates. Detractors of the agreement say it was accomplished without due parliamentary procedure and even that it violates Ukraine's constitution.
2012
Vladimir Putin elected President of Russia.
Russia steps up economic pressure on Ukraine, stopping imports from that country's largest confectionery producer and intensifying customs checks on all Ukrainian goods at the border. This leads to an estimated $500 million in losses for Ukraine.
2013
November 2013
Under economic pressure and a range of unsubtle threats from Moscow, Ukrainian President Yanukovych turns away from the Eastern Partnership in Vilnius and does not follow through on plans to sign economic pacts with the EU.
Euromaidan ("Maidan Uprising") demonstrations begin.
2014
February 7. XXII Olympic Games begin at Russian city of Sochi on Black Sea coast.
Feb. 19-21. Euromaidan protests evolve into the "Revolution of Dignity" in Ukraine. After weeks of violence and the death or injury of hundreds of civilians and dozens of security forces, President Yanukovych flees the country. Ukraine's parliament votes to remove him from office by a unanimous vote of all ministers present.
Feb. 22. Russian President Vladimir Putin (by his own unabashed admission) tells the leadership of Russian security services, "We must start working on returning Crimea to Russia." This is consistent with the Russian law requiring protection of ethnic Russians (not necessarily Russian citizens), though it withstands no scrutiny from international law.
Feb. 23. 2014 Winter Olympics end.
Feb. 23. Pro-Russian demonstrations held in Sevastopol.
Feb. 27. Russian troops, initially operating deniably and out of uniform (later earning the sobriquet "little green men") take Crimea's parliament, capture strategic sites, and install pro-Russian Sergey Aksyonov as chief executive. These forces are often accompanied or shielded by pro-Russian separatists (see "integrated force grouping", 2018, below).
March 16. Crimean status referendum. Crimean resident population asked to choose between joining Russia as a federal subject and restoring the 1992 Crimean constitution and Crimea's status as part of Ukraine. A large voter turnout led to a reported 97% Russian integration. The referendum is deemed illegitimate by 13 members of the United Nations Security Council and declared invalid.
March 21. Russia formally annexes Crimea. Crimea ultimately incorporated in two pieces: the Republic of Crimea and the Federal City of Sevastopol.
March 24. The UK, US, Italy, Germany, France, Japan, and Canada temporarily suspend Russia from the G8, recognizing that Crimea is within Ukraine's national borders and rejecting the 2014 Crimean Referendum. Russia is eventually removed and the pre-1997 G7 restored.
April. A Gallup poll in Crimea immediately after the referendum found that "…93.6% of ethnic Russians and 68.4% of ethnic Ukrainians believed the referendum result accurately represents the will of the Crimean people."
April. The "Donbas War" begins. This is a conflict between the government in Kyiv and Russian-backed separatists in the Donetsk and Luhansk oblasts of Ukraine, collectively called the Donbas.
April 7. Donetsk People's Republic (DPR) unilaterally declares independence from Ukraine. It is officially recognized by Russia eight years later at the start of the invasion of Ukraine, February 21, 2022.
April. US President Barack Obama imposes economic sanctions against Russia.
April. The Parliamentary Assembly of the Council of Europe temporarily strips Russia of its voting rights.
c. May 12. Luhansk Peoples Republic (LPR)unilaterally declares its independence from Ukraine. It is officially recognized by Russia eight years later at the start of the invasion of Ukraine, February 21, 2022.
More pipeline politics. In place of the customary letter sent by Gazprom to its European counterparts came a letter not just to those petroleum firms but to 18 European heads of state from President Putin himself. In it Putin openly suggested that fuel supply to Europe could be cut off.
July. Malaysia Airlines Flight 17 is shot down by a missile over eastern Ukraine.
August. Pres. Putin uses the word Novorossiya in a speech approximately a month after the annexation of Crimea. Novorossiya is an old imperial (also described as colonial) term meaning "New Russia".
⚠️ Novorossiya: This is a tacit acknowledgment not just of Russian approval but a not-so-subtle way of saying the disputed areas of Donbas, et al, are Russian. It has also been interpreted as a de facto legitimization of those militia's activities.
Moscow increases the price of natural gas to Western countries as talk of Kyiv joining the EU increases.
October. Vladimir Putin delivers his "Valdai Speech" in Sochi, on the Black Sea coast (Valdai International Discussion Club). In it Putin described Moscow's view on post-Cold War geopolitics. The bulk of it is a barely-veiled criticism of the United States and a rejection of the idea that Washington and capitalism were the arbiters of world events and the foundation of the post-Cold War world international system.
2015
January 1. Formal launch of the Eurasian Economic Union (EEU, alternately EAU), a political and economic alliance of Belarus, Kazakhstan, and Russia. Armenia and Kyrgyzstan become members shortly thereafter. Moldova granted observer status in 2017. Uzbekistan and Cuba obtain observer status in 2020.
July. Russia begins expanding the Sevastopol-based Black Sea Fleet with nearly a hundred new ships and submarines and building a new naval port at Novorossiysk. A new naval doctrine is published. In it NATO is listed as the top threat to Russian interests. Its language refers to NATO's proximate positioning of men and materiel as "inadmissible".
2018
Russian Col. Gen. Aleksandr Vladimirovich Dvornikov publishes an article in the Russian Military-Industrial Courier. The article discusses Russian operations in Syria, referring to what he calls "integrated force grouping". Such a tactic involves combining SOF personnel, un-uniformed soldiers (likely PMCs), and local militia support. He refers to it as "expeditionary warfare on the cheap". Despite the obvious difference in the operational areas, much of what he writes can be likened to previous operations in Crimea and future operations in Ukraine.
2022
February 21. Vladimir Putin formally recognizes the Donetsk People's Republic and the Luhansk People's Republic. Russia is the first UN country to do so.
February 22. Russia's Federation Council authorizes the use of military force. Russian military forces and "volunteer" units backed by professional Russian units enter the DPR and LPR.
February 24. President Putin announces a "special military operation" to "demilitarize and denazify" Ukraine. Russian ground forces violate Ukrainian territorial integrity (stipulating the DPR/LPR remained legally part of Ukraine) and begin driving toward strategic targets. Ukrainian President Volodymyr Zelenskey enacts martial law, announces a distribution of weapons to virtually anyone capable of carrying (the so-called "Ukraine Second Amendment"), and a general mobilization of military-age males.
Unidentified armed man standing guard outside a captured Ukrainian military installation in Crimea. Large numbers of Russian soldiers (out of uniform, without insignia, masked for anonymity) assisted separatist militias in a swift takeover of the peninsula. When asked about the so-called "Little Green Men" Putin shrugged dismissively and responded that such uniforms and weapons were "readily available at military surplus stores".
This is obviously a distilled version of events leading to the seizure of Crimea but is representative of Russian motivation and justification. A more complete accounting would take entire books, but we've done the best we can to encapsulate things.
If we've missed something or made an error, let us know in the comments!
DRW
David Reeder is a co-founder of Breach-Bang-Clear and editor of The Mag Life.
ReederWrites.com