I took most of last week to head to Vegas for the annual SHOT Show, and while it is mostly a giant sea of AR15s, there were a few things there that might be of interest to folks here…
First and most exciting, I got confirmation that EL BE Tac will be importing German-made reproductions of an entire range of German WWII small arms. The first ones up will be the MP-44/StG-44 and MP-38. They are of course semiauto only, and ATF has approved the designs of both. The last remaining hurdle is approval of importation permits, which is currently in progress. Unlike the previous batch of reproduction MP-44 rifles brought in by PTR (the PTR-44), these new ones will be heat treated to modern spec to avoid breakage problems. It will also use original MP-44 magazines. The MP-38 reproduction will be closed-bolt (of course), and will be sold as a pistol with a correct length barrel and a stock fixed in the folded position. Anyone wishing to fix that will be able to file SBR paperwork and make the stock usable again.
Northridge is making polymer charger clips for the K31 and Schmidt-Rubin rifles (G1911, K11, G96/11). About time someone did this! The originals were meant to be disposable, and are remarkably difficult to find these days. The polymer ones look good, but are still prototypes (I tried hard, but couldn't get the booth rep to let me take one to try out). They should be available in a couple months, and I will be getting a few to test out and let you know how they run. Price is planned to be $14 each or 2 for $20. That's not much less than original, but at least they will be available…and hopefully the price will drop over time.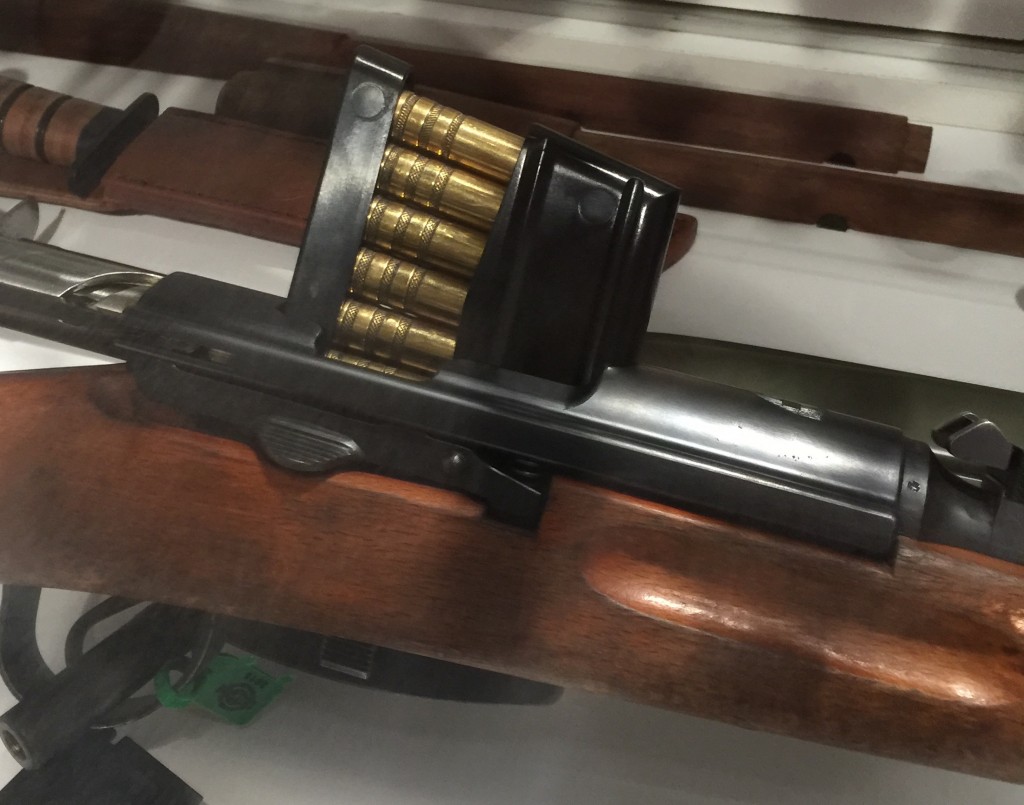 Colt is re-introducing the Model 1903 Pocket, possibly for the sole purpose of proving that they can do something like this and have it work, unlike certain other gun companies. They will be making approximately 2500 1903 pistols, including 500 in a "General's series" which uses the original serial numbers (with a prefix to prevent counterfeiting) of the 1903s issued to General officers – each of those will come with a fact sheet about the General who originally got the pistol. The other 2000 will be identical copies of the standard 1903, available in either blued or parkerized finish. Price is about $1300. These will be made under the direction of Curt Wolf, who is responsible for the extraordinary Gatling guns currently marketed by Colt.
And speaking of Remington, they had a revised version of the R51 at their booth. They claim to have fixed several issues, including tweaking the extractor design, nickle-boron coated the locking block to reduce friction, and replaced the aluminum trigger with a polymer one to prevent it from damaging the frame. What they have not done is change the fact that the action uses a steel block locking against an aluminum surface. The booth rep claimed this would not be a problem unless you shot 50,000 rounds, but we will see. No specific date when the new guns will actually be released (they are moving production facilities from Charlotte to Huntsville, and this is the explanation given for the lack of date), but vague notions of the coming fall. Hopefully someone will get one when they do (perhaps even me!), measure and document the headspace, and track/document it through something like 500 rounds of firing.