It's a bit of an unfortunate fact that I am a bit spoiled by the really cool guns that I've had the opportunity to handle and shoot. I very rarely bother going to gun shops or gun shows any more, because there just isn't very much chance of finding something new and interesting at any of them. However, the one very significant exception is the annual SAR show in Phoenix on the first weekend in December. Not only is it a place where you can meet a ton of the influential and knowledgeable people in the gun world, but interesting things always turn up. You never know what you'll see there for sale. And if I didn't already believe that, this year's find for us would have cemented it permanently: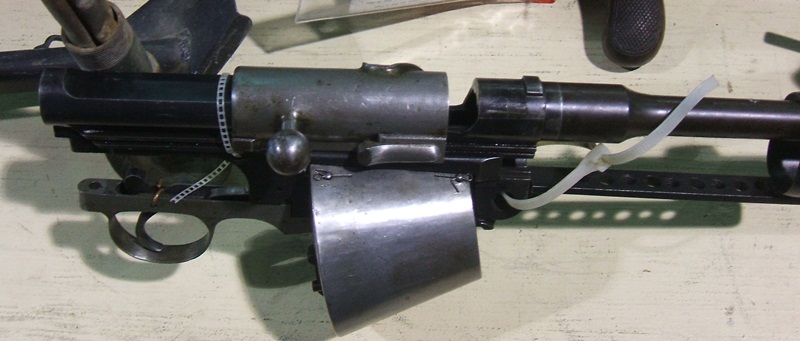 Yep, that is a partial Farquhar-Hill rifle that was for sale, until it came home with us. It's missing the bolt, furniture, and gas system (plus a couple FCG parts, I think), but I doubt we'll ever have another chance to get one. The receiver, trigger, and bolt cover have matching numbers, but several of the other small parts have different numbers – our working theory is that it was either an unfinished factory gun or a set of parts put aside by one of the employees building the guns originally. We will be fabricating the missing parts, and it will live again!
I did pick up some other neat things over the course of the weekend – some Maxim parts, a decent Broomhandle Mauser, a Remington Model 8 that eluded my interest until I finally realized just how cool they are – although they all pretty well pale in comparison to the Farquhar-Hill score. And, of course, we got to meet and chat with some pretty cool people, including Teri Bryant (who runs Nambu World), Dolf Goldsmith (world-renowned machine gun expert), a bunch of folks form the Remington Collectors' Association, and many more. We also met a bunch of folks who read and enjoy the site from as far away as Belgium and New Zealand as well as right here in the US. If you're reading this, thank you for all the kind comments – we love sharing our passion for this stuff and it means a lot to know that so many people enjoy it as well.