I was invited to be a guest on an episode of the Modern Rifleman Radio podcast, which just published today. It was a lot of fun, and the discussion ranged all over, from current Army rifle training to the genesis of the "modern" rifle to how the M1A and MAS 49/56 performed in mud and sand testing to the latest news on InRange TV – and a lot more. Check it out!
On a separate note, I would like to say that I'm really not usually the sort to buy trinkety sort of stuff – but I couldn't help myself yesterday. I saw a mention of this: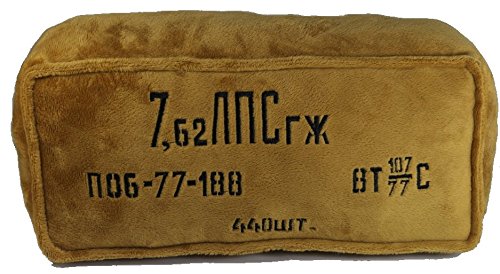 and just had to order one. It's a plush throw pillow copy of a Soviet spam can of 7.62x54R ammo…definitely the most amusing milsurp-related doodad I've seen in a long time, and a sure way to put a smile on my face every time I see it. 🙂 If you're as easily amused by the idea as I am, you can order one yourself through Amazon
.