Thanks to reader Thibaud, we have a translation of some of the testing results from the French military trial of the FN FAL and MAS Model 62. Thanks, Thibaud!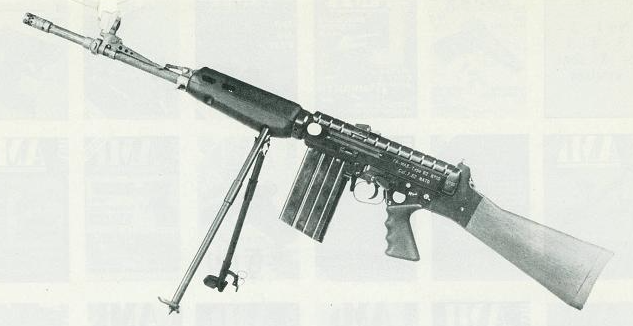 The documents tell us that the FA MAS 62 was tested along with the FN FAL, which was considered a benchmark. Here is the result of the testings :
Sights: The sighting equipment of the FAL was prefered by French soldiers during testing because of its similarity to the ones of the FSA 49-56, more familiar to French soldiers.
Sight adjustment: Satisfactory on both weapons. Some FAL rear sights were not enough tight to stay in place when shooting full auto.
Trigger and fire selector: Trigger was satisfactory on both weapons. All testers prefered the fire selector on the FAL.
Accuracy: Accuracy of the FAL was superior. Odd vertical dispersion with the 62.
Handling during firing: Satisfactory with both weapons. Handling of the FAL was considered better. The adjustable stock on the 62 was apppreciated.
Handling during scoped shooting: Satisfactory with both weapons. The adaptor to mount the scope on the 62, which is not needed to mount a scope on the FAL, was considered too fragile and complex. Possibility to use iron sights even when the scope was mounted on the 62 was appreciated over the FAL, which cannot be shot through the iron sights when a scope is in place.
Handling and transport: Both weapons were considered light, easy to handle and not cumbersome. The FAL was prefered for its lighter weight (about 400 grams / 0.9 pounds less).
Toughness and functioning: Satisfactory on both weapons.
Notes during testing: advantage to the FAL for its ease to disassemble and clean. The 62 was considered overly complicated, with numerous parts, some of which were easy to lose.
4 units (of testing soldiers) out of 5 prefered the FAL for its "technical maturity, its practical solutions and its better results during shooting tests". The FA MAS 62 was nevertheless the better when firing grenades, even if its mechanical construction is less robust.
The test results did not end in adoption of any rifle, the FA MAS 62 returning to the manufacturer and the FAL not adopted either. Some French unit were isued FN FAL in small numbers, as it seems there was a "FAL lobby" in the French army of that time. When the Defense Minister of that time, Michel Debré, was told this, he said in anger that "the weapon of the French soldier will be a French weapon!" (why does that not surprise me?). The FAL rifles in the French army were disposed of and never came back.