The Browning Automatic Rifle, or BAR, was a staple of American infantry forces through WWII and the Korean War, and has an outstanding reputation today. The gun was originally developed in 1917 and first fielded in the closing days of World War I, in the Meuse-Argonne Offensive. In fact, per an agreement made with John Browning during development, the first American unit in France to receive the BAR was the 79th Infantry Division, whose numbers included Browning's own son, 2nd Lt. Val Browning.
In its original form, the BAR was intended to use in "walking fire", shot from the hip to suppress enemy forces while advancing (the same role as the Chauchat machine rifle). The tactical role of the light machine gun was really not yet understood by military brass, although troops in the field was developing tactics on their own to exploit the capabilities of these relatively new weapons. At any rate, the BAR was not equipped with a bipod, and the belts of magazine pouches included a metal cup on the right hip to hold the butt of a BAR to help steady it for this from-the-hip assault fire.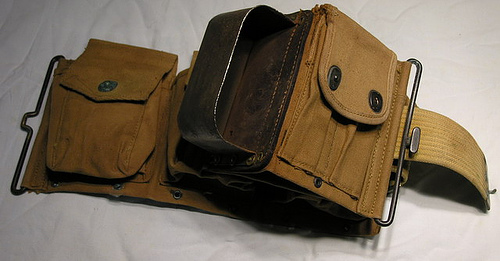 This assault fire concept didn't work out so well in practice, and after WWI new tactics were developed. Among other things, this led to modification of the BAR to include a bipod and replace the original fullauto/semiauto selector mechanism with one that was only full auto, but with the option of a low or high rate of fire – under the designation M1918A2. It is this A2 variant that saw such extensive US use in WWII and Korea. Finding original M1918 BARs today that both survive and were not converted to the updated pattern is fairly rare, which brings me to the point of today's post. We have a number of photos of just such and original BAR, and I want to post them for folks to have as a reference to compare to the other versions of the gun available (both military and commercial).
[nggallery id=205]