We've all heard the jokes about French guns – never fired and only dropped once. It's a shame that they developed that type of stereotypical reputation here in the US, because the French were actually prolific front-runners in arms design. In the 10-15 years prior to World War I, French arms factories produced literally dozens of experimental autoloading rifles for service testing. Among others, these included the first direct gas impingement design (the Rossignol, from 1896) and both long- and short-recoil rifles. Many were chambered for smallbore 6mm and 7mm cartridges that were far ahead of their time.
Jean Huon and Collector Grade Publications have published what is doubtless the most thorough research work on the history of French autoloading rifle design, under the title Proud Promise: French Autoloading Rifles 1898-1979. In addition to the first wave prototypes I mentioned already, M. Huon also has unearthed a great deal of information on the few issued semiauto rifles from WWI (the St Etienne 1917 and 1918 rifles and carbines), the whole series of developmental designs culminating in the MAS 44 and MAS 49 rifles that were widely adopted, and accessories and ammunition for the MAS49 service rifles.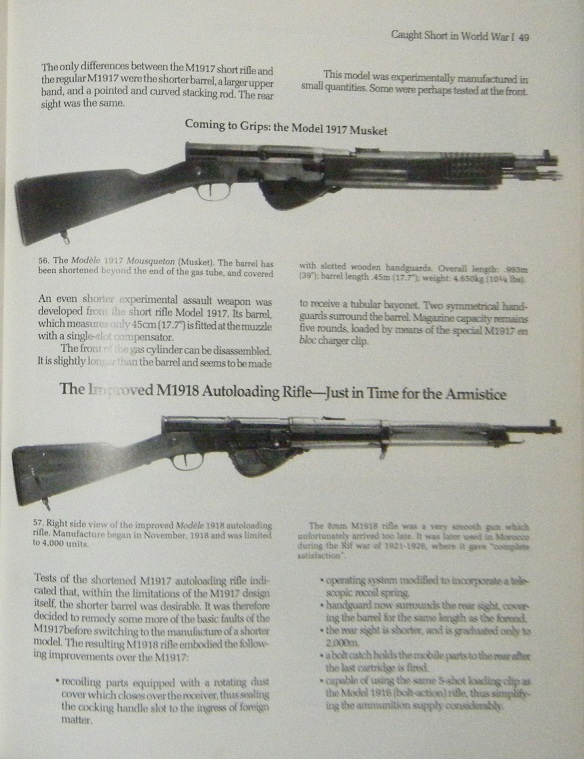 For anyone who has not taken a serious look at French arms design, this book will open up a whole new world, and it is an excellent resource for folks who appreciate rifles like the MAS49/56 but haven't looked into its history. This is a volume that deserves a place in any complete firearms library, and it is available at a great price too. You can order a copy directly from Collector Grade along with the other volumes they have available, or pick up a copy from a reseller on Amazon: Proud Promise: French Autoloading Rifles, 1898-1979
.
Is it just me, or does that 1917 St Etienne Musket just look like an awesome rifle to have?