by Robert White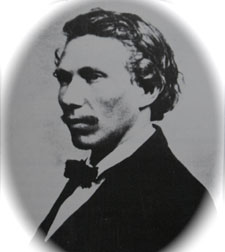 With 894 patents, Andrew Burgess is one of the most prolific firearm inventors the world has ever known (second only to John Browning in number of firearms patents issued to an American), and a man of varied talents beyond firearms design.
Burgess was born January 16, 1837 in Dresden, NY to John Christian Burgess and Achsah Christie (Davis) Burgess, and was the grandson of a a Hessian deserter from the American Revolution. He was a skilled photographer whose family-owned farm bordered the homestead of Civil War photographer Mathew Brady. Burgess ended up apprenticed to Brady and photographically documented Reconstruction in the post-Civil War South, as well as documenting the execution of the French-installed Emperor Ferdinand Maximilian in Mexico. Andrew Burgess is now credited to have taken the famous "Brady's Lincoln" photograph that is found on the American five dollar bill.
Later, Burgess photographed the Franco-Prussian War (1870-1871) before returning to the United States in 1871. It is speculated that during his stint as a photographer during the Franco-Prussian War he developed an interest in firearm design. His first patent was granted Sept. 19, 1871, for converting the Peabody and Werndl arms to magazine rifles.
When Brady fell on hard times in 1874, Burgess purchased the studio, but sold it back by 1876. Some of the photos credited to him:
Edwin McMaster Stanton, secretary of war
William Pitt Fessenden, secretary of the treasury
General Winfield Scott Hancock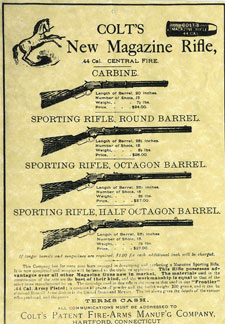 During the 19th century Colt was known for their revolvers and Winchester was known for their lever action rifles. However in 1883 an improved model of lever action rifle was presented to Colt by Andrew Burgess. Burgess had created a lever action rifle similar to the Winchester Model 1873 but had several improvements that made it more accurate, reliable and tougher.
Winchester was not happy about having competition from Colt. Shortly after production began representatives from Winchester met with representatives from Colt. From there the Winchester reps presented a number of pistol prototypes (Mason revolvers) they intended to manufacture. An agreement was made that if Colt stayed out of rifles Winchester would stay out of pistols. Production of the Colt-Burgess Rifle ended after only 16 months of production. When production ceased the total output of Colt-Burgess rifles and carbines was a mere 6,403 units, all in .44-40 caliber, with some 340 of these being shipped to the London agency.


Andrew Burgess partnered with Eli Whitney with his design for a lever action repeating magazine rifle chambered in the .45-70 Government cartridge. It was hoped that this gun would be accepted in the military trials of 1878 to adopt a repeating rifle. Although not successful, Whitney continued production in sporting and military versions.
In 1881, the Marlin Firearms Company introduced the Model 1881 lever-action tubular magazine repeating rifle. The key features patented by Andrew Burgess. This rifle was available in a variety of calibers ranging from .32-40 to 45-70 Government.
Burgess established his own company in 1892. The Burgess Gun Company manufactured slide action shotguns and rifles operated by a unique pistol grip prior to their being purchased by Winchester repeating Arms Company in 1899. Winchester commonly bought out competing firms and then closed them.
One notable firearm resulting from the 100's and 100's of patents was the Burgess Folding Gun, designed for police service, express messengers, prisons and banks. It was made from 1892 to 1899. Nearly semi-automatic in operation, the Folding Gun had a sliding pistol grip assembly that moved backward under recoil and could be quickly shoved forward again by the shooter. While able to fire its six shots in less than three seconds, most users appreciated its attribute of compact storage in two hinged-together sections. These two components could be quickly rejoined, allowing the Folding Gun to be carried under a coat in a belt holster and drawn much like an oversized handgun.
While primarily manufactured as a shotgun, a few were also made in rifle calibers. The Burgess Folding Gun was a popular choice for law enforcement agencies seeking a compact arm. One prime reason for ready police acceptance may have been its consistent three-foot pattern with buckshot at 40 yards.
According to Mark Lee Garner in "To Hell on a Fast Horse", Pat Garrett was armed with a Burgess when he was killed on Feb. 29, 1908.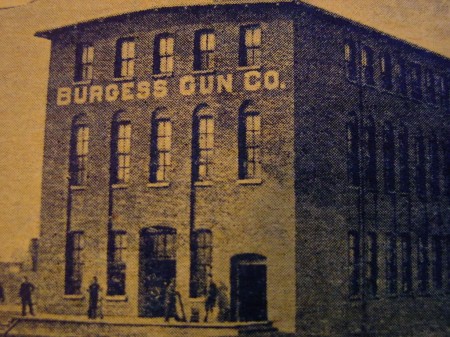 While he had gained renown as an arms inventor, Burgess was also remembered for his unique style of conducting his research and, during later years, would frequently go to St. Augustine, Fla., where he had set up a floating workshop adjacent to a beachside bungalow. When stress onshore became too great, the solitary Burgess would pull up anchor to float away on the currents, playing his favorite violin and periodically firing a
shotgun to ward off seagulls.
His last patent was granted in 1906 and he died from heart failure on December 19, 1908 at the age of 71.
References
The Burgess Long Range Repeating Rifle Model 1878
, by Dale A. Olson
Lever Action Magazine Rifles, Derived from the Patents of Andrew Burgess
, by Samuel L. Maxwell