First up today, we have some additional information on the scaled-down Arisaka trainer from our video on Monday. Teri from Nambu World gave us some more details (thanks, Teri and Chip!) that we would like to share. The rifles were actually made by the Nambu company, starting in 1927 and running into the early 1930s. Lt. Gen. Kijiro Nambu (the same man who developed the Nambu pistols and machine guns) started the company to make training rifles after his retirement from military service.The company was eventually bought up and merged with other firms and went into manufacture of more standard weaponry.
My assumption that the small-scale training rifle fired blanks was incorrect – Japanese blank cartridges for the 6.5mm were fitted with normal-size wooden bullets (for use with cut-type grenade launchers). The trainers actually used gallery rounds with very small and light projectiles. Presumably the recoil from these was light enough to safely use the bolt handle for locking. Courtesy of Teri, here's a photo of the different types of 6.5mm Japanese ammunition: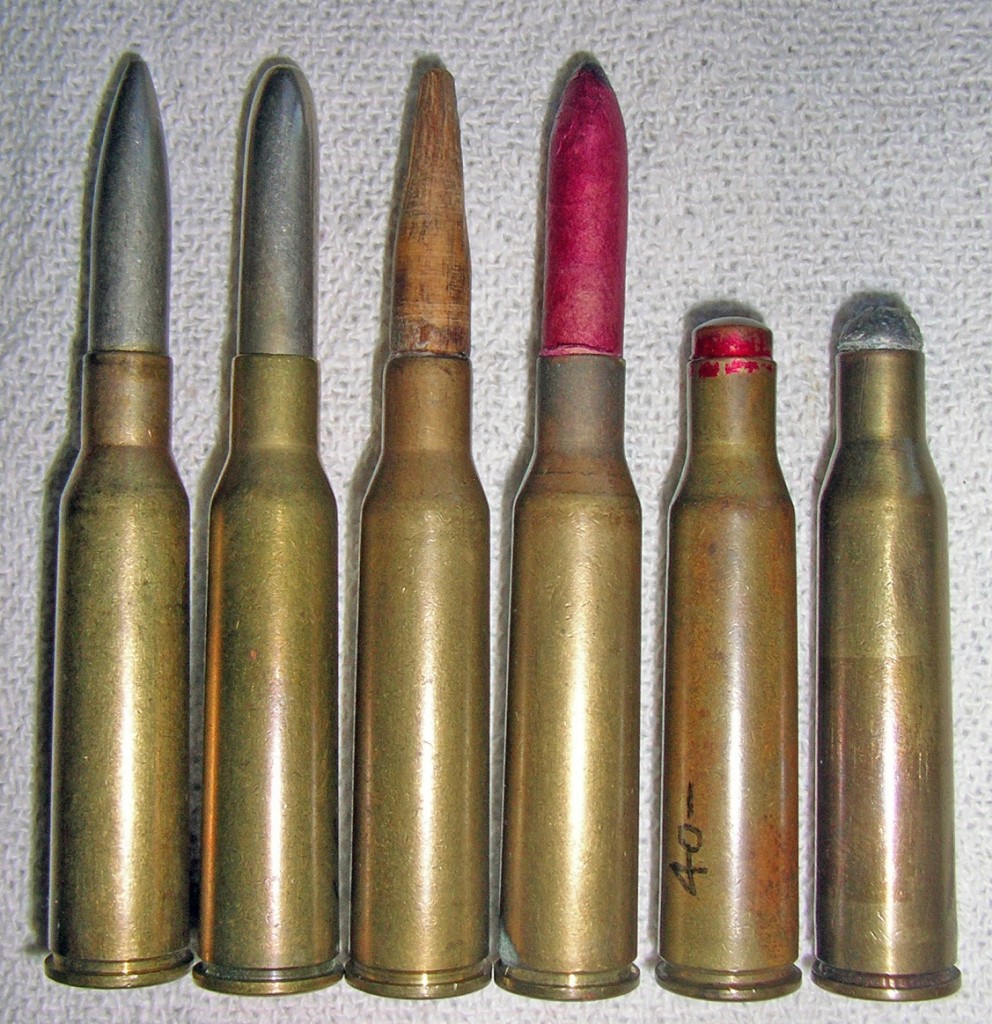 The trainers used the two gallery cartridges on the right-hand end of the photo. In addition, there was apparently a conversion kit (extremely rare today) to make the trainers into air rifles firing small darts.
Atmed SMG
Our second piece for today is from our collection of Aberdeen Proving Grounds photos, and shows a field-stripped Atmed SMG, dated dated September 1940. We don't have any other information on the gun, but it looks very reminiscent of a simplified Thompson, using a basic straight blowback action and firing from an open bolt. I believe it is covered at least briefly in Frank Iannamico's book on American submachine guns, but I haven't gotten my hands on a copy yet. When we have some more information, we'll do a more detailed post – but for now, here's Aberdeen's field-stripped photo (click to enlarge):