We don't have very much information on the Halcon SMG from Argentina, but we do have a training manual for the gun to make available. As best I can tell there were at least 5 variants of the Halcon, which were made from 1943 until 1960. These include both 9mm and .45 ACP versions, with long and short barrel and fixed (wood and wire-frame), side-folding, and under-folding stocks.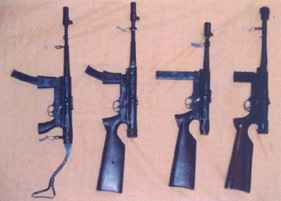 I don't know what the proper designations for all these versions are, or in what order they were made. Max Popenker states that the 1946 version (M/946) had the short barrel and underfolding stock, while the 1943 version (M/943) had a longer barrel and fixed stock. I believe that the versions seen with straight magazines are in .45, while the curved mags signify 9×19 chambering.
The guns must have been fairly expensive to make, as they generally feature a big Cutts-style compensator and finned barrels. Mechanically, they are simply blowback actions, with a selector lever above the trigger to allow semiauto or full automatic fire.
The training manual we have shows photos of a long-barreled gun in 9mm, this version:

If you are knowledgeable on the Halcon, I would love to hear from you, so I can put together some more useful information for the archives here. And if you happen to have a parts kit for a Halcon you might consider selling, please let me know – a friend of the site is looking for one to rebuild as a live dealer sample gun.
Here's the training manual: